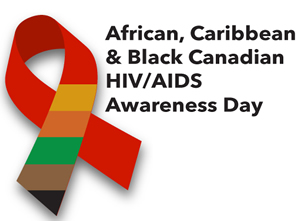 African, Caribbean and Black Canadians unite to fight HIV on February 7
AWARENESS DAY TAKES AIM AT HIGHER RISK OF HIV INFECTION IN CANADA'S AFRICAN, CARIBBEAN AND BLACK COMMUNITIES
TORONTO, Jan. 28, 2015 /CNW/ - Canada's first-ever African, Caribbean and Black Canadian HIV/ AIDS Awareness Day will take place on Saturday, February 7, 2015 . The event will raise awareness that the risk of HIV infection among African, Caribbean and Black Canadians is higher than among other Canadians.
"Although anyone can be at risk, the reality is that HIV/AIDS affects certain communities in Canada more than others," explained Shannon Thomas Ryan , co-chair of the Canadian HIV/AIDS Black, African and Caribbean (CHABAC) Network, a coalition of organizations across the country that are organizing the Day. Ryan, Executive Director of the Black Coalition for AIDS Prevention in Toronto , sees first-hand the disproportionate impact of HIV among men, women and young people in his community. "Only by talking openly and honestly about HIV can we prevent infections and support those in our community who are living with the virus."
"HIV and AIDS-related stigma has long been recognized as one of the main obstacles to the prevention, care and treatment of HIV," added Tsion Demeke Abate , co-chair of CHABAC and Community Educator at HIV Edmonton. "From coast to coast, our communities are uniting to face this challenge together. Our message is simple: Use a condom. Get tested. Start a conversation."
About CHABAC
The Canadian HIV/AIDS Black, African and Caribbean Network (CHABAC) is a national network of organizations, individuals and other stakeholders who are dedicated to responding to issues related to HIV and AIDS in Canada's African, Caribbean and Black communities. http://www.icad-cisd.com/chabac
###
"Reproduced with permission - Interagency Coalition on AIDS and Development (ICAD)"
Interagency Coalition on AIDS and Development (ICAD)

For more HIV and AIDS News visit...

Positively Positive - Living with HIV/AIDS:
HIV/AIDS News