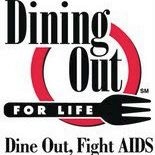 DINING OUT FOR LIFE 2015
- Vancouver/Whistler
ON THURSDAY, MARCH 26, 2015, JOIN US AND THOUSANDS OF OTHERS AS WE MAKE A DIFFERENCE, ONE BITE AT A TIME!
On Thursday, March 26, dine out for breakfast, lunch or dinner at participating restaurants and support people living with HIV/AIDS right here at home.
From Whistler to White Rock and across the Lower Mainland, our fantastic restaurant partners will contribute 25% of their food sales to registered not-for-profits Friends For Life and A Loving Spoonful. All proceeds directly benefit the programs and services they provide free-of-charge, including:
Over 110,000 meals per year delivered to those affected by HIV/AIDS in Metro Vancouver and surrounding regions
Nutritional counselling and meal planning
60+ support therapies ranging from therapeutic massage to naturopathy, music therapy to yoga
End-of-life care to people in their own homes
HIV/AIDS IN BC: In 2011, the Public Health Agency of Canada estimated 71,300 people living with HIV/AIDS in Canada — with over 25% residing in British Columbia. Vancouver's Downtown Eastside maintains the highest HIV prevalence in the Western world, reaching as high 27%.
While new infection rates in B.C. have thankfully decreased, advanced therapies mean people with HIV/AIDS are living longer and the number of people who depend on the services of Friends For Life and A Loving Spoonful continues to grow.
Dine out on Thursday, March 26, 2015 and make it a day to remember.
Why not invite your friends to dine out as well?
###
Source: http://www.diningoutforlife.com
About Dining Out For Life International:
Dining Out For Life® is an international fundraising event involving the generous participation of volunteers, corporate sponsors and restaurants. In exchange for their financial support, restaurants are promoted in an effort to increase customer traffic. In 1991, Dining Out For Life was created by ActionAIDS in Philadelphia. Dining Out For Life is now held in 50+ cities throughout North America. For more information see diningoutforlife.com
"Reproduced with permission - Dining Out For Life"
Dining Out For Life

For more HIV and AIDS News visit...

Positively Positive - Living with HIV/AIDS:
HIV/AIDS News