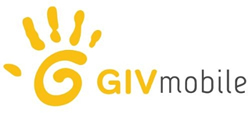 GIV Mobile Announces New Partnership With The International AIDS Vaccine Initiative
GIV Mobile Subscribers Can Now Help Accelerate the Development of a Vaccine to Help Prevent HIV Infection and AIDS
CHICAGO, March 23, 2015 /PRNewswire/ - GIV Mobile has teamed up with the International AIDS Vaccine Initiative (IAVI) to accelerate the research and development of an accessible vaccine to prevent HIV/AIDS. As the first consumer-conscious wireless service dedicated to giving back, GIV Mobile now allows subscribers to donate 8 percent of their monthly plan amount to IAVI to advance innovative vaccine approaches that generate broad protection against HIV.
IAVI has built a strong clinical research and laboratory presence that extends from California to New York to London , across Sub-Saharan Africa and in India . By working with many academic, industrial, government and civil-society partners, IAVI connects innovative science with clinical development capabilities, translating laboratory breakthroughs into promising vaccine candidates.
"GIV Mobile is honored to be working with this amazing cause and to be able to offer our subscribers the option to fund research and development of a vaccine against HIV/AIDS," says Co-founder of GIV Mobile Omar Aqel. "IAVI is dedicated to creating meaningful change through a preventive vaccine against one of the most deadly infections on the planet."
"Millions of people around the globe are looking to IAVI to ensure development of a vaccine that will protect against HIV/AIDS. Money you donate through GIV Mobile speeds the design and development of a promising AIDS vaccine," says Geoffrey Glick , Executive Director of IAVI's AIDS Vaccine Fund. "Together with GIV Mobile and you, IAVI will help put an end to one of history's most devastating infectious diseases."
When a subscriber selects IAVI, this international HIV/AIDS research organization will receive up to 8 percent of the subscriber's monthly plan amount. GIV Mobile operates on the nationwide 4G LTE network of T-Mobile USA , Inc., allowing users to have fast and reliable connections from nearly anywhere in the U.S. Subscribers can sign up now to support IAVI at www.givmobile.com.
###
ABOUT GIV MOBILE
GIV Mobile is the first consumer conscious, no-contract service dedicated to giving 8% of a customer's monthly plan amount (starting at $20 /month) to a non-profit charity of the customer's choice. Utilizing the 4G LTE network of T-Mobile USA , Inc. GIV Mobile's five affordable Unlimited no-contract plans allow users to have fast and reliable connections from nearly anywhere in the U.S. Along with providing a great mobile service, GIV Mobile collaborates with extraordinary charities to create a community that is dedicated to giving back. GIV Mobile's wireless service is exclusively available at www.givmobile.com .
ABOUT THE INTERNATIONAL AIDS VACCINE INITIATIVE
TheInternational AIDS Vaccine Initiative (IAVI) is a global not-for-profit organization whose mission is to ensure the development of safe, effective, accessible, preventive HIV vaccines for use throughout the world. Founded in 1996, IAVI works with partners in 25 countries to research, design and develop AIDS vaccine candidates. The organization also conducts policy analysis and serves as an advocate for the AIDS vaccine field. It supports a comprehensive approach to addressing HIV and AIDS that balances the expansion and strengthening of existing HIV prevention and treatment programs with targeted investments in the design and development of new tools to prevent HIV. IAVI is dedicated to ensuring that a future AIDS vaccine will be available and accessible to all who need it. The organization relies on the generous donations of governments, private individuals, corporations and foundations to carry out its mission. www.iavi.org
Media Contact:
Paramount Public Relations, Inc.
Jessica Prah , 312-953-3257, jessica@paramountpr.com
Carolyn Friedman , 312-544-4190, carolyn@paramountpr.com
Source: http://www.prnewswire.com/news-releases/giv-mobile-announces-new-partnership-with-the-international-aids-vaccine-initiative-300054322.html
Reproduced with permission - "ViiV Healthcare"
ViiV Healthcare

For more HIV and AIDS News visit...

Positively Positive - Living with HIV/AIDS:
HIV/AIDS News