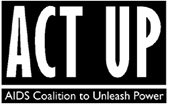 LGBT AND AIDS ACTIVISTS STAGE DIE-IN OUTSIDE TRUMP TOWER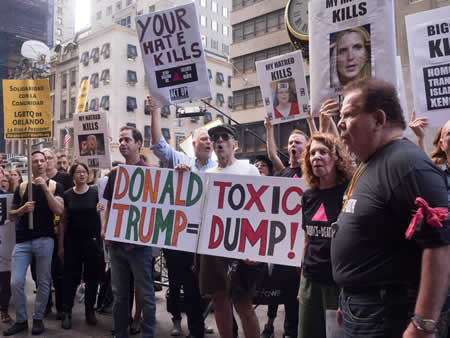 ACTIVISTS CHANT "STOP THE KILLING" WHILE TRUMP MEETS WITH ANTI-LGBT EVANGELICAL LEADERS
June 22, 2016 - New York, NY - Over 100 LGBT and AIDS activists turned up outside Trump Tower last night to protest Republican presidential candidate Donald Trump meeting with 400 Evangelical religious leaders in New York City.
The protest was organized by activist group ACT UP NY (AIDS Coalition To Unleash Power) to combat Trump's use of the recent massacre at an Orlando gay bar to push Islamaphobia while meeting with right-wing, anti-LGBT religious groups to appeal to conservative voters.
Activists yelled chants like "Donald Trump, Toxic Dump" and "Stop the Hate, Stop the Killing." Between the chants, multiple community members spoke about the effects of violence and hate speech on the LGBT community.
"It's awful that Donald Trump is using the Orlando massacre to push his agenda of xenophobia and bigotry when in this case, the hatred came from an American who grew up amid the hateful religious rhetoric spread by Evangelical leaders and right-wing politicians," said ACT UP NY member Brandon Cuicchi.
Toward the end of the protest, activists staged a die-in on the sidewalk in front of Trump Tower to symbolize those LGBT people and allies lost to gun violence in Orlando. The act recalled the early days of the AIDS crisis, when ACT UP NY regularly staged die-ins to symbolize deaths from AIDS.
###
About ACT UP NY
ACT UP NY ( The AIDS Coalition to Unleash Power ) is a diverse, non-partisan group of individuals united in anger and committed to direct action to end the AIDS crisis.
www.actupny.org
###
Press Contacts:
Jeremiah Johnson | 303-910-9330 | JeremiahJohnson82@gmail.com
Luis Santiago | 917-655-7347 | santiago.luis.g@gmail.com (Español)
"Reproduced with permission - ACT UP NY"
ACT UP NY

For more HIV and AIDS News visit...

Positively Positive - Living with HIV/AIDS:
HIV/AIDS News