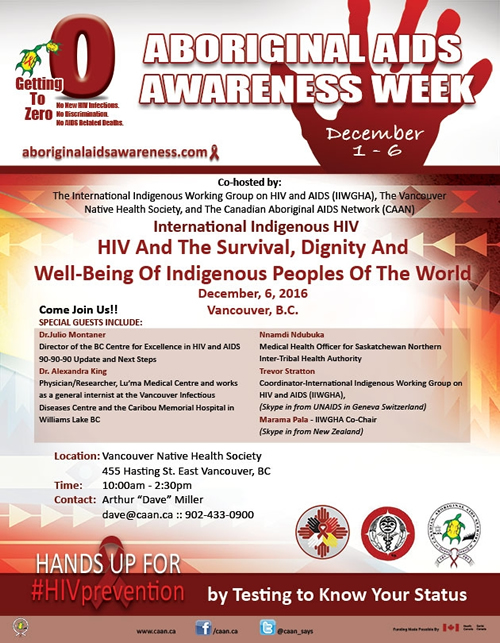 Aboriginal AIDS Awareness Week
International Indigenous HIV
HIV And the Survival, Dignity And Well-Being Of Indigenous Peoples Of the World
December 6, 2016
Vancouver, B.C.
November 2016 - Come Join Us!! Are you in Vancouver on December 6th? Come and join our local event for Aboriginal AIDS Awareness Week from 10am till 2:30. We have a prestigious line up of speakers including Dr. Julio Montaner from the BC Centre of Excellence in HIV and Marama Pala from the International Indigenous Working Group on HIV & AIDS.
SPECIAL GUESTS INCLUDE:
Dr.Julio Montaner
Director of the BC Centre for Excellence in HIV and AIDS 90-90-90 Update and Next Steps

Dr. Alexandra King
Physician/Researcher, Lu'ma Medical Centre and works as a general internist at the Vancouver Infectious Diseases Centre and the Caribou Memorial Hospital in Williams Lake BC

Nnamdi Ndubuka
Medical Health Officer for Saskatchewan Northern Inter-Tribal Health Authority

Trevor Stratton
Coordinator-International Indigenous Working Group on HIV and AIDS (IIWGHA) (Skype in from UNAIDS in Geneva Switzerland)

Marama Pala
IIWGHA Co-Chair
(Skype in from New Zealand)
Location:
Vancouver Native Health Society
455 Hasting St. East Vancouver, BC

Time:
10:00am - 2:30pm

Contact:
Arthur "Dave" Miller
dave@caan.ca :: 902-433-0900
###


About CAAN
The Canadian Aboriginal AIDS Network (CAAN) is a not-for-profit? coalition of individuals and organizations which provides leadership, support and advocacy for Aboriginal individuals living with and affected by HIV and AIDS, regardless of where ?they reside. Their philosophy is that all Aboriginal Peoples deserve the right to protect themselves against infectious disease and thrives on providing the Aboriginal community with accurate and current information about HIV including risks of contracting the virus, issues of care and treatment, and support for families and those living with the disease. www.caan.ca
"Reproduced with permission - "Canadian Aboriginal AIDS Network (CAAN)"
Canadian Aboriginal AIDS Network (CAAN)

For more HIV and AIDS News visit...

Positively Positive - Living with HIV/AIDS:
HIV/AIDS News