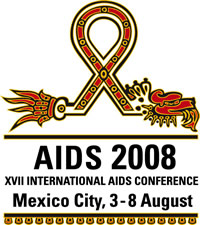 AIDS 2008 Online Coverage
FOLLOW THE EVENTS IN MEXICO CITY WITH ONLINE RESOURCES FROM AIDS 2008
Together with our online partners, kaisernetwork.org and Clinical Care Options, AIDS 2008 organizers have made it easier than ever for you to access timely conference-related information on the Internet.

ONLINE PROGRAMME INFORMATION, ABSTRACTS AND ACTIVITY SCHEDULES
Visit www.aids2008.org for a detailed, online schedule of sessions and activities (referred to as the Programme-at-a-Glance or PAG), including direct links to abstracts, speeches, audio files and slide presentations, as well as links to webcasts and transcripts of key sessions. The AIDS 2008 website also features a searchable database of all abstracts presented at the conference (available as of 2 August). Through the Abstracts Plus tool, authors have been invited to supplement their data with supporting documentation, images, links and study information, and to give delegates the opportunity to contact them directly. Abstracts that have these additional features will be indicated in the PAG with a "+".

RAPPORTEUR SUMMARIES
Throughout the week an international team of over 50 rapporteurs will prepare summaries of most conference sessions describing major findings and themes of discussion and debate. A daily report, compiling the day's highlights, will be available on the AIDS 2008 website each evening (and the following morning in Spanish). The final rapporteur presentations will precede the conference Closing Session on Friday, 8 August.

VIRTUAL MEDIA CENTRE
Accessible from the conference homepage, the AIDS 2008 Virtual Media Centre (VMC) offers additional resources specifically for journalists-those on-site, and others covering the conference remotely. Among the resources available through the VMC are official press releases, speaker bios, fact sheets, the daily conference newspaper and high-resolution photos, as well as a schedule of on-site press conferences.

KAISERNETWORK.ORG-EXTENDING THE REACH OF AIDS 2008
Visit www.kaisernetwork.org/aids2008 to view official webcasts from AIDS 2008 produced by kaisernetwork.org, a free online health-policy news and information service provided by the Kaiser Family Foundation. During the conference, and archived online following the conference, kaisernetwork.org will provide:

Live and tape-delayed event webcasts, transcripts and slide presentations of major sessions and press conferences
English- and Spanish-language podcasts from select sessions
Daily narrated video highlights of conference developments
Interviews with newsmakers and journalists
Special coverage of select conference sessions, as well as news summaries from international media, in the Kaiser Daily HIV/AIDS Report
Free Daily Update Emails providing summaries of each day's developments and direct access to all online coverage

Visit www.kaisernetwork.org/aids2008 to sign-up to receive a Daily Update Email and view comprehensive online coverage of AIDS 2008.

CLINICALOPTIONS.COM-YOUR BEST SOURCE FOR SCIENTIFIC INFORMATION FROM AIDS 2008
Clinical Care Options is a comprehensive resource for scientific data presented at AIDS 2008. Summaries of key data and analysis by expert faculty in multiple tracks provide accurate references and rich background for stories during the conference and in the weeks that follow. Quickly access:

Capsule Summaries of the most important treatment data, as selected by expert faculty from among the thousands of abstracts at the conference;
Audio and video commentaries (Expert Highlights) from world renowned faculty;
Downloadable slidesets summarizing key studies; and
Expert Analyses by panels of internationally recognized experts, published after the conference.

The CCO Web site is a free, international service. One-time free registration is required. For more information, go to www.clinicaloptions.com.

Visit www.aids2008.org for comprehensive online coverage of AIDS 2008.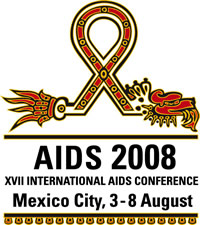 SIGA LOS EVENTOS EN LA CIUDAD DE MÉXICO A TRAVÉS DE LOS RECURSOS ONLINE DE AIDS 2008
Los organizadores de AIDS 2008, en colaboración con sus socios online kaisernetwork.org y Clinical Care Options, han logrado que su acceso a la información relativa a la conferencia sea más fácil que nunca a través de Internet.

INFORMACIÓN SOBRE EL PROGRAMA, LOS RESÚMENES Y LAS ACTIVIDADES
Visite www.aids2008.org/es para consultar un detallado calendario de las sesiones y actividades (llamado Programa Online en un Vistazo) con vínculos directos a los resúmenes, discursos, archivos de audio y presentaciones en diapositivas así como a transmisiones por Internet y transcripciones de todas las sesiones clave. El sitio Web de AIDS 2008 también cuenta con una base de datos con motor de búsqueda en la que se pueden encontrar todos los resúmenes que se presentarán durante la conferencia. A través de la herramienta Resúmenes Plus (Abstracts Plus) se ha invitado a los autores a complementar sus presentaciones con documentación de apoyo, imágenes, vínculos e información de estudio y a darles a los delegados la oportunidad de contactarlos directamente. Los resúmenes que cuentan con estas presentaciones adicionales estarán indicados en el Programa Online en un Vistazo con un símbolo "+".

SUMARIOS DE LOS RAPPORTEURS
lo largo de toda la semana, un equipo de internacional de más de 50 rapporteurs preparará informes acerca de la mayoría de las sesiones de la conferencia en los que se describirán los avances y los temas de discusión y de debate más importantes. Todas las noches habrá disponible un informe diario en el que se compilarán los eventos destacados del día en el sitio Web de AIDS 2008 (las versiones en español estarán disponibles a la mañana siguiente). Las presentaciones finales de los rapporteurs precederán a la Sesión de Clausura de la Conferencia el viernes 8 de agosto.

CENTRO DE PRENSA VIRTUAL
Accesible desde la página de inicio de la conferencia, el Centro de Prensa Virtual (CPV) de AIDS 2008 ofrece recursos adicionales específicamente dirigidos a los periodistas, tanto a aquellos que están in situ como a aquellos que informan a distancia. Entre los recursos disponibles en el CPV se encuentran los comunicados de prensa oficiales, biografías de los oradores, hojas de datos, el periódico diario de la conferencia y fotografías en alta resolución, así como un calendario de las conferencias de prensa que tendrán lugar in situ.

KAISERNETWORK.ORG-AMPLIANDO EL ALCANCE DE AIDS 2008
Visite www.kaisernetwork.org/aids2008 para acceder a las transmisiones Web oficiales de AIDS 2008 producidas por kaisernetwork.org, un servicio online gratuito de novedades sobre políticas de salud e información proporcionado por la Fundación Kaiser Family.

Durante la conferencia, kaisernetwork.org facilitará el siguiente material que quedará archivado online una vez finalizada la misma:

Transmisiones de actividades en vivo y grabadas, transcripciones y presentaciones de diapositivas de las sesiones y conferencias de prensa más importantes
Archivos de audio (podcasts) en inglés y español de sesiones seleccionadas
Destacados diarios de los avances de la conferencia narrados en video
Entrevistas con hacedores de noticias y periodistas
Cobertura especial de sesiones de la conferencia seleccionadas así como resúmenes de noticias de los medios internacionales en el Informe Diario de Kaiser sobre VIH/SIDA
Correos electrónicos diarios de actualización gratuitos en los que se ofrecerán resúmenes de las novedades del día y acceso directo a toda la cobertura online.


Visite www.kaisernetwork.org/aids2008 para registrarse y recibir los correos electrónicos diarios de actualización y para acceder a una amplia cobertura online de AIDS 2008. .

CLINICALOPTIONS.COM-SU MEJOR FUENTE DE INFORMACIÓN CIENTÍFICA DE AIDS 2008
Clinical Care Options es un recurso muy completo sobre los datos científicos presentados en AIDS 2008. Los resúmenes de los datos clave y los análisis elaborados por profesionales expertos proporcionan referencias exactas y constituyen un material de base de muy amplio contenido para la elaboración de artículos durante la conferencia y en las semanas subsiguientes. Acceso Rápido:

Breves sinopsis de los datos terapéuticos más importantes, seleccionados por profesionales expertos de entre los miles de resúmenes presentados en la conferencia;
Comentarios en audio y video (Destacados de Expertos) realizados por profesionales expertos de renombre mundial;
Presentaciones de diapositivas descargables resumiendo estudios clave; y
Análisis de expertos realizados por paneles de expertos de reconocimiento internacional publicados después de la conferencia.
El sitio Web de CCO es un servicio gratuito internacional. Es preciso inscribirse gratuitamente en el sitio una sola vez. Para más información visite www.clinicaloptions.com.

Para obtener una cobertura integral online, visite www.aids2008.org/es.