AIDS Vancouver Red Ribbon Campaign Spreads the Love, Stops the Virus

December 10, 2010 - (Vancouver) - November 1 st through to December 1 st, AIDS Vancouver delivered the We Care Red Ribbon Campaign: a month long public HIV/AIDS education and awareness campaign. The Red Ribbon is the symbol of solidarity and hope for those affected by HIV/AIDS. AIDS Vancouver recognized that the Red Ribbon had lost some of its symbolic meaning over the last 10 years within the wider community and wanted to bring the red ribbon and HIV/AIDS issues to the forefront of the Vancouver community through this campaign.
The We Care Red Ribbon Campaign focused on this integral symbol to promote the two main themes of the campaign : Stigma and Safer Sex Practices. AIDS Vancouver focused on the theme of Stigma in the first half of the month and safer sex in the second half. The We Care Red Ribbon Campaign messaging included the tag line " Spread t he Love, Stop t he Virus. Together We Can Protect Each Other."
Campaign Events
The We Care Red Ribbon Campaign Launch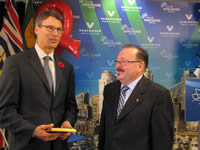 When: November 1, 2010 1pm
Location: Vancouver City Hall
Mayor Gregor Robertson and AIDS Vancouver board members; Executive Director, Dr. Brian Chittock, Daniel Dex, Chair, and Directors Bradford McIntyre and Tuan Luu announced November 2010 to be Red Ribbon Month and unveiled the We Care Red Ribbon Campaign PSA's.




On November 2, 2010 the AIDS Vancouver team returned to City Hall where the We Care Red Ribbon Campaign was officially recognized by Vancouver City Council. Mayor Gregor Robertson introduced and read the November RED RIBBON Month proclamation to the council. Dr. Brian Chittock, Executive Director, AIDS Vancouver, addressed council about the campaign. AIDS Vancouver Director Bradford McIntyre, living infected with HIV for 26 years, presented the AIDS Vancouver WE Care Red Ribbon Campaign Public Service Announcements, Stigma: The Silent Epidemic and Safer Sex Practices .

FREE Noon-hour Series - HIV/AIDS: The Current Reality
A series of presentations exploring the current reality of HIV/AIDS around the world and how those living with or affected by the virus have joined together to promote awareness, understanding and social change. Prevention and Education Coordinator Dr. Tasha Riley presented three one hour workshops on HIV issues during November as part of the campaign in association with UBC Robson Square:

• HIV Around the World: Tuesday, November 2, 2010 12noon-1pm.
• Labels are for Cans: HIV, Stigma and Stereotyping Tuesday, November 9, 2010.
• Mapping the Body: Exploring HIV through Art Tuesday, November 16,2010.

The We Care Red Ribbon Campaign presents the film: Parting Glances .
Location: Pacific Cinematheque
When: Friday November 12, 2010.
A movie event: AIDS Vancouver in partnership with Pacific Cinematheque presented Bill Sherwood's 1986 feature Parting Glances . AIDS Vancouver Board Member, Bradford McIntyre, a long term survivor living with HIV since 1984, discussed the film Parting Glances and shared his own experience living with HIV.




We Care Red Ribbon Campaign: Spread the Love Stop the Virus - Hugs from AIDS Vancouver!
Date : Wednesday, November 17, 2010 4-6pm.
Locations: Downtown Sky Train Stations around Vancouver
AIDS Vancouver volunteers and staff handed out condom postcards and free hugs at Waterfront and Burrard Sky Train Stations. 500 condom post cards were handed out.

The Sisters of Perpetual Indulgence Safe Sex Caroling:
Friday, November 26, 2010
Location: Davie Street.
The Sisters of Perpetual Indulgence roamed down Davie St singing naughty-themed Christmas carols and handed out condom postcards in the bars along Davie St., including the Junction Pub, Numbers and Pump Jacks.


We Care Red Ribbon Gala
Location: Museum of Vancouver, 1100 Chestnut Street Vancouver, BC V6J 3J9
When: November 30, 2010. 6-9pm
A Cocktail Reception with Silent Auction at the Museum of Vancouver, where 150 people celebrated the close of the 2010 We Care Red Ribbon Campaign with MC Extraordinaire Fred Lee, the Sisters of Perpetual Indulgence and PK3 Jazz Trio Fantastic. During the reception, volunteers were on Davie Street hanging Red Ribbons on the trees lining the street!


Public Service Announcements
AIDS Vancouver also produced two PSA's focusing on the two themes Stigma - The Silent Epidemic and Safer Sex practices . These two PSA's were featured on AIDS Vancouver's YouTube site, the Red Ribbon Campaign Website and our Facebook page.


Sponsorships Campaign Presenting Sponsor: ViiV Healthcare in partnership with Shire

Host Sponsor: Capers/Wholefoods
Media and Advertising: City of Vancouver, Transit Shelter Advertising TV Week, Vancouver Sun, The Province, CITR Radio, The Beat Radio, Georgia Straight
Other: Cineworks, Pacific Cinematheque, Granville Island Brewery. Mark Anthony Wines and Sandman Suites and Hotel Group.

-30-

For Media Enquires and Interviews please contact:


Development and Communications Manager
AIDS Vancouver
Direct: 604 696 4657
Email: info@aidsvancouver.org