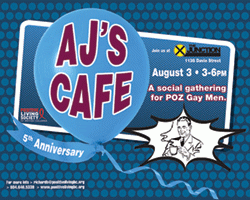 AJ's Cafe 5th Anniversary
A social gathering for POZ Gay Men
August 3 - 3 - 6 pm
AJ's Cafe is a social gathering for HIV Poz men to hang out. Join us on Friday August 3rd between 3pm and 6pm for a drink or a meal to celebrate the 5th anniversary of the programme!
POSITIVE LIVING BC Membership is not required.
Date:Friday, 3 August 2012 - 3:00pm - 6:00pm
Location:The Junction, 1138 Davie Street, Vancouver.
Contact:support@positivelivingbc.org
###
CONTACT
Positive Living Society of BC
1107 Seymour Street, 2nd Floor
Vancouver, BC V6B 5S8
t. 604.893.2239
f. 604.893.2251
1.800.994.2437
www.positivelivingbc.org


About POSITIVE LIVING BC
POSITIVE LIVING BC is dedicated to empowering persons living with HIV/AIDS through mutual support and collective action. We are a Registered Non-profit Society (#11928-2085) and an established leader in the HIV/AIDS movement . Uniquely among major agencies in Canada, the POSITIVE LIVING BC Board of Directors is composed entirely of HIV+ members.

Formerly known as the British Columbia Persons With AIDS Society (BCPWA) and with a membership of more than 4,800 HIV+ members, we are Western Canada's largest AIDS service organization and a proud history spanning three decades. For more information visit: www.positivelivingbc.org

"Reproduced with permission - POSITIVE LIVING BC"
POSITIVE LIVING BC

For more HIV and AIDS News visit...

Positively Positive - Living with HIV/AIDS:
HIV/AIDS News