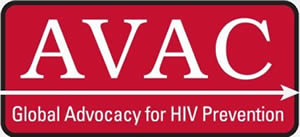 AVAC praises California's HIV PrEP demonstration studies: More projects needed to translate science into reduced HIV infections, saved lives
April 23, 2012 - New York, NY, - AVAC strongly supports the California HIV/AIDS Research Program (CHRP) in launching new studies to evaluate the "real-world" use of oral pre-exposure prophylaxis (PrEP), a promising HIV prevention strategy recently shown to be effective in clinical trials.
The three CHRP-funded demonstration projects will provide vital information on how to implement recent research results to reduce HIV infections through the use of PrEP among HIV-negative people at high risk. Importantly, these studies will explore PrEP in the context of other new strategies to engage and retain HIV-infected individuals in care and treatment.
"PrEP, together with other prevention strategies, could help to significantly reduce HIV infections worldwide and could be a life-saving intervention for some men and women," said Mitchell Warren, AVAC executive director. "Multiple clinical trials have clearly shown that PrEP is effective when used as prescribed. We now have an obligation to figure out how best to roll it out in the real world for people who need it and are able to use it, without delay."
PrEP involves the use of daily anti-HIV medications by people who are uninfected but at high risk for HIV. Randomized-controlled trials that were closely overseen by independent ethical and regulatory bodies have shown that daily PrEP with a combination of the drugs tenofovir and emtricitabine (TDF/FTC, or Truvada) can reduce the risk of infection among gay men and other men who have sex with men (MSM), transgender women and heterosexual men and women. While other trials have shown no effect, the overall message is clear: adherence to the PrEP regimen is essential. Among trial participants who consistently took the PrEP pill, the risk of infection was reduced by more than 70 percent, while little or no benefit was seen when participants did not take the pill as prescribed.
"Finding ways to ensure that people who can benefit from PrEP are supported in taking the medication consistently has to be a top priority," said Warren. "Real-world demonstration projects are the only way to test different approaches and find out what works. A year and a half after the first positive PrEP results, almost none are under way. This kind of delay is of severe concern to anyone interested in expanding the options for preventing HIV in some of the hardest-hit populations here in the US and worldwide."
In addition to addressing adherence, demonstration projects are needed to answer questions about which populations benefit the most from PrEP and how to deliver it to them safely, effectively and at reasonable cost. They can also help determine the most effective ways to integrate PrEP with existing prevention strategies, such as male and female condoms, which remain essential to reducing HIV infections. AVAC and other advocates have called on governments and AIDS funders to launch an array of PrEP demonstration projects around the world, including the full range of populations that may benefit from the intervention.
"The California studies are smart to focus on gay men and transgender women, who are by far the most affected by HIV in the U.S. Now we need to do the same for other populations, especially the millions of women around the world who remain at risk. PrEP could help address the urgent need for new HIV prevention methods that women can control," said Warren.
Warren also pointed to the upcoming U.S. Food and Drug Administration review of TDF/FTC as PrEP, saying, "The FDA's review is a critical step in establishing access to PrEP and ensuring that accurate information is available to providers and potential users." AVAC expects to be among a number of advocates submitting oral and written comments at a May 10 FDA Advisory Committee hearing.
"Ethics demand that we do everything we can to make proven HIV prevention options available to those who need them, when they need them. AIDS activists have a history of pushing researchers and regulators to make treatment available to people living with HIV as quickly as possible. People at risk of becoming infected deserve no less," Warren said.
###
About AVAC:

Founded in 1995, AVAC is a non-profit organization that uses education, policy analysis, advocacy and a network of global collaborations to accelerate the ethical development and global delivery of AIDS vaccines, male circumcision, microbicides, PrEP and other emerging HIV prevention options as part of a comprehensive response to the pandemic. Please visit www.avac.org
CONTACT:

Mitchell Warren, mitchell@avac.org , +1-914-661-1536
Kay Marshall, kay@avac.org , +1-347-249-6375



Source: AVAC Global Advocacy for HIV Prevention
http://www.avac.org/ht/display/ReleaseDetails/i/43714/pid/212