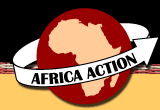 Africa Action Applauds U.S. Decision to Lift HIV Travel Ban, Calls for Sustained U.S. leadership on Global Health Ahead of Global Fund Board Meeting
Friday, November 06, 2009 (Washington, DC) - Africa Action congratulates President Obama and the administration's leadership in lifting the 22-year-old HIV travel and immigration ban in the U.S. Reducing stigma and discrimination associated with HIV is an integral part in the fight against HIV/AIDS and the promotion of human rights internationally.
Ahead of this weekend's 20th Board Meeting of the Global Fund to Fight AIDS, Tuberculosis and Malaria, it is vital that the U.S. fulfill its commitment to fight HIV/AIDS and fully fund The Global Fund to Fight AIDS, Tuberculosis and Malaria.
Last year, the Board approved 94 new grants worth $2.75 billion over two years to support programs fighting the three diseases and it was the largest round in the history of the organization, well over twice the size of any previous round. However, this year the Fund is facing a severe funding gap in the midst of a global financial crisis.
Gerald LeMelle, Executive Director of Africa Action said, "While lifting the travel ban was a positive step forward, President Obama must now sustain his commitment to fight HIV/AIDS and fulfill the U.S. obligation to fully support the Global Fund"
The Global Fund is a public-private partnership; funding grants that are designed to counter AIDS, tuberculosis, and malaria. It has become the main source of finance for global health initiatives. To date, the Global Fund has committed $15 billion in grants to 140 countries, saving approximately 2.5 million people from diseases.
Michael Stulman, Associate Director of Policy and Communications said, "The Global Fund has proved to be a very effective tool in the fight against AIDS, tuberculosis and malaria. Unfortunately, the financial crisis has slowed down donor country's willingness to fill the gap and achieve the goal of universal access to treatment in 2010."
The Global Fund's budget for the fiscal year 2011 calls for approximately $5.25 billion to finance ongoing grants and secure the Round 10 grant cycle. The $5.25 billion request is to satisfy the $2.5 billion needed for grant renewals and the estimated $2.75 billion to fund new proposals in Round 10. Africa Action's updated talking points on the Global Fund to Fight AIDS, Tuberculosis and Malaria calls for the U.S. to contribute its fair share: a minimum of $1.75 billion.
Africa Action highlights an urgent call from over 50 Francophone African civil society organizations, demanding that their political representatives put forward a new resolution to the Board on the following issues:
To set up an exceptional procedure which would allow countries which were refused from round 8 and 9 to present a new proposal within 4 months so that these countries would avoid going from an emergency health situation to a catastrophe.
Set up a round 10 in 2010, which would be open to all countries without restrictions.
Read the civil society letter regarding decisions currently being made at the Global Fund Board Meeting here. For French, click here


Contact:
Michael Stulman
(202) 546-7961
Source: Africa Action
http://www.africaaction.org/newsroom/release.php?op=read& documentid=4576&type=2&issues=1


Africa Action is a national organization that works for political, economic and social justice in Africa. Through the provision of accessible information and analysis combined with the mobilization of public pressure we work to change the policies and policy-making processes of U.S. and multinational institutions toward Africa.
The work of Africa Action is grounded in the history and purpose of its predecessor organizations, the American Committee on Africa (ACOA), The Africa Fund, and the Africa Policy Information Center (APIC), which have fought for freedom and justice in Africa since 1953. Continuing this tradition, Africa Action seeks to re-shape U.S. policy toward African countries.
Reproduced with permission - "Africa Action "
Africa Action