Archbishop Tutu Speaks Up Rights for LGBTI People
(New York, April 9, 2008) - Comparing the importance of speaking up for human rights to the basic act of breathing, Archbishop Desmond Tutu gave an historic speech to the lesbian, gay, transgender, bisexual and intersex (LGBTI) community at Grace Cathedral, San Francisco last night. A crowd of 500 people heard the Nobel Peace Prize recipient condemn the persecution of LGBTI people, apologize on behalf of his Church for ostracizing gay people, and challenge China to improve its human rights record-all in the first ever direct address by the Archbishop to a large gathering of the LGBTI community in the United States.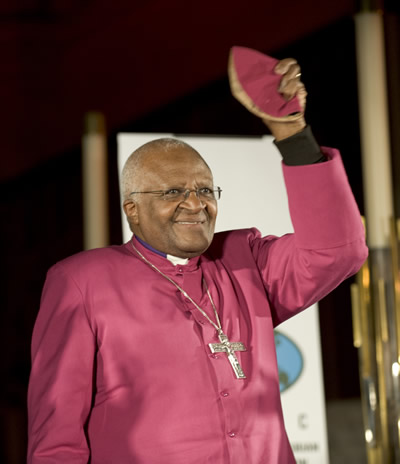 Archbishop Desmond Tutu responds to a standing ovation from the audience at Grace Cathedral.
Photo credit: Steve Fisch
Archbishop Tutu's speech was the highlight of A Celebration of Courage, the International Gay and Lesbian Human Rights Commission's (IGLHRC's) annual gala awards ceremony, where Tutu was presented with an OUTSPOKEN Award recognizing his leadership as a global ally of the LGBTI community whose outspokenness has contributed substantially to advancing the rights and understanding of LGBTI people everywhere. The importance of speaking out on human rights was also underscored by the context of the evening's event, overlapping with a candle-lit vigil for Tibet in United Nations Plaza, and occurring only hours before anticipated protests as the Olympic touch journeys through San Francisco on its way to Beijing, China, host of the next Olympic games.
"When IGLHRC invited Archbishop Tutu to come to San Francisco to accept its OUTSPOKEN Award, we had no idea that our event would coincide with such a momentous time in the history of human rights activism," said Paula Ettelbrick, IGLHRC's executive director. "The Archbishop's speech at this unique historical moment affirms that human rights apply to each and every human being-in South Africa, in the United States, in China, and around the world. Activists and governments alike should heed the Archbishop's words. He is a moral luminary whose inclusive approach to human rights advocacy paves the way for a better world."
In his 30-minute address, Archbishop Tutu said that for his part it was impossible to keep quiet "when people were frequently hounded...vilified, molested and even killed as targets of homophobia...for something they did not choose-their sexual orientation." In the face of this ongoing persecution, the Nobel Peace Prize recipient praised LGBTI people for being "compassionate, caring, self-sacrificing and refusing to be embittered." He spoke critically of his Church, apologizing for the way it has ostracized LGBTI people, and for making them feel as if God had made a mistake by creating them to be who they are. "How sad it is," he said, "That the Church should be so obsessed with this particular issue of human sexuality when God's children are facing massive problems-- poverty, disease, corruption, conflict..."
In a pertinent commentary on human rights in China, the Archbishop said he would pray for that country to do the right thing, use its clout to bring positive change in Tibet, Burma and Sudan, and improve its human rights record. He suggested that world leaders boycott the opening ceremony of the Olympic games to protest China's record on human rights. He praised the US Congress and the First Lady in particular for being "on the side of angels" for their work on Burma.
In an interview with IGLHRC prior to the awards ceremony, Archbishop Tutu noted that although he has taken a strong stance on LGBTI rights for many years, IGLHRC's A Celebration of Courage event marked the first time that an organization had acknowledged his position on this issue.
"Archbishop Tutu is a rare and special individual who embodies human rights and morality," said Ettelbrick. "He recognizes that all human beings are valuable, that we are all interdependent, and that our struggles are shared. We are so honored that he has chosen to attend our event tonight and accept IGLHRC's OUTSPOKEN Award."
Also at the event, IGLHRC Board Member Dorothy Sander presented IBM with a Special Recognition Award for its contributions to IGLHRC's global mission of building a strong and viable LGBTI human rights movement and for its leadership in promoting non- discrimination policies in all of its workplaces in the world. IBM has been particularly supportive of IGLHRC's work in Latin America, sponsoring IGLHRC's 2007 Human Rights Training Institute in Costa Rica, which was devoted to developing the advocacy capacity of lesbian and bisexual women in Central America.
The music for the evening-which soared gloriously through the lofty Grace Cathedral and received a rapturous reception by the audience-was provided by Transcendence, the nation's first transgender gospel choir. Grace Cathedral is home to one of the largest and most inclusive Episcopal congregations in the nation. It is well known in San Francisco for its commitment to social justice and providing a forum for civil discourse.
To watch an extract from an interview with Archbishop Tutu that took place immediately prior to A Celebration of Courage, click here (external link to CBS5 TV).
To view more photos from the event at Grace Cathedral in San Francisco, please click here.
For more information about the award, and about IGLHRC's A Celebration of Courage event, visit: www.iglhrc.org
###
The International Gay and Lesbian Human Rights Commission (IGLHRC) is a leading human rights organization solely devoted to improving the rights of people around the world who are targeted for imprisonment, abuse or death because of their sexuality, gender identity or HIV/AIDS status. IGLHRC addresses human rights violations by partnering with and supporting activists in countries around the world, monitoring and documenting human rights abuses, engaging offending governments, and educating international human rights officials. A non-profit, non-governmental organization, IGLHRC is based in New York, with offices in Cape Town and Buenos Aires. Visit http://www.iglhrc.org for more information
Reproduced with permission - "INTERNATIONAL GAY AND LESBIAN HUMAN RIGHTS COMMISSION (IGLHRC)"
INTERNATIONAL GAY AND LESBIAN HUMAN RIGHTS COMMISSION (IGLHRC)