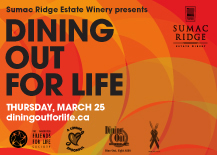 Dining Out For Life
Vancouver 2010
March 5, 2010
What is Dining out for Life?
Dining Out For LifeŽ is an annual fundraising event involving B.C. restaurants and corporate sponsors to support people in Vancouver living with HIV/AIDS. The one-day event is scheduled for March 25, 2010. The organizers and beneficiaries of the event are A Loving Spoonful and the Vancouver Friends for Life Society. Formed in 1991, Dining Out For LifeŽ is organized in 55 cities throughout the United States and Canada.
How it works?
A city wide marketing campaign promoting the event and its sponsors drives customer traffic to participating restaurants. In return, restaurants contribute 25% of their food sales from the day to Dining Out For LifeŽ. Last year, a record number of 221 participating restaurants from Whistler to White Rock and along the Valley helped raise over $200,000. On March 25, 2010, we hope to significantly increase the number restaurants, sponsors and customers.
The promotional campaign
Dining Out has defined itself as one of the most visible events in B.C.'s restaurant and food services industry. An extensive promotional campaign, including media outreach, advertising, online and in-house marketing drives thousands of customers through the doors of participating restaurants.
About A Loving Spoonful (www.alovingspoonful.org)
A Loving Spoonful provides free, nutritious meals to men, women and children living with HIV/AIDS in Greater Vancouver and the surrounding areas. In the last year alone, A Loving Spoonful has provided over 100,000 meals to those who need it most.
About the Friends for Life Society (www.friendsforlife.ca)
Friends For Life supports people living with life-threatening illnesses such as HIV/AIDS, their families and their caregivers. This leading wellness centre was formed with the belief that no one should face a serious illness alone, and offers a broad range of complementary and integrative therapies aimed at shifting the focus from illness to wellness.
-30-
Contact:

Deborah Wallace
T: 604.689.1463
Reproduced with permission - "Dining Out For Life"
Dining Out For Life