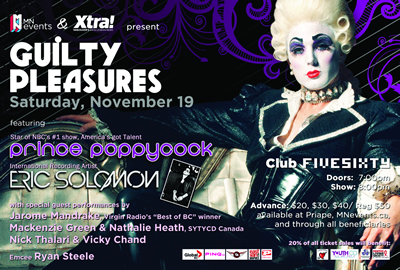 GUILTY PLEASURES
- A Concert Fundraiser
Saturday November 19, 8:00pm
Come & Enjoy an evening of Entertainment & Charity with Special Guest Prince Poppycock

Date: Saturday, November 19, 2011
Time: Doors open at 7:00pm. Show at 8:00pm
Where: Club FiveSixty, 560 Seymour Street, Vancouver, BC
GUILTY PLEASURES, is a new biannual concert fundraiser produced by MN events and benefiting 4 local HIV/AIDS organizations. A Loving Spoonful, YouthCO Aids Society, McLaren Housing Society and Positive Living BC.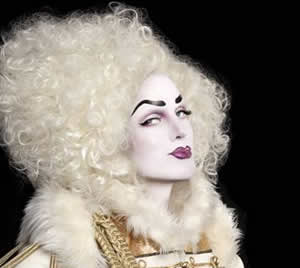 GUILTY PLEASURES will feature the star of NBC's #1 show America's Got Talent, Prince Poppycock, International recording artist Eric Solomon and a line-up of local guest performers.
To purchase tickets please call A Loving Spoonful office at 604-682-6325
Proceeds from 20% of tickets Sold through A Loving Spoonful office will go to A Loving Spoonful.
About A Loving Spoonful
A Loving Spoonful is a volunteer-driven, non-partisan Society that provides free, nutritious meals to people living with HIV/AIDS in Greater Vancouver.
For more information visit: www.alovingspoonful.org