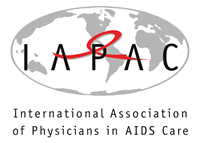 IAPAC Partners with Healthy Interactions® to Advance HIV/AIDS Education Across Diverse Cultures, Patient Populations
CHICAGO, June 24, 2009 - The International Association of Physicians in AIDS Care (IAPAC) today announced that it is entering into a partnership with global patient education innovator Healthy Interactions. The partnership will address the rising incidence of HIV/AIDS in both developed and developing world nations via culturally relevant education programs that speak to diverse patient populations and enhance global HIV literacy.
The collaboration will leverage Healthy Interactions' Conversation Map® education tools to enhance the quality of care, treatment, and support provided to people living with HIV and related coinfectious diseases. The Conversation Map tools utilize the power of small group dialogue and collaborative learning to improve health by providing groups of patients a method for engaging in a discussion about a disease or subject that enables them to recognize how their beliefs or attitudes affect their perceptions and discover ways they can change behavior and improve their personal health management. First introduced in 2005, the Conversation Map tools now have a presence in over 50 countries and are being used to help people living with diabetes.
Key topics to be addressed by the new HIV-specific Conversation Map education program include healthy living with HIV/AIDS (for both adults and children/adolescents), starting and adhering to HIV treatment, positive living with hepatitis coinfection, and promoting harm reduction via positive prevention efforts. The program will be customized to connect with different communities around the globe, including the African-American and Latino communities in the United States.
"People living with HIV/AIDS must be empowered with knowledge in order to successfully manage their disease. We need new programs that can be implemented in a variety of settings, that are patient-centric in their approach, and that use innovative delivery methods to reach more people as the incidence of HIV grows," said José M. Zuniga, IAPAC's President/CEO. "By collaborating with Healthy Interactions on an HIV-specific Conversation Map program, IAPAC is advancing a creative delivery method and a novel approach to educating and empowering people living with HIV/AIDS."
In 2008, IAPAC conducted its bi-annual AIDS Treatment for Life Survey (ATLIS) of almost 3,000 HIV-positive respondents from 19 countries, including the United States (results available at www.iapac.org). Globally, ATLIS results revealed gaps in basic knowledge about HIV disease and its treatment, with 69 percent of respondents saying they wished they knew more. "The ATLIS results indicated there is still a strong need to educate people living with HIV/AIDS and the world around them, even in countries such as the United States. The findings demand an increase in global HIV literacy, which this new program will help to address," Zuniga added.
"We are thrilled to work with a global leader in HIV/AIDS care like IAPAC. Our belief is that our two organizations will be able to increase awareness about HIV/AIDS and help those impacted by the disease to obtain the information and support they need," said Paul Lasiuk, co-founder of Healthy Interactions.
Any organization(s) that may be interested in sponsoring this innovative effort should contact Healthy Interactions.
About Healthy Interactions, Inc.

A global leader in health education, with programs in over 50 countries, Healthy Interactions is devoted to driving Personal Health EngagementT - our term for helping individuals commit to healthier actions. We create "Aha! Moments" that inspire people to change personal health behaviors. Healthy Interactions builds partnerships with leading medical and disease associations, not-for-profit organizations, corporations, and caring healthcare professionals trained in our approaches, enabling millions of people to take control of their health and live their best lives. Founded in 2003, Healthy Interactions is headquartered in Chicago. For more information, visit http://www.healthyinteractions.com
About IAPAC

IAPAC is a non-profit medical association with more than 13,000 members in over 100 countries. IAPAC's mission is to improve the quality of care, treatment, and support provided to men, women, and children living with HIV/AIDS, which is advanced through medical and patient education activities, technical assistance initiatives, and public policy advocacy. Founded in 1995, IAPAC is headquartered in Chicago, with offices in Johannesburg and Washington, DC. For more information, visit http://www.iapac.org.
Contacts:

IAPAC
José M. Zuniga,
312-795-4991
jzuniga@iapac.org

or

Healthy Interactions
Paul Lasiuk,
312-543-6356
paullasiuk@healthyi.com