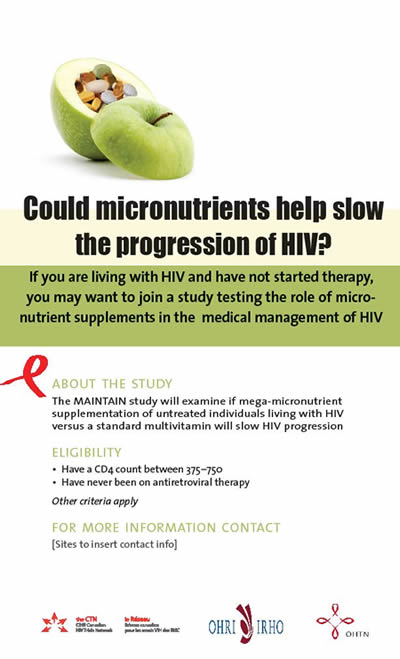 The MAINTAIN Study
Could micronutrients help slow the progression of HIV?
December 2009 - The Canadian HIV Trials Network and the Ontario HIV Treatment Network (OHTN) are funding a double-blind, placebo-controlled randomized clinical trial of K-PAX Immune Support Formula in antiviral-naive HIV-infected patients.
Canadian HIV(+) patients with CD4 counts between 350 - 800 CD4 cells who are not yet taking antiviral medications are eligible to participate in this study.
The MAINTAIN study will examine if mega-miconutrient supplementation of untreated individuals living with HIV versus a standard multivatimin will slow HIV progression.
ELIGIBILITY

If you are living with HIV and have not started therapy you may want to join a study testing the role of micro-nutrient supplements in the medical management of HIV.
Have CD4 count between 375-750
Have never been on antiretroviral therapy
Other criteria apply
FOR MORE INFORMATION CONTACT

http://www.kpaxpharm.com/canadastudy.html