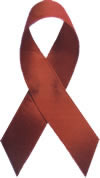 OCTOBER 2008
VISUAL AIDS and THE BODY announces NEW WEB EXHIBITION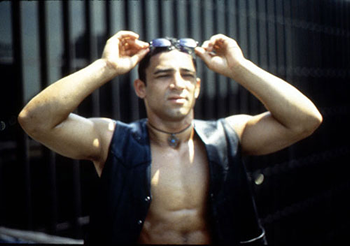 image: Richard Treitner, Willy, 1996


I HEART DOUCHEBAGS curated by Mike Albo

VISUAL AIDS WEB GALLERY at http://www.thebody.com/visualaids/web_gallery/index.html

Every month, Visual AIDS invites guest curators, drawn from both the arts and AIDS communities, to select several works from the Frank Moore Archive Project. This month, Mike Albo, writer, comic and performance artist, curated the current on-line exhibition which features the artwork of Archive Members; Alex Aleixo, Dominic Avellino, Copy Berg, Michael Berube, Robert Blanchon, Vincent Cianni, Jose Luis Cortes, Eric Rhein, Juan Rivera, Nevin Robinson, Craig Russell, Felix Gonzalez-Torres, George Towne, and Richard Treitner.

From the Curators' Statement:
I HEART DOUCHEBAGS
Scanning the huge collection of work available in the Visual AIDS archive was a lot like being in a big gay bar, or on some giant internet hookup-site. I know this is superficial of me, but with such a large number of slides, I had to scan for images that stood out to me at a rapid clip or I would have been there for three days. This usually meant that I was attracted to the image, because of my aforementioned superficiality...Now and then I would find the photo of some beautiful, sexy, or dangerous man and I would pause for a second, and start making all sorts of conclusions about the subject's relationship to the artist. I settled on a selection of images that made me mumble to myself, "God that guy seems like a cocky asshole."

Curator:
Mike Albo is a writer and comedian who lives and loves in Brooklyn. His second novel "The Underminer: The Best Friend Who Casually Destroys Your Life," written with his longtime friend Virginia Heffernan, has become a cult classic. His performances of the character have become Internet hits and can be found on Youtube like everything else in the world. His first novel, the critically acclaimed "Hornito," came out in 2000. Albo has written for zillions of magazines and Web sites including New York Magazine, GQ and The New York Times, for which he currently writes "The Critical Shopper" column. He's performed numerous solo shows including "Spray," "Please Everything Burst," and "My Price Point" as well as with the comedy trio Unitard. Check out www.mikealbo.com for upcoming shows, his spaced-out blog, performance clips and recent writing.


Visual AIDS was founded in 1988, to shift public opinion about--and increase awareness of--AIDS and the AIDS crisis. Visual AIDS has evolved into an arts organization with a two-pronged mission: 1) In collaboration with museums, galleries, artists, schools, and AIDS service organizations, Visual AIDS produces exhibitions, publications, and events utilizing visual art to spread the message AIDS IS NOT OVER.; 2) Through the Frank Moore Archive Project, the largest slide library of work by artists living with HIV and the estates of artists who have died of AIDS, Visual AIDS historicizes the contributions of visual artists with HIV while supporting their ability to continue making art and furthering their professional careers. www.visualAIDS.org

The Body is now the most frequently visited HIV/AIDS-related site on the Web, according to the Medical Library Association and also the most frequently visited disease-specific site on the Web, according to <Hot 100>. The Body contains a rich collection of information on topics ranging from HIV prevention, state-of-the-art treatment issues, humor and art. An invaluable resource, The Body is used by clinicians, patients and the general public. Part of The Body's mission is to enable artistic expression to reach the Web, and to join art with other resources needed to help the public comprehend the enormity and devastation of the AIDS pandemic and to experience its human and spiritual dimensions.

Current and past Web Gallery exhibitions can be viewed at: www.thebody.com/visualaids
***For more information contact either: ***

Visual AIDS
Amy Sadao, Executive Director
Nelson Santos, Associate Director
212.627.9855
info@visualAIDS.org

The Body
Bonnie Goldman, Editorial Director
www.TheBody.com
212.541-8500 ext. 206
BGoldman@TheBody.com