Positively Positive - Living with HIV/AIDS:
HIV/AIDS News Archive - April 2007



STATEMENT ON THE GAMBIAN GOVERNMENT'S UNPROVEN CLAIM OF A CURE FOR AIDS
24 April 2007 (Geneva, Switzerland) - As the world's leading association of HIV professionals, the International AIDS Society's (IAS) more than 10,000 members are working at all levels of the global response to HIV/AIDS. Our members represent scientists, clinicians, and public health and community leaders on the frontlines of the epidemic in 171 countries worldwide.
Read more...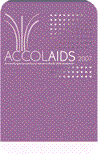 AWARDS GALA HONOURS HEROES IN THE BC AIDS MOVEMENT
April 22, 2007 - VANCOUVER - On Sunday, April 22nd, the 6th annual AccolAIDS awards gala took place in the elegant Crystal Ballroom of the Pan Pacific Hotel Vancouver. This recognition and fundraising event, produced by the BC Persons With AIDS Society (BCPWA Society) with title sponsors GlaxoSmithKline in partnership with Shire BioChem, honoured outstanding achievements of individuals and organizations working in the BC AIDS movement. More than $80,000 in proceeds generated from the event will be used to support BCPWA Society's programs and services for people living with HIV/AIDS.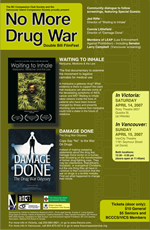 No More Drug War
Sunday April 15th, 2007 - The British Columbia Compassion Club Society and the Vancouver Island Compassion Society proudly present No More Drug War. Double Bill FilmFest. br> The festival features two exceptional documentaries exploring very different aspects of our failed drug prohibition: Damage Done: the Drug War Odyssey, directed by Connie Littlefield and sponsored by the National Film Board of Canada; and Waiting to Inhale: Marijuana, Medicine & the Law, directed by Jed Riffe and supported by the Sundance Independent Film Festival.



INTERNATIONAL CONFERENCE TO FEATURE LATEST DEVELOPMENTS IN HIV BIOLOGY, PATHOGENESIS, TREATMENT AND PREVENTION SCIENCE
Sydney, Australia [3 April 2007] - As the largest international gathering of its kind, the 4th IAS Conference on HIV Pathogenesis, Treatment and Prevention (IAS 2007) will convene in Sydney, Australia from 22-25 July 2007, conference organizers announced today. Held every two years, the conference is a unique opportunity for leading scientists, clinicians, public health experts and community leaders to examine the latest developments in HIV-related research, and to explore how scientific advances can - in very practical ways - inform the global response to HIV/AIDS. IAS 2007 is organized by the International AIDS Society (IAS) in partnership with the Australasian Society for HIV Medicine (ASHM).

The Sterile Nutrition Debate
April 2, 2007 - Toronto 2006 has come and gone. From South Africa I watched in horror as our dysfunctional HIV nutrition debate was aired on the international stage. Africa faces a crisis as infections and deaths mount, but we lack real leadership and an appropriate integrated strategy.
The nutrition issue has been marginalised by a damaging public media debate on nutrition versus medicine that has polarised proponents of nutrition on the one hand and proponents of antiretrovirals (ARVs) and other pharmaceuticals on the other. This either/or debate is specious and does not serve anyone. We need both if we are to succeed.

====================================