Positively Positive - Living with HIV/AIDS:
HIV/AIDS News Archive - March 2007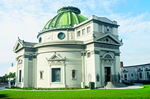 San Francisco Columbarium to Display Sections of the AIDS Quilt
San Francisco, CA- (March 6, 2007) - Cleve Jones to Speak at Day of Remembrance Ceremony
The San Francisco Columbarium will display sections of the historic AIDS Memorial Quilt from March 6th - 30th, 2007. Along with special guest speaker, human rights activist and creator of the AIDS Quilt, Cleve Jones, The Columbarium will host a Day of Remembrance including a candle lighting and a reading of names commemorating those lost to the AIDS epidemic. The ceremony will take place on Friday, March 9th, 2007 from 2 p.m. - 4 p.m.

====================================