Positively Positive - Living with HIV/AIDS:
HIV/AIDS News Archive - October 2007

Fine-tuning lasers to destroy blood-borne diseases like AIDS
In Wake of Canceled Vaccine Study, Some Experts Are Reemphasizing Proven, Low-Tech Prevention Methods
By Craig Timberg
IOP - 31 October 2007 - Physicists in Arizona State University have designed a revolutionary laser technique which can destroy viruses and bacteria such as AIDS without damaging human cells and may also help reduce the spread of hospital infections such as MRSA.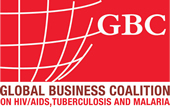 Russia at a Turning Point on AIDS Epidemic: Exploding Infection Rates or Leadership for the World? Business, Government Leaders Meet in Moscow Today
HIV levels set to increase by up to 30% by end of decade; TB prevalence throughout country could increase pace of epidemic
Moscow - October 25, 2007 - Russia's prosperity and economic competitiveness is under threat from a rapidly advancing HIV epidemic-already the worst in the developed world and likely to grow by as much as 30 percent by 2010.

HIV patients sicker when seeking care than in the past
25-Oct-2007 - It was hoped that as HIV treatment improved and as HIV-related public health initiatives encouraged people to be tested for the disease and seek care, that HIV-infected patients would seek care quickly. Unfortunately, a new study indicates that patients are actually sicker when they begin therapy. The study is published in the November 15 issue of Clinical Infectious Diseases, currently available online.



Actors, Musicians Urge New Approach on AIDS
by Haider Rizvi, OneWorld US
NEW YORK, Oct 24 (OneWorld) - Some of the nation's leading performing artists are calling for the U.S. Congress to roll back the Bush administration's policy on global HIV/AIDS funds requiring abstinence from sex until marriage.

BC Centre for Excellence in HIV/AIDS: First Academic Division of AIDS opens in Canada
The BC Centre for Excellence in HIV/AIDS partners with the University of British Columbia in the fight against HIV/AIDS
VANCOUVER, BRITISH COLUMBIA - October 24, 2007 - The University of British Columbia (UBC) Department of Medicine has established Canada's first Division of AIDS (DAIDS) based at the BC Centre for Excellence in HIV/AIDS, Providence Health Care.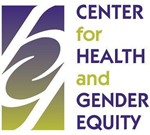 39 Noted Performing Artists Urge Congress to Fix Flaws in President's Global AIDS Plan
Artists for a New South Africa (ANSA) Organizes Artists Sign-On Letter as Part of Center for Health and Gender Equity (CHANGE) HIV Prevention Advocacy Coalition
October 17, 2007 -(Los Angeles, CA)- Last week, 39 celebrity activists and Artists for a New South Africa issued a letter to members of Congress, urging them to improve the President's Emergency Plan for AIDS Relief (PEPFAR). PEPFAR currently restricts 1/3 of U.S. global HIV prevention funds to abstinence-until-marriage programs that are proven ineffective and fail to address the specific risk factors unique to women and girls.

AIDS: Prevention without raising fears
by Andrea Schuster
Berlin. The Robert Koch Institute has announced an increase in the number of HIV infections in the first half-year of 2007. A cure for this deadly disease has still not yet been found. The only protection is education.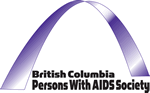 Research Announcement Will Directly Benefit People Living with AIDS
Oct. 16, 2007 - Vancouver BC - The British Columbia Persons With AIDS Society (BCPWA) applauds the announcement made today at St. Paul's Hospital. Paul Levesque, President and CEO of Pfizer Canada, announced $3 million for the BC Center for Excellence in HIV/AIDS to develop a tropism virus strain test.



National Infectious Diseases Day
A Call for a Canada-Wide Strategy
National Infectious Diseases Day October 18, 2007
OTTAWA - More than ever infectious diseases are threatening the health and lives of Canadians. For this reason, organizations representing the infectious diseases sector are calling for a national infectious disease strategy to be led by the federal government. The following organizations are collaborating on this initiative:


BIOLYTICAL REPORTS MILESTONE PATIENT ENROLLMENT IN NEW TRIAL FOR INSTIT, 60-SECOND RAPID HIV TEST
VANCOUVER, BC, October 16, 2007 - bioLytical Laboratories (bioLytical) today announced patient enrolment has exceeded 30% in their Investigational Device Exemption (IDE) study for approval by the U.S. Food and Drug Administration (FDA) of INSTIT, a 60-second rapid HIV test for point-of-care (POC) testing. bioLytical's IDE filing was accepted by the FDA July 6, 2007.


BC FIRM TO MANUFACTURE INSTANT HIV TEST KITS HIV/AIDS / PROVINCIAL HEALTH AUTHORITIES MONITOR QUALITY CONTROL
VANCOUVER, BC, The Ontario government has chosen the Insti HIV-1 Rapid Antibody Test produced by Richmond, BC-based Biolytical Laboratories for use in Ontario's newly expanded network of anonymous testing facilities.




Miss Universe Canada adds sparkle to 12th annual Bay Street's AIDSbeat
Inga Skaya Miss Universe Canada 2007 and Canadian Idol's Zack Werner to judge at rock & roll fundraiser for the Canadian Foundation for AIDS Research October 12th
TORONTO, Oct. 4, 2007 - What do lawyers, a Canadian Idol judge and Miss Universe Canada have in common? They're coming together in Toronto for a BATTLE OF THE BANDS: AIDSbeat, the wildest party on Bay Street! 1,200 lawyers are expected to let loose, and raise over $200,000 for the Canadian Foundation for AIDS Research (CANFAR) on October 12th 2007 at the Capitol Event Theatre.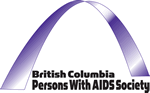 BCPWA Dismayed by Clement's Lack of Commitment
October 3, 2007 - Vancouver BC - The decision to grant Insite a six month extension, announced yesterday by Minister of Health Tony Clement, demonstrates the government's lack of commitment to tackling the HIV epidemic, says the British Columbia Persons With AIDS Society.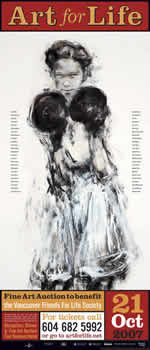 Art For Life 2007
Art for Life is Friends For Life's signature fundraising event. This year's event will be held at Vancouver's Four Seasons Hotel on Sunday, October 21st, 2007.



INSITE EXTENSION A POLITICAL MANOEUVRE INSTEAD OF A PUBLIC HEALTH DECISION
Existing evidence shows supervised injection facility should be permanent
Ootober 2, 2007 - The six-month extension given to Vancouver's supervised injection facility by federal Health Minister Tony Clement earlier this afternoon is an irresponsible decision on a public health program that has been proven to work, said the Canadian HIV/AIDS Legal Network today.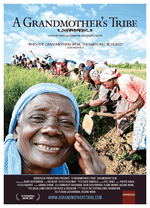 WORLD PREMIERE ANNOUNCEMENT - A Grandmother's Tribe Documentary Film
After a most wonderful process of making this film a reality, we are pleased to announce the WORLD PREMIERE of 'A Grandmother's Tribe' Documentary Film
at the DOCNZ International Documentary Festival 2007.




VISUAL AIDS AND THE BODY ANNOUNCE NEW WEB EXHIBITION
Many Lands curated by Allison Hawkins
Every month, Visual AIDS invites guest curators, drawn from both the arts and AIDS communities, to select several works from the Frank Moore Archive Project. For October, Allison Hawkins curated the current on-line exhibition which features...

====================================