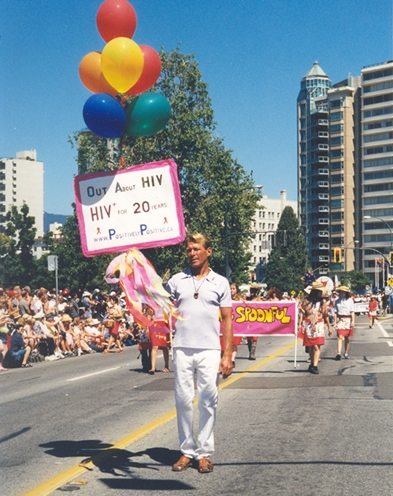 Bradford McIntyre, HIV+ since 1984, marches in the
Vancouver PRIDE Parade 2004 - In the Name of Love, holding his homemade sign:
OUT ABOUT HIV - HIV+ FOR 20 YEARS - www.PositivelyPositive.ca.
Photo Credit: Deni Daviau
---
OUT & PROUD
-Vancouver Pride Parade, 2004
- In the Name of Love
By Bradford McIntyre
AUGUST 2004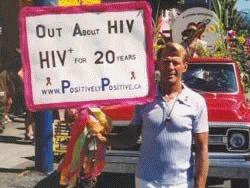 Photo Slideshow: Bradford McIntyre (HIV+ for 20 years at the time)
is Out About HIV in the Vancouver Pride Parade, 2004.
Vancouver, Canada
---
With a record attendance, 150,000people lined Denman Street and Beach Avenue along side English Bay in downtown Vancouver's West End.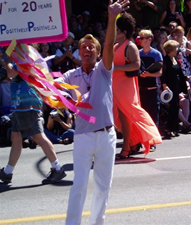 This year's parade was the most upbeat and colorful Pride Parade ever held in Vancouver and it is the third largest in Canada, after Montreal and Toronto.
The theme; IN THE NAME OF LOVE was about acceptance! "Everybody should be able to love who they want to and be proud of themselves," explains Steven Schelling of the Vancouver Pride Society.
Federal, provincial and municipal government presence was at an all time high, with Jack Layton, Federal Leader of the NDP and his wife Olivia Chow, B.C. NDP Leader Carol James, Mayor of Vancouver Larry Campbell, Liberal MP Hedy Fry, MLA Jenny Kwan, MLA Lorne Mayencourt, City Council members Tim Stevenson, Jim Green and Tim Louis and Vancouver Police Chief Jamie Graham, all participating in the parade.
OUT, LOUD and PROUD!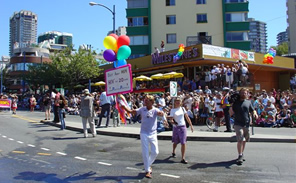 Our gay flag waved everywhere; there were the dozen or so flags the City of Vancouver hoists up for Gay Pride Week on the boulevard, at the intersection of Davie and Denman Streets and the beach.
The spectrum of the rainbow waved prominently in the WEST END from yards, windows, balconies, businesses, Davie Village, on floats, carried by marchers and those waved by the tens of thousands watching the parade!
In full force, the gay community (GLBT) did not disappoint those who came to watch the parade. There was something for everyone! As always, the rumble of motorcycles ridden by the Dike's on Bikes, cleared and led the way as marchers in dazzling costumes and colorful floats thrilled onlookers! There were bare breasts and bare bottoms, and just a skimpy covering for P-Can (Pacific Canadian Association of Nudists) members. Muscle bound dancers and music that energized the crowd from club floats such as Celebrities and Odyssey. Also, were Vancouver favorites, the Rainy City Gay Men's Chorus and the Rainbow Concert Band! A new entry to the parade this year and a real crowd pleaser, The Righteously Outrageous Twirling Corps from the United States ( Chicago) who also performed at the Van City (Credit Union) Festival Stage at Sunset Beach after the parade.
As a participant in the parade, it was evident that there was a joyful communication between the marchers, people on floats and the people lining the streets. Interacting not only with cheers and clapping, there were eye catching glances and broad happy smiles of recognition, handshakes, hugs and kisses were exchanged! The shouts of "Happy Pride" echoed along the parade route! What was readily apparent to ALL were the thousands of family's that turned out to watch the parade. The song "We are family" could very well have been a theme song for this years Pride parade as people from all walks of life joined together in celebration of Love and Acceptance! From the "In the Name of Love" float, to the Davie Village Business Improvement Association float 'The Wizard of OZ' and to PFLAG (formerly Parents and Families of Lesbians and Gays), there were 138 floats in the 3 ½ hour parade.
This year did not have the political overtones of other years but the messages conveyed by individuals, groups and organizations came through loud and clear with resounding cheers from the crowds such as: those received by QUAK (Queers United Against Kapitalism) and StopWar.ca.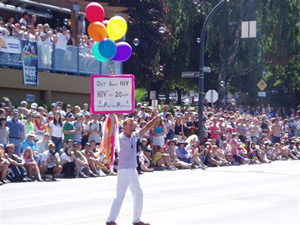 The crowd was a little more somber as the entry from BCPWA (Persons With AIDS Society) rolled along; given their entry was that of a New Orleans Funeral Procession with members dressed for mourning. Their message was one of remembering those we have lost and that HIV is killing people. This float was a reminder to the government that more needs to be done and much more funding is necessary!
Walking in the parade, I was quite comfy situated between A Loving Spoonful (A volunteer driven, non-partisan Society that provides free, nutritious meals to people living with HIV/AIDS in the Greater Vancouver Area) and Family Pride ( Equality for Lesbian, Gay, Bisexual, Transgendered Parents and their Families). I held my sign high for all to see!
OUT ABOUT HIV
HIV+ 20 years
www.PositivelyPositive.ca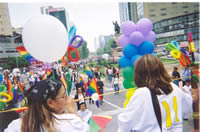 I had the previous experience and gained confidence from having taken part in the 26th March of GLBT Pride in Mexico City in June. When I returned home from my trip I realized the Vancouver Parade was just a few weeks away. I contacted the Vancouver Pride Society and talked with the President, Shawn Ewing and expressed my interest in registering to be in the parade. I asked if it was too late to register and Shawn said, "As far as I'm concerned, anyone who has been living with HIV for 20 years and wants to march in the parade, they can!" With that response, I ran around for supplies and made my sign.
When I spoke with the press, I said, "People who are HIV+ are not asking to be different! People who are infected with HIV are no different than anyone else, only that they have been infected with a virus. Whether you are affected by or infected with HIV, we must cross the boundaries of fear and discrimination, to join our hearts in the realization we are all here to LOVE one another.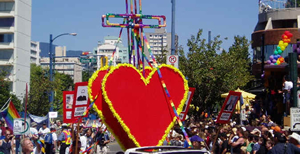 Love is the way! And this year's theme is 'In the Name of Love' and in that I'm here to create HIV and AIDS awareness.
Happy Pride!"
Throughout the entire parade route, as the crowds read my sign, acceptance rang loudly with smiles and waves, cheers and applause!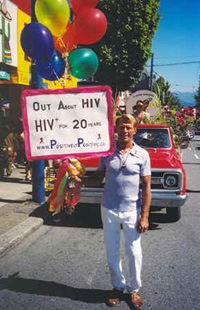 We often create the idea that people can't handle what it is that is going on in our lives but there is more power in people knowing I have been infected with the AIDS virus than there ever was in them not knowing! Not just for me but for every single person who is infected. If, as a result of my being public someone does not withdraw from their family and friends or if, people open their hearts and treat one another better and more lovingly then; it makes it worth creating Awareness! All the years of hiding the fact I am infected with the AIDS virus are far behind me! Equally, I have never hidden the fact that I am Gay, but the previous statements can be applied to being Gay as well!
If there is something going on in your life and you're not telling anybody, how do you ever expect anyone to be able to offer their support?
The show of support watching the Pride Parade and all those who participated in it is an affirmation of acceptance and LOVE!
May we all move forward in the name of LOVE!
Happy Pride!
Bradford McIntyre

Vancouver, BC, Canada
www.PositivelyPositive.ca
---
OUT & PROUD-Vancouver Pride Parade 2004-In the Name of Love
by Bradford McIntyre
Published in: Enkidu Magazine-Eye Opening International News (Mexico)
Special Report by our Correspondent in Canada Bradford McIntyre

Other articles by Bradford McIntyre
copyright © Bradford McIntyre