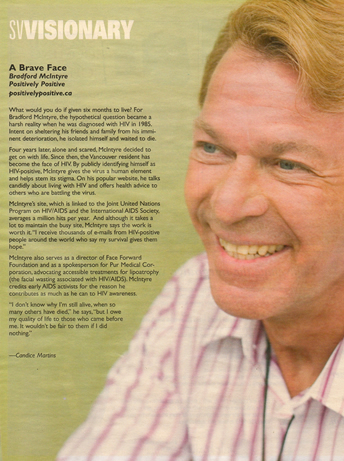 Shared-Vision Article:
A Brave Face Bradford McIntyre Positively Positive
- by Candice Martins - photo by Jaime Kowal - www.Shared-Vision.com
---
A Brave Face
Bradford McIntyre
Positively Positive
positivelypositive.ca
By Candice Martins,
Photograph by Jaime Kowal
SHARED VISION: July 2007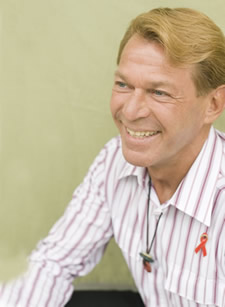 Photo: Bradford McIntyre,
Positively Positive Living with HIV, since 1984.
Photo by Jaime Kowal - www.jaimekowal.com
---
What would you do if given six months to live? For Bradford McIntyre, the hypothericl question became a harsh reality when he was diagnosed with HIV in 1984. Intent on sheltering his friends and family from his immenent deterioration, he isolated himself and waited to die.
Four years later, alone and scared, McIntyre decided to get on with life. Since then, the Vancouver resident has become the face of HIV. By publicly identifying himself as HIV-posiitve, McIntyre gives the virus a human element and helps stem its stigma. On his popular website, he talks candidly about living with HIV and offers health advice to others who a battling the virus.
McIntyre's site, which is linked to the Joint United Nations Programme on HIV/AIDS and the International AIDS Society, averages a million hits per year. And although it takes a lot to maintain the busy site, McIntyre says the work is worth it. "I receive thousands of of e-mails from HIV-positive people around the world who say my survival gives them hope."
McIntyre also serves as the director of Face Forward Foundation and as a spokesperson for Pur Medical Corporation, advocating accessible treatments for lipoatrophy (the facial wasting associated with HIV/AIDS). McIntyre credits early AIDS activists for the reason he contributes as much as he can to HIV awareness.
"I don't know why I'm alive, when so many others have died."e says."but I owe my quality of life to those who came before me. It wouldn't be fair to them if I did nothing."
- Candice Martins
###
"Reproduced with permission - SHARED VISION"
www.Shared-Vision.com