LIPODYSTOPHY:
Breaking the silence with
LIPO-ACTION!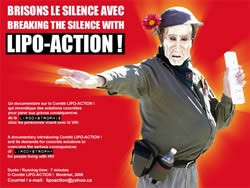 LIPO-ACTION was founded on October 16, 2003 in Montreal at a public meeting called to find solutions to the impact of lipodystrophy and lipoatrophy on people living with HIV on Antiretrovirals.
LIPO-ACTION is a direct action group whose goals are to inform, sensitize and mobilize various sectors of society that are concerned by the devastating impact of lipodystrophy and lipoatrophy on women, men and children living with HIV. They chose to be jointly committed in a creative citizen action in order to obtain a true therapeutic assumption of responsibility of this alarming syndrome. Helped by their close relations, they decided together to break silence and to organize theatrical public interventions; using masks, costumes and signs.
INTERVENTION OBJECTIVES
To contribute actively to informing and sensitizing people living with HIV, community workers, healthcare professionals, researchers and the pharmaceutical companies about the disastrous impact of this syndrome for people living with HIV (witnessing, statistics, etc.)
To fight for antiretroviral treatments that are effective but less toxic and to demand more research and more pertinent information about the causes and the means to prevent and remedy lipodystrophy.
To promote the dissemination of honest and up-to-date information so that patients are equipped to make well-informed treatment choices with the help of their doctors.
To demand universal access to reparatory treatments for the effects of lipodystrophy and lipoatrophy covered by the public health system.
To obtain better psychosocial support from community groups and the health and social service network in order to live better with the consequences of lipodystrophy.
To encourage the participation of people living with HIV to partake in political action in order to break out of their isolation and to confront the issues related to lipodystrophy and lipoatrophy, in solidarity with their fellow citizens.
Le Comité LIPO-ACTION ! officially shut down as a commitee in 2007.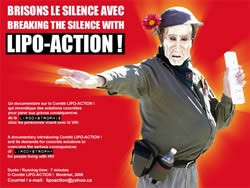 BREAKING THE SILENCE
WITH LIPO-ACTION !
Documentary on the Comité LIPO-ACTION ! Lipo-Action! (English)
(Time: 7 minutes)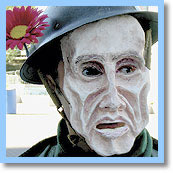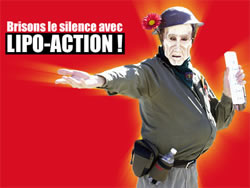 Brisons le silence avec LIPO-ACTION!
Documentary on the Comité LIPO-ACTION ! Lipo-Action! (
French
)
(Temps : 7 minutes')