Porridge for the Soul
- Guest Speaker: Bradford McIntyre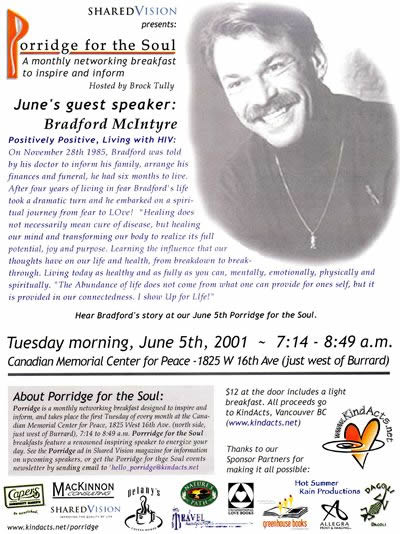 SHARED VISION presents:
Porridge for the Soul
A monthly networking breakfast to inspire and inform. Hosted By Brock Tully
June's guest speaker: Bradford McIntyre
June 5th, 2001 - Positively Positive, Living with HIV:
On November 28th 1985, Bradford was told by his doctor to inform his family, arrange his finances and funeral, he had six months to live. After four years of living in fear Bradford's life took a dramatic turn and he embarked on a spiritual journey from fear to Love! Healing does not necesssarily mean cure of disease, but healing our mind and transforming our body to realize its full potential, joy and purpose. Learning the influence that our thoughts have on our life and health, from breakdwn to break-through. Living today as healthy and as fully as you can, mentally, emotionally, physically and spiritually. "The Abundance of life does not come from what on can provide for ones self, but it is provided in our connectedness. I show Up for LIfe!"
Hear Bradford's story at our June 5th Porridge for the Soul.
Tuesday morning, June 5th, 2001 - 7:14 - 8:49 a.m.
Canadian Memorial Center for Peace - 1825 W 16th Ave.
(just west of Burrard)
About Possidge for the Soul:
Porridge is a monthy networking breakfast designed to inspire and inform, and takes place the first Tuesday of every month at the Canadian Memorial Center for Peace, 1825 West 16th Ave.( norht side, just west of Burrard), 7:14 to 8:49 a.m. Porridge for the Soul breakfasts feature a renowned inspiring speaker to energize your day. See the Porridge ad in Shared Vision magazine for information on upcoming speakers, or get the Porridge for the Soul events newsletter by sending email to hello_porridge@kindacts.net
$12.00 at the door includes a light breakfast. All proceeds go to KindActs, Vancouver, BC. www.kindnessfoundation.com