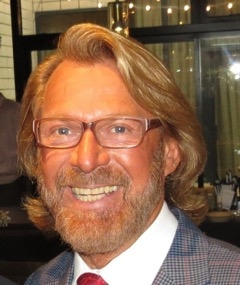 Positively Positive
Bradford McIntyre
November 24, 2015
Canadian, Bradford McIntyre, has been living with HIV since 1984. On November, 28th 1985, he was given six months to live. That was thirty years ago and after speaking to him the other day for almost an hour, I can assure you that he has a very positive outlook on life. Bradford has the Human Immune Deficiency virus well under control, with a strong immune system and the virus undetectable since the late 1990s, eliminating HIV transmission risk.
As of June 2015, Bradford enrolled, through the Vancouver Infectious Disease Centre, in a new Phase 3 Study (Janssen Research & Development Ireland), for a new HIV/AIDS drug not yet approved by the FDA. As a study participant, he is on a once-daily single-tablet regimen versus continuing a triple combination treatment.
I spoke on the phone with this award winning activist & trailblazer, who has devoted his life to volunteer work participating in HIV and AIDS causes and events and running his 5,000+ page website: Bradford McIntyre Positively Positive Living with HIV/AIDS. By adding new content and updating his website daily, Bradford ensures that the information educates and brings awareness to the many issues around HIV and AIDS, providing the most current information available.
Bradford's website includes HIV/AIDS Links, HIV/AIDS Articles, HIV/AIDS Videos, and Alternative & Complementary Therapies, HIV/AIDS News and Archives and more. There are links to HIV/AIDS events and campaigns, like the Canadian AIDS Society's campaign, HIVAnonymous.ca, which encourages HIV-positive individuals to share their experience in a way that they feel comfortable and safe. Bradford's website includes interviews and documentaries, as well as Bradford's personal biography that details his spiritual journey from fear to love. He discusses how he took his positive diagnosis and used it as an opportunity or "a wake-up call".
Bradford says, "People don't usually look at life-threatening illness as an opportunity. But, without diminishing the seriousness of the disease or sentimentalizing its impact, illness can be a wake-up call. We don't have to detach ourselves from the illness, as much as think about it differently. Let go of the fear. Stop thinking about dying and get on with living!"
One can see the remarkable transformation that has taken place in Bradford's life over these last 31 years living with HIV. His personal transformation and healing have helped him to realize the unlocked potential in each of us. He details his physical and mental strategy from "breakdown to breakthrough" and how positive living can actually help influence a healthy lifestyle, and along with a proper HIV regimen, it is possible to be HIV positive and live a long healthy life.
"Our judgments and those we place on others contribute to our DIS-EASE and disease. It also plays a role in how we judge and treat disease. Showing up exactly who we are and not hiding any aspect of ourselves, will contribute to the ease with which we live. Defining ourselves and differences especially around illness and disease allows victimizing and undermining self-esteem and health."
"There have been many changes in how I think and what I put in my body. The results speak for themselves. 30 years after being given a death sentence, I'm still alive and have learned how to live a full life!" says Bradford.
Until we learn that everyone has an HIV status and the H in HIV stands for HUMAN there is still a lot of work to be done so we can create a shift in our thinking as a collective. We need to move into a greater understanding of how to protect and prevent future generations from living with the life sentence that HIV is.
A long time survivor living with HIV since 1984, Bradford announced publicly on Canadian national TV, World AIDS Day, December 1, 1994, that he was living with HIV.
Bradford says, "We need everyone who is HIV Positive to come out if we are to get rid of the stigma associated with HIV!"
Contributing to his community locally and internationally, Bradford has volunteered his time and energy bringing him the honors of receiving the Queen Elizabeth II Diamond Jubilee Medal, in 2012, for excellence in the field of HIV/AIDS, in Canada, and the Pride Legacy Award in 2013, for Sexual Health & HIV/AIDS Awareness, listed on his amazingly easy to navigate website.
The amount of information, insight, and hope provided by the Positively Positive Living with HIV/AIDS website is extensive. The information is helpful, current and interesting. Bradford does the work and creates the content with the computer in his bedroom, without any funding. You can see the dedication to helping our community by the sheer hours of work and care that goes into everything he does. With more than a million views a year, Bradford's website is helping people all over the world by creating a place of inspiration and information packaged together with love and light.
"My work creating HIV and AIDS awareness globally has provided for many people, a face living with HIV and this has helped to bring hope to people infected that they too can live a long and healthy life!" ~Bradford McIntyre
###