Media Advisory
HIV/AIDS Advocate Bradford McIntyre is marching in the
36 Annual Vancouver
PRIDE PARADE
HIV+ 30 Years, Bradford McIntyre Keeps Up Fight
August 3, 2014 - 12:00 pm - 3:00 pm
Vancouver, BC, Canada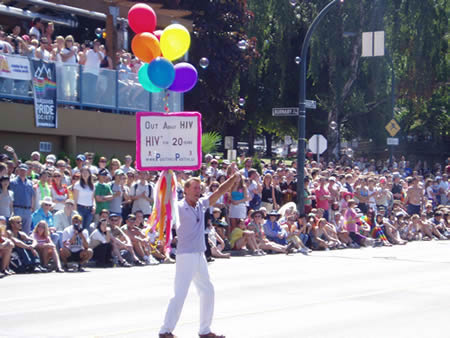 Bradford McIntyre marching in the 2004 Vancouver PRIDE Parade -
Vancouver Pride Parade, 2004 - In the Name of Love
AUGUST 2004, Vancouver, British Columbia, Canada.
August 1st 2014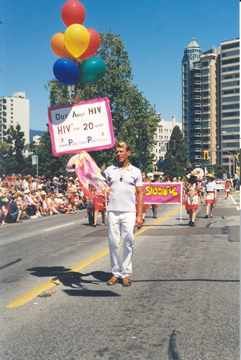 Ten years ago, HIV/AIDS Activist Bradford McIntyre marched in both the 2004 March of GLBT PRIDE in Mexico City, and the 2004 Vancouver PRIDE PARADE carrying a handmade sign that said he was OUT ABOUT HIV, HIV+ for 20 Years (in both English and Spanish, in Mexico). At 62 years of age, and HIV positive for 30 years, Bradford is planning to carry the same sign (the year changed to 30 years) that he carried in the Vancouver PRIDE PARADE in 2004.
Bradford is planning to wear a T-Shirt that says in large letters: NO SHAME ABOUT BEING HIV POSITIVE, to fight HIV/AIDS stigma. The T-Shirt is part of the Rise Up To HIV campaign. www.riseuptohiv.org.
Bradford has participated in the Vancouver PRIDE PARADE many times, and from 2011 - 2013, he was on the AIDS Vancouver Board of Directors (Vice Chair), and rode on the AIDS Vancouver float.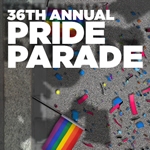 What: 36 Annual Vancouver PRIDE PARADE
Date: August 3, 2014
Time: 12:00 pm - 3:00 pm
PARADE Route: The parade begins at Robson Street and Thurlow Street, heads west to Denman Street, follows Denman to Pacific Street and Beach Avenue and finishes at Sunset Beach Pride Festival and Market.
For more information contact: Vancouver PRIDE Society
###
About Bradford McIntyre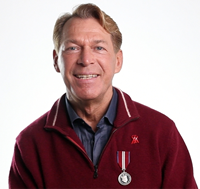 A long time survivor living with HIV since 1984, Bradford McIntyre announced publicly on national TV, on World AIDS Day, December 1, 1994, that he was living with HIV. For 20 years he has been involved creating HIV and AIDS awareness, volunteering his time and energy participating in HIV/AIDS causes through all venues: events, media, conferences, seminars, documentaries and speaking engagements.
Bradford received the Queen Elizabeth II Diamond Jubilee Medal for excellence in the field of HIV/AIDS in Canada, in 2012, and in 2013, he received the Vancouver PRIDE Society's PRIDE Legacy Award for Sexuality (Sexual Health + HIV/AIDS Awareness). Founder of Positively Positive - Living with HIV/AIDS ( www.PositivelyPositive.ca ); Bradford's popular website is an internationally recognized HIV and AIDS information and resource website.
A Day in the Life of Bradford McIntyre, IAS Member and Founder of "Positively Positive, Living with HIV/AIDS" Website
Contact
Bradford McIntyre
Phone: 604-688-7702
Email: bradford@positivelypositive.ca
Website: www.PositivelyPosiitve.ca
Vancouver, British Columbia, Canada.


About the Vancouver PRIDE Society
The Vancouver PRIDE Society is the organizing body behind the annual Vancouver Pride Parade, Sunset Beach Festival and Market and approximately 20 events throughout the summer months. The organization was established on the international stage as a leader in organizing grassroots community events on a large scale.

The Vancouver PRIDE Society is a non-profit organization that brings together members of the Lesbian, Gay, Bisexual,Transgender, Two-Sprited and Queer (LGBTTQ) community, their friends, allies and supporters in celebration of the unique spirit and culture of our community by producing quality, inclusive and safe events to celebrate. The VPS strengthens the sense of community and contributes to the vibrancy, health and overall well being of persons in the LGBTTQ communities. vancouverpride.ca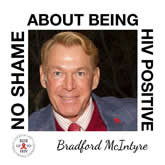 About Rise Up To HIV
To educate, inspire, empower, advocate, network and partake in social change through unilateral and collaborative social media efforts of organizations, PLWHA, and our supporters with diverse backgrounds from all over the world.

Our Vision: To create positive change for individuals, families and communities through an army of compassionate individuals and organizations as we march towards the cure for HIV/AIDS.

Rise up to HIV and the No Shame About being HIV Positive is a grassroots social media movement being driven by people living with HIV/AIDS and our allies. The aim is to raise awareness by keeping the conversation going about HIV/AIDS and lift the veil of shame for nearly 34 million people living with this illness.Rise Up To HIV and the No Shame campaign is run by a handful of dedicated volunteers. www.riseuptohiv.org/