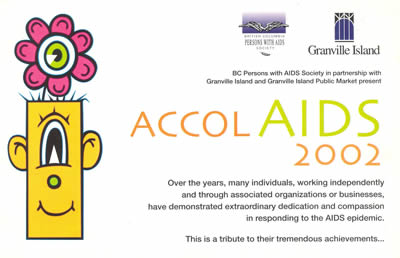 AccolAIDS 2002
Nominees & Recipients
An awards gala honouring our heroes in the BC AIDS movement.



AccolAIDS 2002 Nominees & *Recipients

Social, Political and Community Action

John Neil Cameron
Barney Hickey
*John Kozachenko
Paul Lagace
Lorne Mayencourt
Pumpjack Pub
Kendra Sprinkling
Tim Stevenson

Health Promotion and Harm Reduction

Gregg Brown
John Neil Cameron
Cathy Churchill
Trevor Corneil
Tomiye Ishida and Vicki Bright
Alastair McLeod
*Michael O'Shaughnessy

Science, Research and Technology

Alastair McLeod
*Dr Julio Montaner
Michael O'Shaughnessy

Philanthropy

John Neil Cameron
David McCann
David McLean
The Printing House Limited
Kendra Sprinkling
*Starbucks Coffee Company

Innovative Programs

Gregg Brown
*Lois Brummet
Cathy Churchill
Tomiye Ishida & Vicki Bright
Jennifer Evin Jones
Lorne Mayencourt
Wings Housing Society

Service Delivery

*ANKORS
John Neil Cameron
Cathy Churchill
Tomiye Ishida and Vicki Bright
Paul Lagace
Lorne Mayencourt
Alastair McLeod
Phil Sestak
Joanna and Brian Wardley
Wings Housing Society

Kevin Brown PWA Hero Award

*Joe Average
Barney Hickey
John Kozachenko
Tom McAulay
Bradford McIntyre
David McLean

Life Time Achievement Award

Denise Becker
Bo LeDrew
Tom McAulay
*Alastair McLeod
Marc Raper
Phil Sestak
Patricia White



###

The British Columbia Persons With AIDS Society (now Positive Living Society of British Columbia) is dedicated to empowering persons living with HIV disease and AIDS through mutual support and collective action. Unique among major HIV/AIDS agencies in Canada, the Society's Board of Directors is composed entirely of HIV+ members. The organization provides support and advocacy services, treatment information, and volunteer opportunities for members province-wide.