"A Day with HIV in America" on September 21 to Chronicle Images of What it Means to Live with HIV
Positively Aware magazine sponsors 2nd annual photo essay to be published in November/December 2011 issue
CHICAGO, Ill. (September 16, 2011) - Whether you're HIV negative or positive, live with HIV or care for someone with HIV, Positively Aware, is asking people to share their stories through the lens of a camera on one, single day, September 21. The second annual A Day with HIV in America will capture the collective portrait of those living with HIV to help remove the stigma of HIV and to advance a community of care and support.
Presented by Positively Aware, a leading HIV treatment magazine produced in the U.S. by an AIDS non-profit, A Day with HIV in America is inviting people-positive and negative alike-to snap a digital photograph at any time over the course of Wednesday, September 21.
Participants can record a portrait, time with friends and family at work or play, or any moment in the day that helps the world better understand how HIV affects their lives. Photos are to be submitted by September 26 on the A Day with HIV in America web site. Follow A Day with HIV in America's Facebook page or on Twitter @A_Day_With_HIV to see updates and selected photographs, and to share the site and its vision with friends to help spread the word.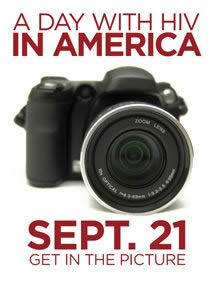 "We're asking all Americans affected by HIV to share with all of us an image of their life living with HIV," said Jeff Berry, editor of Positively Aware. "Their vantage points captured over a single day will create a rich photographic tapestry of hope, strength and support that will help tear away the stigma of living with HIV in America today."
Participants from outside of the U.S. are encouraged to participate in taking pictures on Sept. 21. One of the objectives of this project is to tear down barriers-and show how we are all affected by HIV.
The final photos selected for the photo essay of A Day with HIV in America will be announced in October 2011 and will be published in the November/December issue of Positively Aware magazine. Positively Aware will also premiere the photos at the U.S. Conference on AIDS, November 10-13 in Chicago, Ill.
To learn more about this year's project, see last year's winners and to make your photo submission, visit, www.adaywithhivinamerica.com .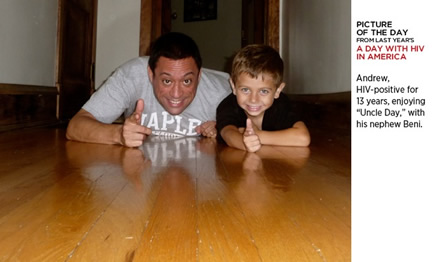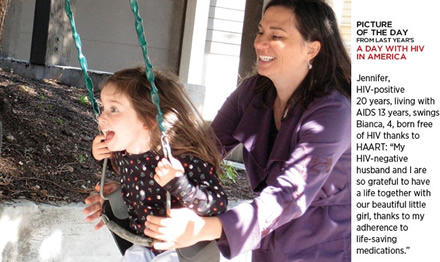 About Positively Aware
Positively Aware is a magazine devoted to HIV treatment and wellness. With a circulation of more than 100,000, it is published bi-monthly by Test Positive Aware Network (TPAN) in Chicago and is the only publication of its kind to be produced by a non-profit AIDS agency. Founded in 1987, TPAN is Chicago's oldest peer-led AIDS service organization and specializes in treatment information, support services and prevention. For more information, please visit www.positivelyaware.com or www.tpan.com.
Reproduced with permission - "Positively Aware"
Positively Aware