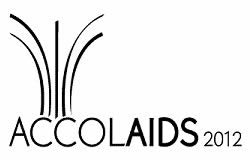 AccolAIDS "People's Choice" Award
Voting for who should receive the AccolAIDS "People's Choice" Community Award is now open!
All votes must be received by 5pm on 26th April 2012 and the recipient of the Award will be announced at the AccolAIDS Gala.
To confirm your vote you will need to respond to the message that will be sent to your email address.
Voting Instructions:
Please click on the link below to vote. You will be asked for your name and email address. Once you have sent your e-mail, please wait a moment as you will immediately receive an e-reply asking you to confirm your vote. (Your vote is not counted until you do that final step.)
http://www.positivelivingbc.org/events/accolaids-peoples-choice-award
Nominee biographies are available to help you choose who should receive this award!
If you require any further information please contact accolaids@positivelivingbc.org
Phone: 604 915 9255
More information on AccolAIDS:
AccolAIDS is a bi-annual awards gala honouring our heroes in the BC HIV/AIDS movement. This year's AccolAIDS Awards continues to honour the extraordinary achievements and dedication of organizations, businesses, groups and individuals responding to the AIDS epidemic in British Columbia, and the thousands of people living in BC who are affected. ACCOLAIDS is organized by the Positive Living Society of British Columbia.
###


About POSITIVE LIVING BC
POSITIVE LIVING BC is dedicated to empowering persons living with HIV/AIDS through mutual support and collective action. We are a Registered Non-profit Society (#11928-2085) and an established leader in the HIV/AIDS movement . Uniquely among major agencies in Canada, the POSITIVE LIVING BC Board of Directors is composed entirely of HIV+ members.

Formerly known as the British Columbia Persons With AIDS Society (BCPWA) and with a membership of more than 4,800 HIV+ members, we are Western Canada's largest AIDS service organization and a proud history spanning three decades. For more information visit: www.positivelivingbc.org