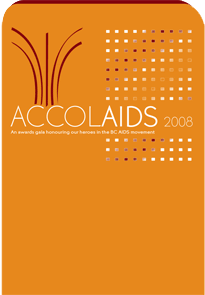 AccolAIDS Awards 2008
The 7th Annual AccolAIDS Awards Gala is coming soon.
Buy your yicket today!
The AccolAIDS Awards honour the extraordinary achievements and dedication of organizations, businesses, groups and individuals responding to the AIDS epidemic in British Columbia, and the thousands of people living in BC who are affected.
The AccolAIDS Award Gala will be held on April 13, 2008 at the Fairmont Hotel Vancouver.
Tickets are selling fast! Join us, and hosts Steph Song and David Kopp of CBC's "jPod", at the 7th Annual ACCOLAIDS Awards Gala.
Join us for gourmet cuisine, live entertainment and, silent and live auctions on Sunday, April 13th from 6 pm to 10 pm at the Fairmont Hotel Vancouver - an exciting new venue!
Proceeds benefit the vital programs and services provided by the BC Persons With AIDS Society.
AccolAIDS is made possible through the generous support of sponsors and donors. Our gratitude for their support is shared by over 4,300 HIV positive members of the BC Persons With AIDS Society.
The British Columbia Persons With AIDS Society (now Positive Living Society of British Columbia) is dedicated to empowering persons living with HIV disease and AIDS through mutual support and collective action. Unique among major HIV/AIDS agencies in Canada, the Society's Board of Directors is composed entirely of HIV+ members. The organization provides support and advocacy services, treatment information, and volunteer opportunities for its 4,400 members province-wide. The BCPWA Society is the recipient of the prestigious BC Association of Broadcasters' Humanity Award for the 2006/2007 year.