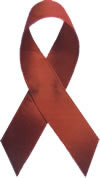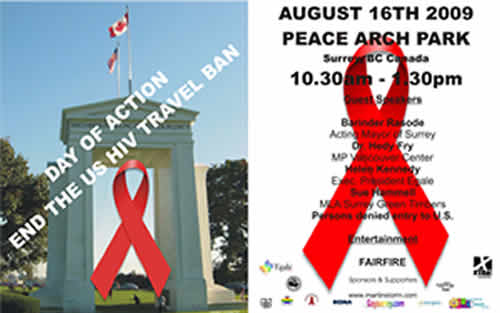 AIDS Activists Rally This Sunday To Support Lifting U.S. Ban On HIV-Positive Immigrants And Visitors
Day of Action
End the US HIV Travel Ban
August 10, 2009 - From Buffalo to British Columbia, AIDS activists rally this Sunday to support lifting U.S. Ban on HIV-Positive Immigrants and Visitors.
WHAT: Coordinated rallies in U.S./Canadian border towns in support of lifting the despicable U.S. ban on HIV-positive immigrants and visitors. HIV-positive U.S. residents will cross from Canada to the U.S to emphasize the discriminatory nature of the ban.
WHY: The Obama administration has proposed lifting the two-decades-old ban on people living with HIV entering the U.S. Earlier this summer, up to 60 Canadians living with HIV planning to attend an AIDS conference in Washington, D.C. were barred from entering the U.S. because of the ban. The U.S. is very close to lifting this ban; national and international voices are needed to ensure that this is done.
WHERE: Peace Arch Park, Surrey, British, Columbia, the last stop before the Canadian U.S. border AND Central Avenue, Fort Erie - QEW Overpass across the bridge to Buffalo, New York.
WHEN: The Surrey, BC event takes place August 16 from 10:30 am to 1:30 pm. The Buffalo event takes place on Aug. 16 from 2:30 pm to 3:15 pm.
WHO: Hundreds of people living with HIV and their supporters from Canada and the U.S. Speakers at the Surrey, BC event include Surrey Mayor Barinder Rasode and Vancouver Centre Member of Parliament Dr. Hedy Fry. Speakers at the Fort Erie event include representatives from local AIDS Service Organizations from both Canada and the United States.
Participating organizations include: Canada: Egale, BCGEU, OISRCS, CUPW, CUPE 402, Rona Gaysurrey.com, Dab the AIDS Bear Project, Xtra West, Indie Rock Band Fairfire AIDS Niagara, AIDS Action Now; Canadian AIDS Society, Bruce House, Canadian HIV/AIDS Legal Network, Black Coalition for AIDS Prevention. U.S. : Housing Works, AIDS Community Services - (ACS), Campaign to End AIDS, AIDS Network of Western New York , Bailey House, CitiWide Harm Reduction

Contact:

Canada: British Columbia Martin Rooney Phone (604) 584-6475 rally@martinstorm.com;

Niagara: Doulton Wiltshire, Phone: (905) 984-8684 ext 110; dwiltshire@aidsniagara.com

US: Diana Scholl, 917-402-2576 d.scholl@housingworks.org