Parting Glances

Parting Glances was one of the first American films to address the AIDS epidemic and the impact on the gay community.
Written and Directed by Bill Sherwood.
Cast: Richard Ganoung, John Bolger, Steve Buscemi, Adam Nathan,
Kathy Kinney
November 15, 2010 - Vancouver,BC. - AIDS Vancouver Board Member, Bradford McIntyre, a long term survivor living with HIV since 1984, discussed the film Parting Glances, and shared his own experience living with HIV, on November 12th, 2010 at Pacific Cinematheque as part of AIDS Vancouver's We Care Red Ribbon Month. Bradford has been working tirelessly to help increase AIDS awareness to help prevent the stigma and silence that often accompanies the virus. You can read more about Bradford on his website at www.posiitvelypositive.ca.
Bradford McIntyre, AIDS Vancouver Board Member Speaking at Pacific Cinematheque before a showing of Parting Glances.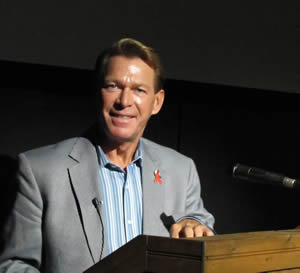 "Good evening, my name is Bradford McIntyre. Welcome to our presentation!
I would like to thank you for coming to this AIDS Vancouver We Care RED RIBBON Campaign event, Parting Glances.
AIDS Vancouver launched the We Care RED RIBBON Campaign on Nov.1st 2010 at City Hall, with Mayor Gregor Robertson proclaiming November as RED RIBBON Month.
Parting Glances is just one of the Campaign events.
You are invited to take part in the weekly Noon series,
Please join us for the RED Ribbon Gala November 30th. This is a cocktail Gala Reception at the Museum of Vancouver.
Let's not forget that December 1st is World AIDS Day.
It has been almost 30 years since HIV first emerged and AIDS became synonymous with stigma and misconceptions.
The same fear and discrimination that characterized the epidemic then is still with us today.
AIDS Vancouver's role in the lives of our clients is more necessary than ever before.
Many people today believe that because HIV is a chronic, manageable disease and not the guaranteed death sentence it once was that it is no longer a matter for public concern.
Medical research has made many major strides yet there is still no cure and there continues to be no vaccine to protect us against HIV. Yet we, as a society, remain silent.
This silence leads to further stigma.
This silence leads to fear of testing and treatment.
This silence leads people to believe that it will not happen to them.
This silence leads to new infections going unnoticed.
AIDS Vancouver wants to change that and we want your help to Spread The Love and Stop The Virus.
Together we can protect each other.
We have chosen to use the red ribbon as our rallying symbol, a symbol of the AIDS movement that continues to represent solidarity and hope.
Our intent is to enhance and revive this traditional symbol through our "We Care Red Ribbon Campaign" aimed at recapturing the fading awareness and combating the public silence around HIV.
These are the themes of our red ribbon campaign."
Parting Glances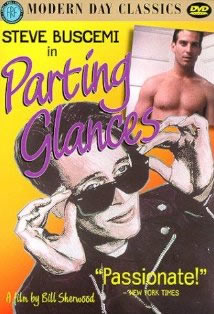 "This film, which you are about to see, is a NEW 35 MM Restoration. In 2007, Parting Glances was the first feature film restoration by the Outfest Legacy Project for LGBT Film Preservation. Steve Buscemi and Kathy Kinney through their financial contributions were instrumental in the restoration of the film.
Parting Glances was one of the first American films to address the AIDS epidemic and the impact on the gay community. At the time, an HIV infection was thought to be a death sentence.
Bill Sherwood wrote and directed this film. Parting Glances was shot in 1984 and released in 1986. This was his first and only feature film. Bill Sherwood died of AIDS in 1990, at age 37.
CAST:

In the film, Richard Ganoung plays the character of Michael, John Bolger plays Robert, Steve Buscemi plays Nick, Adam Nathan plays Peter and Kathy Kinney plays Joan.
Parting Glances was the first film appearance for Richard Ganoung, Kathy Kinney and Steve Buscemi.
Bill Sherwood wrote the movie while he and Kathy Kinney were secretaries at CBS Television, in New York City. He wrote the character of Joan with Kathy Kinney in mind.
Producing the film was a struggle along with funding problems but in the end the film was released in1986. Parting Glances is as relevant today as it was in the early days of HIV/AIDS.
The film is a snapshot over a 24-hour period in the lives of these characters. Bill Sherwood captured their experiences.
I tried to contact the actors to speak with them about their roles in the film or perhaps share an anecdote. I was fortunate to speak with Kathy's best friend of 35 years. Kathy's manager called me at the request of Kathy.
Prior to Parting Glances, Kathy was teaching improv in New York City. Kathy Kinney (well known for her hilarious role as Mimi in the Drew Carey Show) and Cindy Ratzlaff (an award-winning marketing professional) have released their book, "QUEEN OF YOUR OWN LIFE: THE GROWN-UP WOMAN'S GUIDE TO CLAIMING HAPPINESS AND GETTING THE LIFE YOU DESERVE". The book was published in April 2010 and is a bestseller.
Kathy is the character Mrs. P., an award-winning FREE interactive digital storybook destination. Classic children's stories are brought to life by TV star Kathy Kinney. (located at www.mrsp.com)
I spoke at length on the phone with Richard Ganoung, who played the leading role in Parting Glances.
He voiced and I quote, "The film is about people, friendship and Love and a testament to the friendship the actors continue to have. The film was a labour of Love!" unquote.
Richard Ganoung wants to know, . Does this film still talk to you?
Richard would be happy to hear from you and you can contact him through www.richardganoung.com. Today, Richard is appearing in the play, "In The Next Room or The Vibrator Play", in Madison, Wisconsin.
Before his role in Parting Glances, Steve Buscemi was a Firefighter in Brooklyn and appeared in a small theatre company, in New York's, Greenwich Village.
I wasn't able to speak with Steve Buscemi, as he is currently filming the Martin Scorsese, HBO Series, "Boardwalk Empire", in which he plays Enoch "Nucky" Thompson."
PERSONAL REFLECTIONS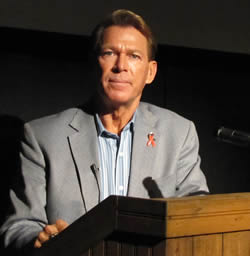 "The film Parting Glances took me back. It brought back memories of my experiences and what I saw happening to others. People were sick and dying.

In 1981, my friend's sister called me to tell me he was in the hospital. They didn't know what was wrong and he developed a rare, unusual pneumonia. In the hospital, he was put in isolation. Large orange signs read HIGH RISK to protect others from an unknown disease.

It was unknown, how the disease was transmitted or contracted. He didn't die of the pneumonia and in 1982 he was the first person in Canada to go blind from this ailment. Sadly, he died 1983.

At that time, the world was just beginning to learn about this deadly virus. Now, it is known as HIV, the Human Immuno-deficiency Virus.

In 1984, I learned I was infected.

As you know, November is the We Care RED RIBBON Campaign.

For a long time, November has been an important month for me. November has always been a month to get to . and get through . and a Celebration of Life! On November 28th 1985, I was told by my doctor to inform my family, arrange my finances and funeral that I had six months to live!

In the early years, the incorrect thinking that HIV was an automatic death sentence created the fear. Stigma and discrimination followed. That stigma still persists.

I moved away from home and isolated myself, so no one would see me get sick and die. In the earlier years, there were times of hopelessness, unable to really take care of myself, silently screaming for help. I was doing without, alone, afraid, waiting to die!

For years, I lived in fear until a friend told to me that I had suffered long enough and hard enough and that it was time to get on with my life!

I knew it was true. I took control of my life and started to move in a positive direction. Moving away from fear allowed me to SHOW UP FOR LIFE!

In 1994, I announced publicly on national TV, on the Dini Petty Show (December 1, World AIDS Day) that I was infected with HIV.

Moving away from the fear, allowed me to be out about HIV and to educate others. For 16 years, I have been OUT publicly about being infected with HIV.

People need to see others living with HIV and AIDS, who are not afraid to disclose that they are infected, in order to move away from the fear.

This will prevent the need for people to withdraw or hide the fact that they are infected with HIV.

Through educating others, it is my aim to help break down the stigma and discrimination around HIV/AIDS.

There are 40 million people around the world infected with HIV
27 million people have died from HIV.
10 million people don't know they are infected.
7 thousand people die every day from HIV.
In Canada, every 2 hours someone is infected with HIV.
HIV does not discriminate. You can't tell by looking that someone is infected.

Spread The Love. Stop the Virus.
Together We Can Protect Each Other.
Spread the Love. Stop the Virus!

Now let's watch this important film!"




###

AIDS Vancouver is proud to announce the We Care Red Ribbon Campaign during the month of November 2010. This month has officially been proclaimed Red Ribbon Month throughout the City of Vancouver by Mayor Gregor Robertson and City Council. With innovative events and public outreach throughout November, the We Care Red Ribbon Campaign will focus on the importance of safe sex and breaking down the silence and stigma surrounding HIV/AIDS. The We Care Red Ribbon Campaign intends to galvanize the Vancouver community to "Spread The Love, Stop The Virus."


The We Care Red Ribbon Campaign is grateful for the support from: City Of Vancouver Transit Shelter Advertising, TV Week, Georgia Straight, Capers/Wholefoods, Granville Island Brewing Company, Cineworks and Pacific Cinematheque.

Come celebrate the close of The We Care Red Ribbon Campaign at our Red Ribbon Cocktail Reception, Museum of Vancouver November 30th.

For more information about AIDS Vancouver visit www.aidsvancouver.org