RED RIBBON MONTH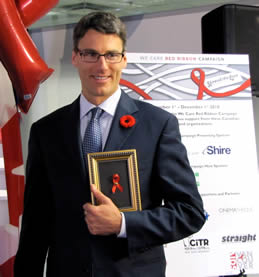 Mayor Gregor Robertson - November 2010
Red Ribbon Month in the City of Vancouver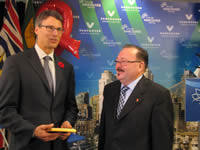 November 1, 2010 - AIDS Vancouver launched the We Care RED RIBBON Campaign at City Hall today with Vancouver Mayor Gregor Robertson proclaiming November 2010 Red Ribbon Month in the City of Vancouver. The We Care Red Ribbon Campaign will run from November 1st to December 1st 2010 leading up to the AIDS Vancouver's We Care Red Ribbon Cocktail Reception at the Museum Of Vancouver on November 30th, the eve of World AIDS Day.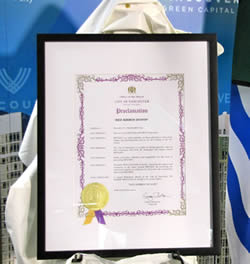 Office of the Mayor
CITY OF VANCOUVER
British Columbia
Proclamation
"RED RIBBON MONTH"
WHERAS December 1st is World AIDS Day;
And WHERAS There are over 6,100 living with HIV in Vancouver;
And WHERAS The City of Vancouver is a leader in taking proactive steps to raise awareness and break the stereotypes and stigma around HIV/AIDS;
AND WHERAS Public awareness, education and engagement are key tools in preventing HIV/AIDS;
AND WHERAS November 2010 is Red Ribbon Month, celebrating the support and awareness of the issues around HIV/AIDS by promoting the traditional symbol of solidarity for all people and communities affected by HIV/AIDS.
NOW THERFORE, I Gregor Robertson, Mayor of the City of Vancouver, DO HEREBY PROCLAIM the month of November, 2010 as
"RED RIBBON MONTH"
In the city of Vancouver.
Gregor Robertson
Mayor
Watch:
Watch:
Watch:
Watch: