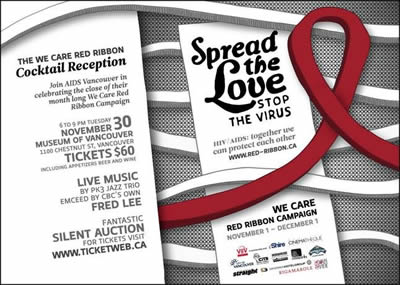 We Care Red Ribbon Gala
Cocktail Reception
Join AIDS Vancouver in celebrating the close of their month long We Care Red Ribbon Campaign.

Come one! Come all!
You are cordially invited to AIDS Vancouver's final We Care Red Ribbon event on Tuesday, November 30th- the eve of World AIDS Day!

When:November 30, 2010 6pm - 9pm

Location: Museum of Vancouver, 1100 Chestnut St., Vancouver, BC V6J 3J9

Event: A Cocktail Reception at the Museum of Vancouver celebrating the close of the 2010 We Care Red Ribbon Campaign.

Emcee: CBC's own Fred Lee.

Live music by: PK3 Jazz Trio Fantastic

Fantastic Silent Auction and more.

Tickets: $60

Tickets include: Appetizers by Lazy Gourmet, Granville Island Beer, Rigamarole Wines
###
Contact:
Fleur Cooper
Development and Communications Manager
Direct: 604 696 4657
About AIDS Vancouver
The first AIDS service organization in Canada. AIDS Vancouver was founded in 1983 as the first AIDS service organization in Canada. The agency was formed in response to an emerging disease that was starting to infect and affect local communities in Vancouver, specifically gay men. From our beginning, AIDS Vancouver evolved with the progression of the HIV/AIDS epidemic. This evolution has made our service delivery and program development relevant and innovative today.

While setting standards for excellence in program and service delivery, we work with policy makers to address complex legal, ethical and socioeconomic issues. The principles of Health Promotion, Harm Reduction, Community Based Research, Community Development and Volunteerism guide and direct us. www.aidsvancouver.org

"Reproduced with permission - AIDS Vancouver "
AIDS Vancouver