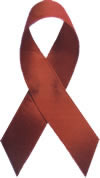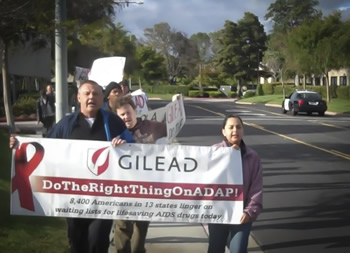 AIDS advocates protested outside Gilead Sciences Foster City headquarters over Gilead's pricing of Atripla for nation's hard-hit AIDS Drug Assistance Program (ADAP)
As of today, nearly 8,600 low-income HIV/AIDS patients in 13 states across the country linger on waiting lists to access lifesaving medications through ADAP; In 2010, Gilead had $6.5 billion in AIDS drug sales, enjoying a 36.5% profit margin
San Francisco, CA - June 29, 2011- A small group of committed AIDS activists and advocates spearheaded by AIDS Healthcare Foundation (AHF) protested Gilead Sciences outside its Foster City headquarters earlier today over Gilead's pricing and policies on its HIV/AIDS medications. In light of the severe crisis facing the nation's AIDS Drug Assistance Program (ADAP), a network of federal and state funded programs that provide life-saving HIV treatments to low income, uninsured, and underinsured individuals living with HIV/AIDS nationwide, the advocates targeted executives and employees-including CEO John C. Martin-at an early morning protest with chants of 'Gilead, do the right thing!' as workers arrived at the company in order to spotlight Gilead's current pricing for its blockbuster HIV/AIDS drug, Atripla (efavirenz & tenofovir & emtricitabine)-currently $10,000 per patient, per year for ADAP.
As of June 23rd, nearly 8,600 low-income AIDS patients in 13 states have been placed on waiting lists to access lifesaving HIV/AIDS medications through the nation's network of ADAPs. However, in a particularly Dickensian move, several states have also recently capped further enrollment in their ADAPs or are sharply reducing eligibility for their programs based on a percentage of Federal Poverty Level (FPL) income (in some cases cutting the FPL-eligible income from 400% to 200%), effectively denying needy patients access to medications, yet because enrollment is officially capped-or eligibility eliminated-these additional patients are never formally added to the states' ADAP waiting list rosters.
"Atripla, Gilead's top selling AIDS drug, accounts for over 20% of ADAP expenditures, generating millions in revenue for the company. However, at a cost of over $10,000 per year, ADAP can no longer afford to pay for this and other Gilead drugs without price relief," said Adam Ouderkirk, Bay Area Regional Director for AHF and a leader of the protest. "Given that Atripla is sold 'at cost' for $600 per year in developing countries, Gilead could lower the price significantly and still make a huge profit, yet it has not. We felt it important to bring this message home to Gilead executives and employees."
Background on ADAP
With state budgets stretched thin and increasing numbers of unemployed workers without health insurance, many states have been forced to cap enrollment in their AIDS Drug Assistance Programs. Currently, there are nearly 8,600 individuals on waiting lists to receive lifesaving AIDS medications in thirteen states. Hundreds of patients in need are being added to the waiting list each week. In addition, thousands more Americans living with HIV/AIDS have been dropped from the program or made ineligible to receive medications through ADAP due to stricter eligibility requirements.
Nationwide, ADAPs serve over 165,000 people, accounting for one third of people on AIDS treatment in the U.S. Unfortunately, the need for these programs expands every year, as more and more people become infected and diagnosed with HIV/AIDS; each year thousands of newly diagnosed HIV patients turn to ADAPs because they cannot afford their medicines.
"Our intention with actions like this protest earlier today in the Bay Area targeting Gilead over its AIDS drug pricing and policies is to encourage Gilead to reflect on its own remarkable mission and history as a very different sort of drug company," said Whitney Engeran-Cordova, Senior Director of Public Health Division for AIDS Healthcare Foundation. "The nation's network of AIDS Drug Assistance Programs face desperate circumstances because of high prices for drugs like Gilead's Atripla. AHF is willing to work in partnership with Gilead toward solutions for ADAP and to create and foster dialogue with the community, but we will not rest and never stop should companies like Gilead continue pursue pricing and policies that conflict with the greater good and health and well-being of the public."
###
About AHF

AIDS Healthcare Foundation (AHF) is the US' largest non-profit HIV/AIDS healthcare provider. AHF currently provides medical care and/or services to more than 80,000 individuals in 22 countries worldwide in the US, Africa, Latin America/Caribbean and Asia. Additional information is available at www.aidshealth.org
Contact:
AIDS Healthcare Foundation
UNITED STATES
Ged Kenslea,
Communications Director, AHF
P. (323) 308-1833,
F. (323) 465-3568
ged.kenslea@aidshealth.org

or

Lori Yeghiayan,
Associate Director of Communications, AHF
P. (323)308-1834
F. (323) 465-3568
loriy@aidshealth.org