Positively Positive - Living with HIV/AIDS:
HIV/AIDS News Archive - August 2007

Group goes extra mile for HIV/AIDS prevention
by Anissa S. Febrina
August 31, 2007 - Jakarta Post - Jakarta - As dusk falls in the capital, several ex-drug users, a former prostitute, a couple of teenagers and an old man huddle together before going their separate ways to the city's red-light districts.
With packets of condoms stuffed into their bags, they entered the dimly lit karaoke lounges, bars and massage parlors that harbor and cover for prostitution.



Ça Marche / Walk for AIDS - Together, we can do it!
Mother of Founder Calls on People to Sponsor Her Directly
The Farha Foundation's 15th annual 7 km AIDS walk to be held in downtown Montreal in support of those living with HIV and AIDS.
September 16, 2007 at 10 AM

"Children's Voices Largely Absent at ICAAP8" - PWN+ & World Vision
August 29, 2007 - Chennai, Tamil Nadu, India - Positive Women's Network (PWN+) and World Vision India expressed concern at the fact that the voices of children were not heard adequately at the recently concluded International Congress on AIDS in the Asia Pacific at Colombo, Sri Lanka. PWN+ is the only organization that has been started by HIV positive women and children in India.


HIV test results in 60 seconds
bioLytical Laboratories HIV/AIDS Mobile Testing campaign Test Your Commitment
The inaugural launch of the Test Your Commitment campaign in Vancouver on August 10th was a tremendous success, attracting hundreds of people to watch demonstrations of INSTIT Kit , witness live testimonials, and network with health care professionals and community group representatives.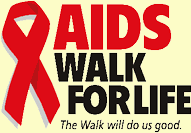 BC PERSONS WITH AIDS SOCIETY'S 22ND ANNUAL AIDS WALK FOR LIFE
Vancouver BC - The BC Persons With AIDS Society (BCPWA), and 15 community partners, present the 22nd Annual AIDS WALK for LIFE on Sunday, September 23rd, in Stanley Park. The AIDS Walk for Life is a national event, initiated by BCPWA in1989, to raise funds to provide direct care to people living with HIV/AIDS in Canada.


BIOLYTICAL POSTPONES TORONTO DATE FOR PUBLIC HIV TESTING AND AWARENESS CAMPAIGN
August 17, 2007 - bioLytical announced today the postponement of the Toronto dates for the Test Your Commitment campaign. Originally planned for August 17th and 18th at Dundas Square, the Test Your Commitment campaign will be rescheduled for a new date in the coming weeks.

====================================