Positively Positive - Living with HIV/AIDS:
HIV/AIDS News Archive - January 2010

New vaccine preventing TB in African patients with HIV infection
29-Jan-2010 - Hanover, N.H., U.S.A. - Investigators from Dartmouth Medical School (DMS) have reported results of a clinical trial showing that a new vaccine against tuberculosis, Mycobacterium vaccae (MV), is effective in preventing tuberculosis in people with HIV infection. The DarDar Health Study, named for Dartmouth and Dar es Salaam, Tanzania, found that MV immunization reduced the rate of definite tuberculosis by 39 percent among 2,000 HIV-infected patients in Tanzania.



Caution urged when switching regimens
2010 Jan 28 - In many high- and middle-income countries, doctors treating HIV-positive people have a choice of more than 20 drugs in six classes from which to choose when formulating a regimen.
Read more...


Human Rights and HIV
January 28, 2010 - Today, more than ever, HIV/AIDS is a Human Rights issue. the right to health care, the right to education, the right to privacy, the right to non-discrimination.
Read more...


Farha Foundation: "A Future Without AIDS"
MONTREAL, QUEBEC--(Marketwire - Jan. 26, 2010) - The Farha Foundation Unveils Its 11th Edition of MASKARADE "The Futurist Ball".
The Farha Foundation, Quebec's leading AIDS fundraising organization, is pleased to announce its 11th annual MASKARADE gala. Fashionistas, celebrities, and Montreal's elite will gather to celebrate The Futurist Ball on Thursday, February 18th, 2010 at Marche Bonsecour.

New compound could be alternative strategy for preventing HIV infection
25-Jan-2010 - A University of Missouri researcher is developing a compound that is more potent and longer-lasting than current HIV therapies.



Huge increase in STIs among middle-aged Canadians
2010 Jan 25 - In Canada, middle-aged adults-between 40 and 59 years of age-represent about a third of the population. Sexual health is an important aspect of middle age. Based on their latest findings, researchers at the Public Health Agency of Canada (PHAC) suggest that when it comes to the topic of sexual health, middle-aged Canadians may require more education.
Read more...
Study Shows Genital Herpes Virus Reactivates Widely Throughout Genital Tract
January 22, 2010 - Genital herpes caused by a reactivation of herpes simplex virus type 2 (HSV-2) is generally treated as a lesion in one specific area of the genital region. A new study, however, finds that the virus can frequently reactivate throughout the genital tract, an important new concept that could help guide both HSV-2 treatment and prevention. Now available online , the study appears in the Feb. 15 issue of The Journal of Infectious Diseases.

Video of virus in action shows viruses can spread faster than thought possible
21-Jan-2010 - New video footage of a virus infecting cells is challenging what researchers have long believed about how viruses spread, suggesting that scientists may be able to create new drugs to tackle some viruses.



Africa Action Releases Africa Policy Outlook 2010
Thursday, January 21, 2010 (Washington, DC) - One year after President Obama was sworn in to office, and less than a week before his State of the Union address, Africa Action today released its Africa Policy Outlook 2010 , also published by Foreign Policy in Focus.



Influencing the decision to begin therapy for hepatitis C virus infection
2010 Jan 21 - Some people may start using substances out of a desire to self-medicate-to reduce or temporarily escape distress caused by anxiety, depression, psychosis, post-traumatic stress disorder, physical pain or other conditions. However, many illicit substances are addictive and can damage the brain. What's more, activities such as sharing needles and other equipment for substance use can place people at high risk for infection with HIV, hepatitis C virus and other infections.
Read more...
The challenge of improving nutrition: facts and figures
20 January 2010 - A healthy diet is more than just calories. Priya Shetty gets the figures on the cost of poor nutrition - and the scale of the challenge.
Medical treatment for HIV may have advanced rapidly over the past few decades but a key ingredient for treating the disease - good nutrition - is often ignored.

Nutrition key to cutting infection rates
20 January 2010 - Micronutrients help fight disease - it's time to turn knowledge into action, say nutrition researchers Andrew Thorne-Lyman and Wafaie Fawzi.
Daily multivitamin supplements have reduced HIV progression in several observational studies and randomised trials, as well significantly decreasing the risk of low birthweight, miscarriage and other adverse outcomes among HIV positive pregnant women.

PrEP treatment prevented HIV transmission in humanized mice
20-Jan-2010 - CHAPEL HILL- Systemic pre-exposure administration of antiretroviral drugs provides protection against intravenous and rectal transmission of HIV in mice with human immune systems, according to a new study published January 21, 2010 in the online journal PLoS ONE.

Potential new class of drugs to combat hepatitis C identified by scientists
JAN. 20, 2010 - scientists have discovered a novel class of compounds that, in experiments in vitro, inhibit replication of the virus responsible for hepatitis C. If these compounds prove effective in infected humans as well, they may dramatically accelerate efforts to confront this virus's propensity to rapidly acquire drug resistance, while possibly skirting some of the troubling side effects common among therapies in current use and in late-stage development.

HIV: Positive lessons from home-based care
19-Jan-2010 - Intensive home-based nursing in HIV/AIDS patients significantly improves self-reported knowledge of HIV, awareness of medications, and self-reported adherence to medication programmes, according to a new Cochrane Systematic Review.

Circumcising newborn males is a cost effective strategy for HIV prevention in Rwanda
19-Jan-2010 - Circumcising newborn boys as a way to prevent HIV infection in later life is more cost-effective than circumcising adult males, finds a new Rwandan study in this week's PLoS Medicine.



IAS APPLAUDS CANADIAN COURT'S RULING ALLOWING VANCOUVER'S MEDICALLY SUPERVISED INJECTION SITE TO CONTINUE OPERATING
19 January 2010 (Geneva, Switzerland) - HIV Researchers and Other Professionals Point to Evidence of Programme's Proven Effectiveness in Decreasing Risk Behaviors that Lead to the Transmission of HIV and Hepatitis C
The International AIDS Society (IAS) today welcomed a British Columbia court's ruling on Friday dismissing the federal government's effort to close Vancouver's medically supervised injection site, emphasizing the programme's proven track record of attracting some of the most marginalized and difficult to serve individuals who are addicted to drugs and decreasing risk behaviors that lead to the transmission of HIV and other blood borne pathogens such as hepatitis C.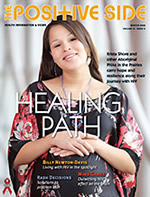 The Positive Side (Winter 2010)
The current issue of The Positive Side is packed with hearty winter reading. Our cover story looks at the devastating effects of the HIV epidemic among Aboriginal people on the Prairies. In an exclusive interview, Juno-Award winning artist and PHA Billy Newton-Davis tells us about living with HIV in the limelight. We also take an in-depth look at HIV's effects on the brain, and more importantly, what you can do to help keep your mind sharp.
Read more...


Accelerated ageing of the brain found in some HIV-positive people
2010 Jan 13 - One organ that may be negatively affected by prolonged HIV infection is the brain. Since the earliest days of the HIV pandemic, researchers recognized that, in some cases, HIV infection could eventually result in behavioural and cognitive changes-including difficulty thinking clearly, problems with memory, confusion, delirium, and, in extreme cases, dementia.
Read more...


CAHR 2010 - Abstract Submission Deadline Approaching
January 12, 2010 - 5 days left to submit an abstract for the CAHR 2010 Conference
The 19th Annual Canadian Conference on HIV/AIDS Research will be held at TCU Place in Saskatoon, SK from May 13 to 16, 2010.

Plus que 5 jours avant la date limite de soumission d'un abrégé destiné au congrès de l'ACRV 2010
Le 19e Congrès canadien annuel de recherche sur le VIH/sida aura lieu du 13 au 16 mai 2010 à TCU Place, à Saskatoon. Pour soumettre un abrégé destiné à cet événement, visitez le site Web du congrès de l'ACRV 2010 .



NIH and D.C. Department of Health Team up to Combat District's HIV/AIDS Epidemic
January 12, 2010 - Officials from the National Institutes of Health and the city of Washington, D.C. today announced the new D.C. Partnership for HIV/AIDS Progress, a collaborative research initiative between NIH and the D.C. Department of Health designed to decrease the rate of new HIV infections in the city, improve the health of district residents living with HIV infection, and strengthen the city's response to the HIV/AIDS epidemic.

Researchers trace HIV mutations that lead to drug resistance
11-Jan-2010 - Chemists at UC San Diego and statisticians at Harvard University have developed a novel way to trace mutations in HIV that lead to drug resistance. Their findings, once expanded to the full range of drugs available to treat the infection, would allow doctors to tailor drug cocktails to the particular strains of the virus found in individual patients.

IOM report recommends steps to tackle hepatitis B and C
11-Jan-2010 - WASHINGTON - Stepped-up vaccination requirements, a boost in resources for prevention and treatment, and a public awareness campaign similar to the effort that dispelled the stigma of HIV/AIDS are needed to curb the health threats posed by hepatitis B and hepatitis C, says a new report from the Institute of Medicine.



Fatal case of pneumonia with swine flu and HIV
January 11, 2010 - A pandemic influenza virus called H1N1 (also known as Swine flu) emerged in April 2009 and quickly spread around the world.
Read more...
Out from under U.S. HIV blacklist after 15 years of exile
Jan 10 2010 - Ban on HIV-positive travellers came down hard on Sergio Martinez. With it lifted, he's finally free
Fifteen years ago, Sergio Martinez's life came to an abrupt halt when an airport customs agent in Los Angeles found HIV medication in his bag. It might as well have been a bomb.



SafeGames 2010 to Distribute 250,000 Condoms in SafeKits During Vancouver Olympics
January 7, 2010 - VANCOUVER - SafeGames 2010, a consortium of local, national, and international harm-reduction and advocacy organisations, is working to ensure that Vancouver residents and international visitors celebrate safely during the upcoming Winter Olympics

Study finds increased presence, severity of coronary artery plaques in HIV-infected men
January 7, 2010 - A Massachusetts General Hospital (MGH) study has found that relatively young men with longstanding HIV infection and minimal cardiac risk factors had significantly more coronary atherosclerotic plaques - some involving serious arterial blockage - than did uninfected men with similar cardiovascular risk. The investigation appearing in the January 2010 issue of the journal AIDS is the first to use CT angiography to identify coronary artery plaques in HIV-infected participants.

High Antiretroviral Therapy Adherence Associated with Lower Health Care Costs
January 6, 2010 - High antiretroviral therapy adherence, which has been shown to be a major predictor of HIV disease progression and survival, is now associated with lower health care costs, according to researchers at the Johns Hopkins Bloomberg School of Public Health.

Study suggests why circumcised men are less likely to become infected with HIV
PHOENIX, Ariz. - Jan. 5, 2010 - Changes in bacteria within the penis microbiome documented for the first time
Circumcision, which substantially lowers HIV risk in men, also dramatically changes the bacterial communities of the penis, according to a study led by scientists at the Translational Genomics Research Institute (TGen) and Johns Hopkins University and published Jan. 6 in the scientific journal PLoS ONE.

HIV-infected postmenopausal women at high risk for bone fractures
5-Jan-2010 - Chevy Chase, MD - With potent therapies comes longer life for HIV-infected individuals, but with longer life comes metabolic complications
According to a new study accepted for publication in The Endocrine Society's Journal of Clinical Endocrinology & Metabolism (JCEM), postmenopausal HIV-infected women have a high prevalence of low bone mineral density and high bone turnover placing them at high risk for future bone fractures.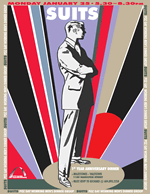 SUITS
POZ WORKING MEN'S DINNER GROUP CELEBRATES ANNIVERSARY
1st YEAR ANNIVERSARY DINNER
MONDAY JANUARY 25, 2010
Started in January 2009, the Suits Poz Working Men's Dinner Group began in response to a need for a support program for HIV-positive working men. The program, run by and for gay poz working guys, is part of the Wellness Promotion Programs. The group will celebrate it's one-year anniversary with a special dinner on January 25th, 2010.

====================================