Positively Positive - Living with HIV/AIDS:
HIV/AIDS News Archive - June 2007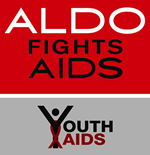 Join the Fight Against HIV / AIDS
MONTREAL, Quebec, June 25, 2007 - ALDO Introduces the latest "ALDO Fights AIDS" product
ALDO and YouthAIDS have once again joined forces to deliver a fresh adaptation of their original global campaign with the introduction of a limited edition collection of ALDO Fights AIDS "Hear", "See" and "Speak" pins. The impact of the ALDO Fights AIDS campaign has been immense. Since the launch in Fall 2005, ALDO has raised over $3.2 million dollars for YouthAIDS, impacting the lives of millions of young people around the world. ALDO's goal is to increase these figures as they introduce the ALDO Fights AIDS pins in the hopes of spreading a powerful AIDS message and raising even more funds to help combat this global pandemic.


VANITY FAIR RELEASES UNPRECEDENTED 20 DIFFERENT COVERS FOR AFRICA ISSUE GUEST-EDITED BY BONO
June 2007- New York, N.Y. - Cover Features Oprah Winfrey, Desmond Tutu, Bill Gates, George Clooney, Madonna, Muhammad Ali, George W. Bush, Barack Obama, Iman, Brad Pitt, and 11 Others
Vanity Fair editor Graydon Carter and first-ever guest editor Bono publish Vanity Fair's special Africa issue with an unprecedented 20 covers featuring Muhammad Ali, Maya Angelou, Warren Buffett, George W. Bush, Don Cheadle, George Clooney, Bill and Melinda Gates, Djimon Hounsou, Iman, Jay-Z, Alicia Keys, Madonna, Barack Obama, Brad Pitt, Queen Rania of Jordan, Condoleezza Rice, Chris Rock, Desmond Tutu, Oprah Winfrey, and Bono, all shot by Annie Leibovitz.



International AIDS Society and Kaiser Family Foundation Partner to Provide Comprehensive Online Coverage of 4th IAS Conference on HIV Pathogenesis, Treatment and Prevention
June 11, 2007 - Menlo Park, CA and Geneva, Switzerland - Webcasts and Podcasts of Sessions and Interviews from Sydney Expected to Reach Thousands around the World
The International AIDS Society (IAS) and the Kaiser Family Foundation today announced a partnership to provide worldwide online access to the 4th IAS Conference on HIV Pathogenesis, Treatment and Prevention (IAS 2007) in Sydney, Australia, 22-25 July 2007. Held every two years, the conference unites scientists, clinicians, public health experts and community leaders to examine the latest developments in HIV-related research, and to explore how scientific advances can inform the global response to HIV/AIDS.

Big pharma forces G8 to renege on AIDS promise
June 10, 2006 - Major pharmaceutical manufacturers pressured G8 leaders to go back on their promise to help developing nations fight HIV/AIDS and forced them to tighten drug patent regulations, thereby denying cheap medicines to people who need them the most, rights groups claimed on Friday.



HOWARD GOVERNMENT MAY DAMAGE HIV PREVENTION EFFORTS BY CONSIDERING DISCREDITED HIV INADMISSIBILITY POLICIES
Geneva, Switzerland, 1 June 2007 - The International AIDS Society (IAS), lead organizer of the upcoming 4th IAS Conference on HIV Pathogenesis, Treatment and Prevention (IAS 2007) in Sydney, strongly opposes Australian Prime Minister John Howard's recent comments regarding restricting entry of people living with HIV (PLHIV) to Australia.

====================================