LOOK BEYOND The Faces & Stories of People with HIV/AIDS:
BOOK SIGNING
December 10, 1996
LOOK BEYOND The Faces & Stories of People with HIV/AIDS was launched on November 28th at the Parliamant Buildings in Ottawa. Janet Connors from Hailfax and Bradford McIntyre from Vancouver, as well those from Toronto, Ottawa, and Montreal, who are featured in the book were in attendence.
Michelle Valberg will be in Vancouver Sunday December 15th for a book signing at Little Sister's Book & Art Emporium.
Book stores generally take 40% of the price of a book. For this reason LOOK BEYOND is avaialble at The Victorian Order of Nurses, Hemophiliac and AIDS organizations. The proceeds of LOOK BEYOND go to the Snowy Owl AIDS Foundation which will distribute the funds across Canada to benefit those living with HIV/AIDS.
Bradford McIntyre approached Little's Sister's to carry the book on consignment, allowing all proceeds to go to the Snowy Owl AIDS Foundation. This Sunday Little Sister's will hold a book signing from 2:00pm - 5:00pm. Michelle Valberg will be there to personally sign books. There are many people with HIV/AIDS who are featured in the book who live in Vancouver planning to attend.
The finacial success of this book depends on it visibility, and funds generated to better help those with HIV/AIDS. Michelle Valberg has created a beautiful collection of photographs of people who's lives are about living, not death and dying.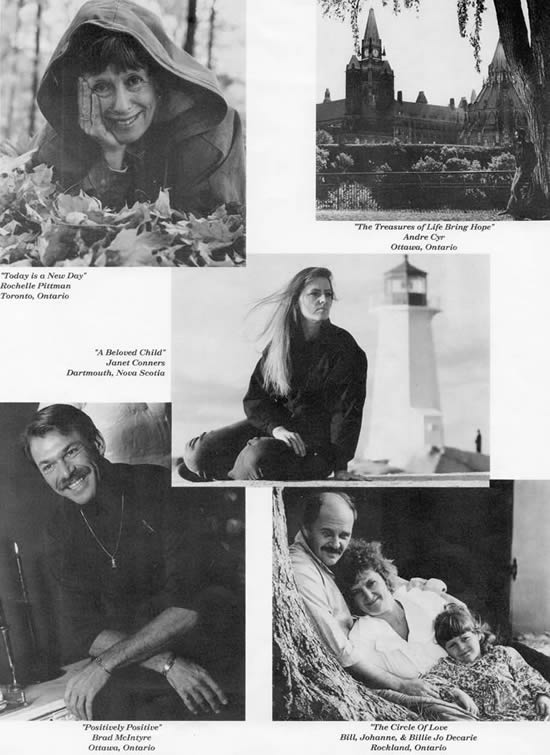 Photographs: A selection of photographs in Look Beyond The Faces & Stories of People with HIV/AIDS By Michelle Valberg
---
I urge you to help create the awareness regarding this exceptional book so that many people living with AIDS can benefit. In Ottawa there was both a provincial and national attention given by the media in covering the book Launch and personal interviews by Michlee Valberg. While in Ottawa, Bradford McIntyre approached book stores and found a half a dozen book stores willing to allow all proceeds to go back to the Snowy Owl AIDS Foundation.
Please join in the efforts of all involved with LOOK BEYOND and help to insure a shift in thinking around HIV/AIDS, while providing for people living with this disease.
Lise Turpin,

Snowy Owl AIDS Foundation
snowyowl.org
###

Snowy Owl AIDS Foundation
The goal of the Snowy Owl AIDS Foundation is to establish, build and maintain a finacial resource available to organizations dedicated to AIDS educations, prevention and direct support services. The funds administered by the Foundation are used to create, expand and enhance HIV/AIDS programs offered by exisiting charitable organizations, in helping people touched by this disease.
The Snowy Owl AIDS Foundation is a fully recognized charitable foundation established in memory of Louis Turpin. On the day of Louis's death, as family and friends were gathered to share in his passing, an enormous snowy owl appeared just outside the window of Louis's room. For those present, that magnificent bird signified comfort and hope and became a living representation of the love, compassion and beuaty of the human spirit which is seen every day in the fight against HIV adn AIDS. snowyowl.org
"Reproduced with permission - Snowy Owl Foundation"
Snowy Owl Foundation
www.snowyowl.org
For more HIV and AIDS News visit...

Positively Positive - Living with HIV/AIDS:
HIV/AIDS News