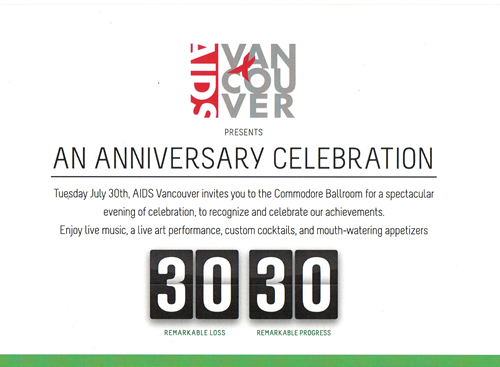 AIDS VANCOUVER PRESENTS AN ANNIVERSARY CELEBRATION:
30 years of AIDS Vancouver
Tuesday July 30th, AIDS Vancouver invites you to the Commodore Ballroom for a spectacular evening of celebration to recognize and celebrate our achievements. Enjoy live music, a live art performance, custom cocktails and mouth-watering appetizers.
TUESDAY JULY 30TH 2013
Doors open at 6:30pm - Show begins at 7:PM.
Hosted by Barb Snelgrove and Fred Lee,
Featuring musical performances by:
Melissa Endean
Alisa Rose & The Show
Able - featuring Heidi Morgan
DJ Jeffrey Michael
Live painting by Yared Nigussu - Live Auction to Follow
Red Ribbon Awards to be presented for outstanding contributions to the HIV/AIDS movement.
For Admission, REGISTRATION is required.
Admission by Donation at the Door.
Space is limited so please Register in advance for entry.
Scan or register online at 3030.aidsvancouver.org
###


About AIDS Vancouver

AIDS Vancouver was founded in 1983 as the first AIDS service organization in Canada.
www.aidsvancouver.org
Contact:
Brett o'Reilly
Fund Development & Communications Coordinator
AIDS Vancouver
Email: bretto@aidsvancouver.org
tel: 604-696-4659
"Reproduced with permission - AIDS Vancouver "
AIDS Vancouver

For more HIV and AIDS News visit...

Positively Positive - Living with HIV/AIDS:
HIV/AIDS News