Canadian face for HIV and AIDS
LONG TERM-SURVIVOR: Showing up for life changed everything for him
by Graham Slaughter | Wednesday July 31, 2013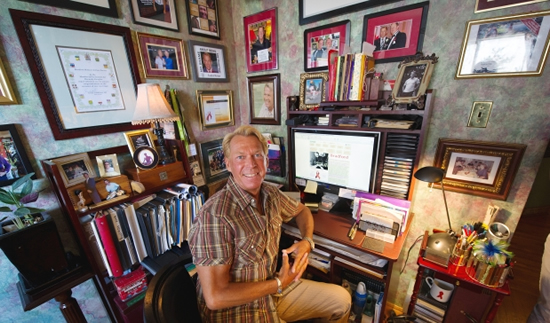 Photo: Bradford McIntyre at his in home office.
Photo Credit: STEVE BOSCH/PNG
---
As he stoood on the Burrard Street Bridge at sunset, Bradford McIntyre watched the glowing tankers drift across the bay. It was a clear summer night in 1994, he remembers and he became overcome with emotion.
"Ï was looking out and thinking of all the brave people who had spoken out about their HIV status and those we had lost." McIntyre said as he choked back tears. "That's when I realized I had to tell the world that I was HIV-positive, too."
But somethng on that bridge overpowered the fear. After 10 years "in the HIV closet," McIntyre realized he was tired of living in isloation. He decided he was ready to take back his life.
"I started to show up for life and that changed everything." he said.
McIntyre started doing print and TV interviews, quickly becoming one of a handful of Canadian faces for HIV and AIDS. Now 61 — 29 years after his diagnosis — McIntyre is the vice-chair of AIDS Vancouver, the city's resource for people living with HIV and AIDS.
He's also one of the longest-living HIV survivors in B.C., according to AIDS Vancouver executive director Brian Chittock, who applauded McIntyre for his knack of drawing a crowd.
McIntyre's work has been so influencial that he was awared the Queen Elizabeth II Diamond Jubilee Medal in 2012. He says his volunteer work is the least he can do for the organization.
McIntyre will sit on AIDS Vancouver's float in Sunday's Pride parade. He can't pinpoint exactly how many years he's marched, but the reason he does it remains the same.
"It's about celebrating how far we've come as a LGBT community and the people that got us where we are. It's about celebrating life," he said.
###
Source: The Province
---
Related post: A life stained by stigma, now rich in love
---
For more HIV and AIDS News visit...

Positively Positive - Living with HIV/AIDS:
HIV/AIDS News