HIV survivor Bradford McIntyre keeps up fight
by Gail Johnson on Jul 31, 2013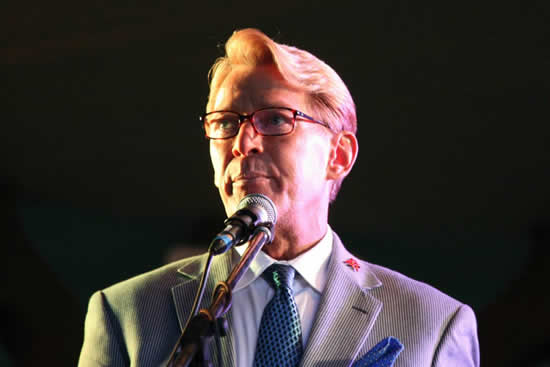 After 29 years of living with HIV, Bradford McIntyre recently received a Vancouver Pride Society PRIDE Legacy award for elevating awareness about AIDS.
---
When Bradford McIntyre found out he was HIV-positive, his world fell apart. Doctors told him to get his finances in order and to start making funeral arrangements, saying he had six months to live. That was in 1985.

The Vancouver resident has since made it his mission to raise awareness of HIV/AIDS. A decade ago, he founded the website Positively Positive: Living With HIV, which gets as many as 200,000 hits a month and has reached 14 million people in 176 countries.

"Creating HIV awareness has become my life's work," McIntyre says in a phone interview. "I don't want anybody to go through what I've been through. After I was diagnosed, I lived a life of fear—fear of death."

Four years after getting that devastating news, he says, he went from breakdown to breakthrough, his life becoming a spiritual journey. And although research into HIV/AIDS has come a long way in the almost three decades he has been HIV-positive, there's still much to do when it comes to educating the public about the disease.

"The thing people hear is that HIV is a problem among high-risk groups," says McIntyre, 61. "But HIV doesn't discriminate. HIV can infect anyone. Here in Canada, our youth are infected. Women are infected. Aboriginal communities are infected. Members of the LGBT [community] are infected. Seniors are being infected—maybe they're newly single, recently separated, or they've lost their spouse and they've never had to have a conversation around safe sex and using a condom. They don't think there's any risk. High risk is unprotected sex, that's what high risk is."

Ironically, medical advances in the treatment of HIV/AIDS are one reason behind people's complacency about practising safe sex, McIntyre says. Today's youth, in particular, haven't witnessed the impact that HIV/AIDS can have on those with the disease. Back when McIntyre was diagnosed, the effects were visible.

"We saw people dying, and we saw people go blind and covered in [bluish red nodules on the skin stemming from a type of skin cancer called] Kaposi's sarcoma," he explains. "We saw people in wheelchairs and with pneumonia and going through the most horrific of illnesses. I certainly wouldn't want to bring back the fear around HIV that there was in those years, but the complacency around it now is frightening. We went from a place of practising safe sex to people now being more careless because they don't recognize the threat."

Then there is pre-exposure prophylaxis (PrEP), in which people who do not have HIV take a daily pill to reduce their risk of becoming infected. According to the U.S. Centers for Disease Control and Prevention, PrEP, when used consistently, has been shown to reduce the risk of HIV infection among adult men and women at very high risk through sex or injection-drug use. However, it isn't intended to be used in isolation but in combination with other methods to reduce the risk of becoming infected, such as condoms.

"People are using the prophylactic medication as an excuse [not to practise safe sex]," McIntyre says. "They'll say, 'Oh, I don't want to worry about it this weekend; I'll just take that new drug.' "

Many people aren't getting tested, either, McIntyre says. All too often, people only find out they're HIV-positive after having blood work done because of other health complaints.

Education and awareness surrounding HIV/AIDS and safe sex are clearly still desperately needed, McIntyre says; so is political action.

"We live in a country where our prime minister has never addressed HIV to Canadians," McIntyre says. "[Former U.S. president] George Bush left a lasting legacy by starting the U.S. President's Emergency Plan for AIDS Relief, which gets people in Africa and other parts of the world on medication, and Barack Obama is very involved with the national strategy. Yet we have a Canadian prime minster who is staying silent. We can't ignore the situation."

McIntyre, who is married and is vice-chair of AIDS Vancouver, plans to continue raising awareness where others aren't. He recently received a Vancouver Pride Society PRIDE Legacy award, presented by Telus, for promoting sexual health and supporting individuals with HIV/AIDS. For McIntyre, the annual Pride celebration is deeply meaningful.

"It's pride about being out; it's an attitude against discrimination," he says. "I have always been proud. When I was young, the term gay didn't even exist; there were a lot of derogatory terms. I was fortunate in that my family always supported me. I had a foundation of love, and being gay was never an issue, but that's not true for everyone.

"Pride represents how far we've come," he adds. "Our community was devastated by HIV, but we can be proud that we cared for those who were sick and fought to get treatment. Now people who are HIV-positive can live long and healthy lives, and we can be proud of that, too. We've come a long way, but we still have so far to go."

###

SOURCE: Georgia Straight
https://www.straight.com/news/405416/hiv-survivor-bradford-mcintyre-keeps-fight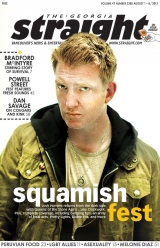 "Reproduced with permission - The Georgia Straight"
The Georgia Straight

About the Georgia Straight
Canada's Largest Urban Weekly
No other city publication knows more about Vancouver than the Georgia Straight. Established as the lifestyle and entertainment weekly in Vancouver for over 40 years, the Georgia Straight is an integral part of the active urban West Coast lifestyle with over 804, 000 readers (2009 Angus Reid).
Every Thursday, the Georgia Straight delivers an award-winning editorial package of features, articles, news and reviews. www.straight.com
About Bradford McIntyre
A long time survivor living with HIV since 1984, Bradford McIntyre announced publicly on national TV, on World AIDS Day, December 1, 1994; that he was living with HIV. Since 1994, whenever possible, Bradford has volunteered his time and energy participating in HIV and AIDS causes and events through all venues: events, media, conferences, seminars, documentaries and speaking engagements. Bradford's story of strong, local presence and international activism inspires and gives hope to countless people.
Bradford's global impact is shown through a comprehensive, informative website: Bradford McIntyre-Positively Positive-Living with HIV/AIDS
www.PositivelyPositive.ca.
For more HIV and AIDS News visit...

Positively Positive - Living with HIV/AIDS:
HIV/AIDS News