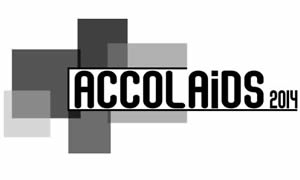 AccolAIDS 2014
Nominees
Positive Living BC & ViiV Healthcare
present A BI-ANNUAL AWARDS GALA HONOURING HEROES IN THE BC HIV/AIDS MOVEMENT
Sunday - APRIL 13, 2014
Vancouver Convention Centre
West Building
Summit Room
1055 Canada Place
The AccolAIDS Awards honour the extraordinary achievements and dedication of organizations, businesses, groups and individuals responding to the HIV/AIDS epidemic in British Columbia, and the thousands of people living in BC who are affected.
Join us for cocktails, dinner, entertainment, and silent and live auctions on Sunday, April 13th at the Vancouver Convention Centre West from 6pm -10pm.
Tickets
Tickets $150 each or $1000 for a table of 8.
Purchase tickets online , or download and return the ticket order form.
Proceeds benefit the vital programs and services provided by the Positive Living Society of British Columbia. AccolAIDS is made possible through the generous support of sponsors and donors, and our gratitude for their support is shared by over 5,500 HIV-positive members of Positive Living BC.
AccolAIDS 2014 Nominees By Category
Youth Leader Award
AIDS Awareness Network
Jesse Brown
Allison Carter
Anabelle Liao
Hayley Pipher
Innovative Policy, Programs and Services
Afro Canadian Positive Network of BC
Dr. Rolando Barrios
Allison Carter
Dr. Brian Conway
Cheryl Dowden
Scott Harrison
Dr. Daphne Hart
Dr. Mark Hull
McLaren Housing Society
Dr. Deborah Money
Michele Pearce
Ryan Hunger and Tanya Kuhne Saige Community Food Bank
Dr. Brian Willoughby
YouthCo Education Programs
Kevin Brown Positive Hero Award
Ken Buchanan
Bradford McIntyre
Dean Thullner
Science/Research/Technology
Dr. Brian Conway
Dr. Daphne Hart
Dr. Mark Hull
Angela Kaida
Dr. Deborah Money
Treatment as Prevention
Dr. Brian Willoughby
Social/Political/Community Action
Afro Canadian Positive Network of BC
Be the Change Group & Brian Chittock of AIDS Vancouver
Ken Buchanan
Cheryl Dowden
Dr. Daphne Hart
Angela Kaida
Bradford McIntyre
McLaren Housing Society
Ryan Hunger and Tanya Kuhne Saige Community Food Bank
Dr. Kate Shannon
Marcie Summers
Dr. Brian Willoughby
Youthco Education Programs
Panel's Merit Award
Ken Buchanan
Dr. Brian Conway
Scott Harrison
Bradford McIntyre
McLaren Housing Society
Hayley Pipher
Scotiabank
Showmax Event Services
Marcie Summers
Dean Thullner
Philanthropy
Linda Fillmore, Matriarch, Fillmore Family Foundation
Dotty Kanke
Marine Printers Inc
John Pedersen
Hayley Pipher
Ryan Hunger and Tanya Kuhne Saige Community Food Bank
Scotiabank
Showmax Event Services
Dean Thullner
Starting March 17th, the AccolAIDS People's Choice Community Award allows any member of the community for vote for their nominee. Get all your friends to vote online for your nominee. Voting goes right up to April 9th and winner will be announced at AccolAIDS - maybe your nominee with win! Watch for information coming soon!


About POSITIVE LIVING BC
POSITIVE LIVING BC is dedicated to empowering persons living with HIV/AIDS through mutual support and collective action. We are a Registered Non-profit Society (#11928-2085) and an established leader in the HIV/AIDS movement . Uniquely among major agencies in Canada, the POSITIVE LIVING BC Board of Directors is composed entirely of HIV+ members.

Formerly known as the British Columbia Persons With AIDS Society (BCPWA) and with a membership of more than 4,800 HIV+ members, we are Western Canada's largest AIDS service organization and a proud history spanning three decades. For more information visit: www.positivelivingbc.org

"Reproduced with permission - POSITIVE LIVING BC"
POSITIVE LIVING BC

For more HIV and AIDS News visit...

Positively Positive - Living with HIV/AIDS:
HIV/AIDS News