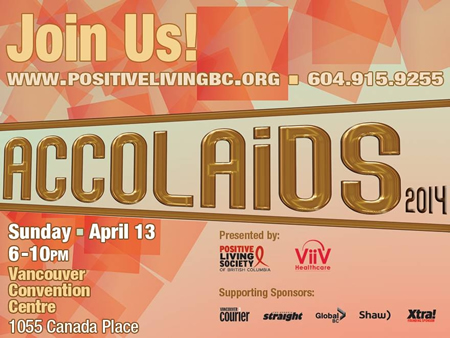 AccolAIDS
"People's Choice"
Award
Vote for
AccolAIDS People's Choice Community Award
March 2014
This is an exciting time at Positive Living BC - AccolAIDS is coming up fast. We look forward to honouring heroes in the BC HIV/AIDS movement just over 3 weeks away!
You can now vote online for your nominee. Click here to vote for CUPE-BC's AccolAIDS "People's Choice" Community Award. You have only one vote per e-mail address so vote wisely. Please remember to confirm your vote! Information about each nominee is located here. Winner of the AccolAIDS "People's Choice" Community Award will be announced at the AccolAIDS Gala in addition to winners of 7 other awards!
It will be a fun night and we look forward to having Sophie Lui, Global BC, & Fred Lee, "Man About Town" CBC Radio One, back with us to co-emcee the event.
AccolAIDS is a bi-annual awards gala honouring our heroes in the BC HIV/AIDS movement.
The AccolAIDS Awards honour the extraordinary achievements and dedication of organizations, businesses, groups and individuals responding to the HIV/AIDS epidemic in British Columbia, and the thousands of people living in BC who are affected.
Join us for cocktails, dinner, entertainment, and silent and live auctions on Sunday, April 13th at the Vancouver Convention Centre West from 6pm -10pm.
Proceeds benefit the vital programs and services provided by the Positive Living Society of British Columbia. AccolAIDS is made possible through the generous support of sponsors and donors, and our gratitude for their support is shared by over 5,500 HIV-positive members of Positive Living BC.
###


About POSITIVE LIVING BC
POSITIVE LIVING BC is dedicated to empowering persons living with HIV/AIDS through mutual support and collective action. We are a Registered Non-profit Society (#11928-2085) and an established leader in the HIV/AIDS movement . Uniquely among major agencies in Canada, the POSITIVE LIVING BC Board of Directors is composed entirely of HIV+ members.

Formerly known as the British Columbia Persons With AIDS Society (BCPWA) and with a membership of more than 4,800 HIV+ members, we are Western Canada's largest AIDS service organization and a proud history spanning three decades. For more information visit: www.positivelivingbc.org

"Reproduced with permission - POSITIVE LIVING BC"
POSITIVE LIVING BC

For more HIV and AIDS News visit...

Positively Positive - Living with HIV/AIDS:
HIV/AIDS News