LOve events
Community Star Award Announcement For
Bradford McIntyre
March 8, 2015

Love Events is pleased to announce this week's 'community star' award. Every week we highlight a community member, who is working hard for all our benefit. This week, we recognize Bradford McIntyre, who for over 20 years, has devoted his time and energy to volunteer with many community organizations in Vancouver. We interviewed Bradford McIntyre below.

How and why did you first become involved in the community?

In 1994, I was visiting Vancouver from Ottawa. One evening at sunset, I stood on a lookout on the Burrard Street Bridge, overlooking English Bay, the city and surrounding mountains, and the stars in the sky. I was looking out and thinking of all the people, who were making a difference in their life and the lives of others, the brave people, who had spoken out about their HIV status. It came to me that the only difference was that they were doing something. I decided right then and there that when I got home to Ottawa I would contact the media and let them know I had been living infected with HIV for nearly a decade, and healthy. If I could, I wanted to move to Vancouver (I moved to Vancouver March 1995).

It was AIDS week, when I returned to Ottawa and the next thing I knew I was being interviewed by the news media, newspapers and television. After 10 years in the HIV closet, that was the beginning of my journey becoming an HIV/AIDS advocate/activist, creating HIV/AIDS awareness and working to help stop the HIV/AIDS epidemic. It was my hope to help prevent people from going through what myself and other people infected with HIV endured: sickness, stigma and discrimination and more. That motivated me to get more deeply involved. Now, my HIV/AIDS activism spans over 20 years.

----

What organizations/projects have you worked for in the community and would you like to say a few words about what they do and your role?

I have been living infected with HIV since 1984. In 1994, I announced publicly on national Canadian television that I was living with HIV. Since then, I have been involved volunteering my time in HIV/AIDS events and causes locally, nationally and internationally. I have appeared on television and radio, in newspaper and magazine interviews and documentaries, along with speaking engagements.

In 2003, I launched my website Bradford McIntyre Positively Positive Living with HIV/AIDS ( www.PositivelyPositive.ca ). The purpose behind creating Positively Positive is to break down stigma and discrimination and to bring hope to people infected with HIV that they too can live a long and healthy life. The aim was and is to raise awareness around the many HIV/ AIDS issues and to promote messages of positive living with HIV. On a daily basis, I collaborate with individuals, groups and organizations here and throughout the world, to include their HIV/AIDS news articles, press releases, events, workshops, conferences and more on my website. The website allows me the opportunity to showcase their work.

When you visit the site, you will discover a wide variety of life-affirming and supportive topics. My work creating HIV and AIDS awareness globally has provided for many people, a face of someone living with HIV. I operate the www.PositivelyPositive.ca website from the computer in my home, without funding. The website has allowed me to contribute even when my health prevented me from physically volunteering.

I am proud to have served on the Board of Directors of AIDS Vancouver Society, as Vice Chair, 2010–2013. One of the projects I organized was the Vancouver International AIDS Candlelight Memorial event and hosted as the Master of Ceremonies, two years in a row. Other AIDS Vancouver projects in which I participated included: The 30 30 Campaign, the annual Celebrity Dim Sum and the Red Ribbon Campaigns. AIDS Vancouver opened in 1983, the first AIDS service organization in Canada supporting individuals affected by the epidemic.

Other organizations I have volunteered for in the community:
Positive Living BC Society
Positive Gathering
THE FLAME OF HOPE: Djaef Mahler AIDS Benefit Society
Vancouver Coastal Health
BC Centre For Excellence
bioLytical Laboratories
Vancouver Friends For Life Society
Gay Vancouver Online
Vancouver PRIDE Society
The West End Seniors' Network
University of British Columbia - UBC Faculty of Medicine
City of Vancouver- Parks, Recreation & Culture

----

What exciting projects are you working on now or do you have planned for the future?

The ongoing daily challenges of maintaining my health are a major factor in my ability to continue operating my website and participating in various HIV/AIDS involvements. I am always open to new possibilities as they appear, as they often do. Frequently, I am approached by individuals and organizations with invitations to participate in events and causes.
My website is a work in progress, growing from 20 pages, when the site was launched in 2003, to an HIVAIDS information and resource site of nearly 5,000 pages, at this time.

Currently at age 62, I am involved in both HIV/AIDS and LGBT projects.

----

Tell us something quirky about you that people might not necessarily know from your public profile.

I am an eclectic collector of art, antiques and collectibles and enjoy antique stores, second hand shops and yard sales.
People may not know that my career was that of a hairstylist. Photography, cooking, gardening, swimming, stand up boarding and kayaking are other interests.

----

Why did you choose to send us this picture in particular?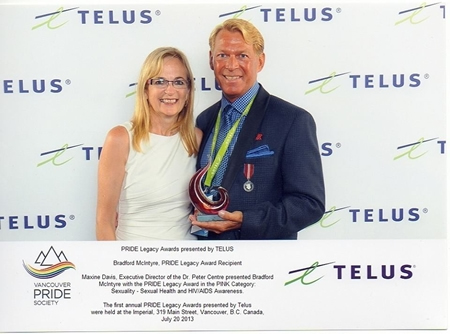 I love this photo! This photo was shot July 20, 2013, at the Vancouver PRIDE Society's first annual PRIDE Legacy Awards, presented by TELUS. Maxine Davis, Executive Director of the Dr. Peter Centre presented me with the PRIDE Legacy Award in the PINK Category: Sexuality - Sexual Health + HIV/AIDS Awareness. In the photo, I am wearing the Queen Elizabeth II Diamond Jubilee Medal, which I received in 2012, for excellence in the field of HIV/AIDS, in Canada. This photo captures a special moment that is near and dear to my heart.----
What advice would you have to people trying to get involved more with the community?
Activism has waned due to the fact that many HIV/AIDS activists have died. People no longer see the need for the role of strong advocates, since the antiretroviral drugs are saving lives. Fewer HIV positive people are taking up the cause but the need for HIV/AIDS activism is as important as ever!
A person has to follow their own interests and choose a place, where they would enjoy involvement. Organizations are happy to have volunteers as the need is great.
----
Is there anyone else in the community that you have worked with who you think doesn't get the recognition they deserve and would like to thank for their efforts?
Joe Average is the first person, who comes to my mind. Joe's volunteerism in the HIV/AIDS fight is worthy of recognition. He has given back to our community through volunteering his time and his creative talent. Joe is an inspiration and he continues to inspire us all with his contributions. Thank you Joe Average!
###


About Love events
LOve events is fast becoming a hub of information for Vancouver's LGBTQ+ community. Please like us on facebook for weekly what's on guides, competition ticket giveaways and highlights of community organizations:
www.facebook.com/lovepartyvancouver
LOve events seeks to create safe, welcoming and fun environments for the full cultural spectrum of the LGBTQ+ community to come together, whilst raising funds and awareness for local community organizations.
For more HIV and AIDS News visit...

Positively Positive - Living with HIV/AIDS:
HIV/AIDS News