Positive Living BC Annual Members' Holiday Season Dinner
- Member Testimonial
by Bradford McIntyre
February 12, 2015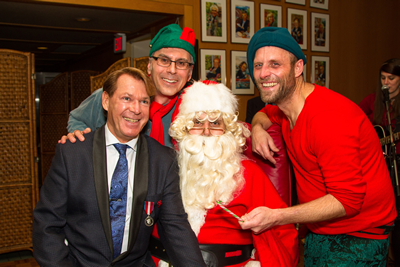 I have lived with HIV for 31 years. Positive Living BC has played a large supportive role in my life and I have been a Member for the last 19 years.
While my health has not always permitted me to able to attend the Members Holiday Season Dinner, I have attended quite a few over the years. Each year, I look forward to attending the celebration with other members, volunteers, staff and board members. Our lives are connected all year long through the organizations offices and services, programs, advocacy, social groups, workshops and events.
The Members Dinner gives us the opportunity to spend an evening together socializing and celebrating with one another for the holiday season. Through the evening, I am reminded of the help I have received, the friendships made and I remember too those who are no longer with us.
Each year, Ross Harvey, reminds us all that we are one big family and who can resist a photo sitting on Santa's lap! The Holiday Season Dinner is a joyous occasion!
###
The Positive Living BC Members' Holiday Season Dinner is a highlight of the Christmas season calendar. Bradford McIntyre has been a Member of Positive Living BC Society (formerly British Columbia Person's With AIDS Society (BCPWA)) since 1995.



POSITIVE LIVING BC is dedicated to empowering persons living with HIV/AIDS through mutual support and collective action. We are a Registered Non-profit Society (#11928-2085) and an established leader in the HIV/AIDS movement. Uniquely among major agencies in Canada, the POSITIVE LIVING BC Board of Directors is composed entirely of HIV+ members.
Formerly known as the British Columbia Persons With AIDS Society (BCPWA) and with a membership of more than 5,000 HIV+ members, we are Western Canada's largest AIDS service organization and a proud history spanning three decades.
"Reproduced with permission - POSITIVE LIVING BC"
POSITIVE LIVING BC

For more HIV and AIDS News visit...

Positively Positive - Living with HIV/AIDS:
HIV/AIDS News