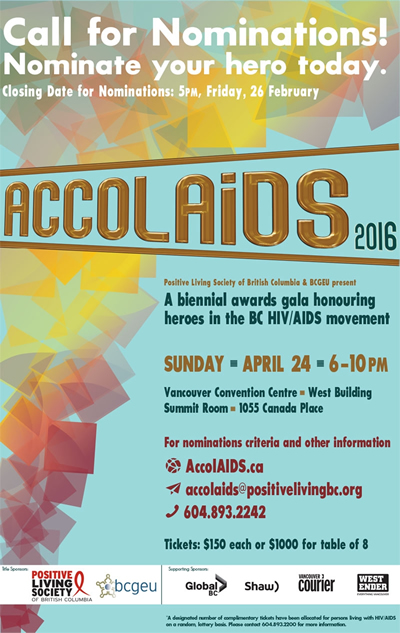 AccolAIDS 2016
Call for AccolAIDS 2016 Nominations: Nominate Your Hero in the BC HIV/AIDS Movement!
Closing Date for Nominations: 5PM, Friday, 26 February
February 2016 - Positive Living BC & BC Government and Service Employees' Union (BCGEU) present: A biennial awards gala honouring heroes in the BC HIV/AIDS movement.
The AccolAIDS Awards Gala is approaching! We invite you to nominate your hero in the BC HIV/AIDS movement for an AccolAIDS Award – deadline to nominate is 5pm on February 26 th.
Think of an individual, group or organization you know who has demonstrated extraordinary dedication, determination and compassion in responding to the HIV/AIDS epidemic. We would love to hear about them!
The 12 th AccolAIDS Awards Gala will take place at the Vancouver Convention and Exhibition Centre West Building on April 24 th , 2016. We can't wait to see which deserving individuals and organizations will be nominated this year!
On April 24, 2016, join us for AccolAIDS as we honour the dedication and achievements of British Columbia's HIV/AIDS community.
When: SUNDAY - APRIL 24 - 6-10PM
Where: Vancouver Convention Centre - West Building - Summit Room - 1055 Canada Place
Tickets: $150. each or $1000 for a table of 8
###
The Positive Living BC Members' Holiday Season Dinner is a highlight of the Christmas season calendar.



POSITIVE LIVING BC is dedicated to empowering persons living with HIV/AIDS through mutual support and collective action. We are a Registered Non-profit Society (#11928-2085) and an established leader in the HIV/AIDS movement. Uniquely among major agencies in Canada, the POSITIVE LIVING BC Board of Directors is composed entirely of HIV+ members.

Formerly known as the British Columbia Persons With AIDS Society (BCPWA) and with a membership of more than 5,000 HIV+ members, we are Western Canada's largest AIDS service organization and a proud history spanning three decades.
"Reproduced with permission - POSITIVE LIVING BC"
POSITIVE LIVING BC
www.positivelivingbc.org
For more HIV and AIDS News visit...

Positively Positive - Living with HIV/AIDS:
HIV/AIDS News