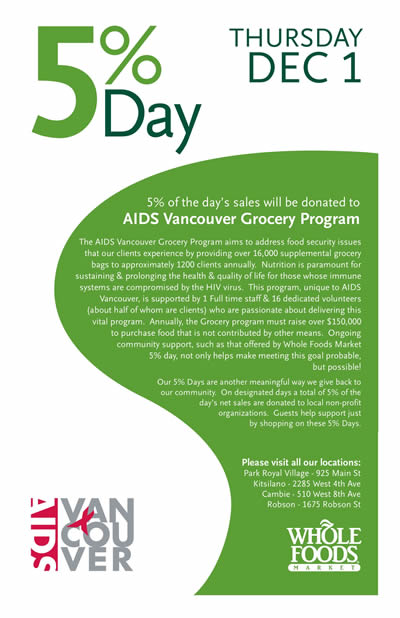 Help AIDS Vancouver fill our pantry! On December 1st, World AIDS Day, 5% of the day's net sales will be donated by Whole Foods Market to AIDS Vancouver Grocery Program! Everyone can help support just by shopping at any one of the above locations and help support the Positive Community!
The AIDS Vancouver Grocery Program aims to address food security issues that our clients experience by providing over 16,000 supplemental grocery bags to approximately 1200 clients annually. Nutrition is paramount for sustaining & prolonging the health quality of life for those whose immune systems are compromized by the HIV virus. This program, unique to AIDS Vancouver, is supported by 1 Full time staff and 16 dedicated volunteers (about half of whom are clients) who are passionate about delivering this vital program. Annually, the grocery program must raise over $150,000 to purchase food that is not contributed by other means. Ongoing community support, such as that offered by Whole Foods Market 5% Day, not only helps make meeting this goal probable. but possible!
Our 5% Days are another meaningful way we give back to our community. On designated days a total of 5% of the days net sales are donated to local non-profit organizations. Guest help support just by shopping on these 5% Days.
Please visit all our locations: Park Royal Village - 925 Main Street
Kitsilano-2285 West 4th Ave
Cambie - 510 West 8th Ave
Robson - 1675 Robson St
-30-
VISIT: Grocery Program


About AIDS Vancouver

The first AIDS service organization in Canada.
AIDS Vancouver was founded in 1983 as the first AIDS service organization in Canada. The agency was formed in response to an emerging disease that was starting to infect and affect local communities in Vancouver, specifically gay men. From our beginning, AIDS Vancouver evolved with the progression of the HIV/AIDS epidemic. This evolution has made our service delivery and program development relevant and innovative today.
While setting standards for excellence in program and service delivery, we work with policy makers to address complex legal, ethical and socioeconomic issues. The principles of Health Promotion, Harm Reduction, Community Based Research, Community Development and Volunteerism guide and direct us.

For the past 25 years, AIDS Vancouver has been at the forefront of community response to the epidemic here in the Lower Mainland of British Columbia. Over 25 paid staff and 200 volunteers strive to provide a comprehensive and integrated range of health promotion, education, and support services.
Visit: www.aidsvancouver.org