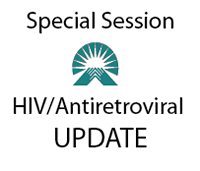 HIV/Antiretroviral Update-Special Session
Monday, February 20, 2012
February 2012 - A special session of the HIV/Antiretroviral Update will take place on Monday, February 20, 2012 from approximately 8:00 am to 4:30 pm at the Sheraton Wall Centre Hotel located across from St. Paul's Hospital in Downtown Vancouver.
This is an open educational event sponsored by the BC Centre for Excellence in HIV/AIDS and accredited by the College of Family Physicians of Canada. A light breakfast, lunch and refreshments throughout the day will be provided on site.
Keynote Speaker
Dr. Nora Volkow Director of the National Institute on Drug Abuse National Institutes of Health
Dr. Volkow's work has been instrumental in demonstrating that drug addiction is a disease of the human brain. As a research psychiatrist and scientist, she pioneered the use of brain imaging to investigate the toxic effects of drugs and their addictive properties. She has published more than 440 peer-reviewed articles and more than 75 book chapters and non-peer reviewed manuscripts, and has also edited three books on the use of neuroimaging in studying mental and addictive disorders.
Registration will be on-line only and will open January 9, 2012 on the CFE website. Please note that seating availability for this event is limited to approximately 300 people and, therefore, pre-registration is strongly recommended. On-site registration will not be available.
For additional information and registration, please visit the Centre's website at and follow the link on the homepage. http://www.cfenet.ubc.ca
###
About the B.C. Centre for Excellence in HIV/AIDS:

The BC Centre for Excellence in HIV/AIDS (BC-CfE) is Canada's largest HIV/AIDS research, treatment and education facility. The BC-CfE is based at St. Paul's Hospital, Providence Health Care, a teaching hospital of the University of British Columbia. The BC-CfE is dedicated to improving the health of British Columbians with HIV through developing, monitoring and disseminating comprehensive research and treatment programs for HIV and related diseases.
Reproduced with permission - "B.C. Centre for Excellence in HIV/AIDS"
B.C. Centre for Excellence in HIV/AIDS