NOT OVER buttons
Ribbon Bees
Red Ribbon History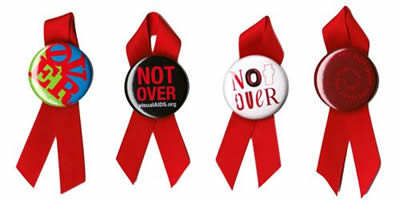 To commemorate the 20 years since the Visual AIDS Artists Caucus created the red ribbon , Visual AIDS commissioned artists A.K. Burns, John Chaich, Joe De Hoyos, and Avram Finkelstein to each create NOT OVER buttons. Paired with red ribbons, 10,000 NOT OVER buttons will be distributed beginning on Day With(out) Art - December 1, 2011.

NOT OVER will be distributed in New York City at:
. Quilt: A Musical AIDS Celebration and Reflection on 30 Years at Avery Fisher Hall, Lincoln Center on Monday, November 28 at 8 PM
. Out of the Darkness candlelight vigil beginning at Trinity Lutheran Church on Thursday, December 1 at 6 PM
. Untitled film screening and discussion presented by Creative Time and Visual AIDS at IFC Center on Thursday, December 1; screening at 6:30 PM followed by discussion
. Gypsy of the Year Broadway Cares/Equity Fights AIDS at New Amsterdam Theatre on Monday, December 5 at 4:30 PM & Tuesday, December 6 at 2 PM


Ribbon Bees
In the tradition of the original Ribbon Bees , friends, volunteers and organizations will come together to assemble NOT OVER buttons with ribbons. Please join us at:
. Queering Occupy Wall Street Table (near the library), Liberty Park on Sunday Nov 6, 1-4 PM

Other Ribbon Bees will occur at The LGBT Center, GMHC, and Queerocracy. For more information on these gatherings or to organize your own Ribbon Bee, contact Ted Kerr at Visual AIDS and check our Facebook page for updates.

Red Ribbon History

In 1991, at the height of the AIDS crisis, a group of artists collaborated to create meaningful symbolic response. They were part of the Visual AIDS Artists Caucus and they launched, "The Ribbon Project," better know today simply as the Red Ribbon . Inspired by the yellow ribbons tied on trees to welcome home veterans, the Caucus chose the red ribbon to show support and compassion for people living with AIDS and their caregivers. The color red was selected for its "connection to blood and the idea of passion -- not only anger, but love, like a valentine." The ribbon format was easy to recreate and wear. Red ribbons were assembled together during "Ribbon Bees," gatherings of friends and supporters fashioning ribbons and pins to be passed out at both local and high-profile events.

For more information on Visual AIDS's programs, please visit www.visualAIDS.org.
Press contact:

Visual AIDS
526 W. 26th Street #510 New York, NY 10001
P. 212.627.9855 F. 212.627.9815 E.
www.visualAIDS.org
"Reproduced with permission - Visual AIDS"
Visual AIDS