Positively Positive - Living with HIV/AIDS:
HIV/AIDS News Archive - June 2014


HIV-infected People with Early-Stage Cancers are up to Four Times More Likely to Go Untreated for Cancer, Penn Study Finds
June 30, 2014 - PHILADELPHIA - Lack of Clinical Trial Data, Guidelines on HIV Patients with Cancer May Contribute to Health Disparity
HIV-infected people diagnosed with cancer are two to four times more likely to go untreated for their cancer compared to uninfected cancer patients, according to a new, large retrospective study from researchers in Penn Medicine 's Abramson Cancer Center and the National Cancer Institute (NCI) published online ahead of print in the Journal of Clinical Oncology.

Study says common HIV drug may boost suicide risk
June 30, 2014 - (HealthDay) - A medication commonly used to treat HIV appears to double the risk that patients will develop suicidal thoughts or take their lives, new research contends.
The finding concerns the anti-HIV drug efavirenz, which is marketed as Sustiva.
Read more...
Four babies born with HIV 'cured', fuelling hopes of AIDS vaccine
June 30, 2014 - FOUR babies born with HIV were apparently cleared of the infection in a major breakthrough fuelling hopes of a cure for AIDS.
AIDS 2014 co-chairman Professor Sharon Lewin said the significance of the findings would focus international attention­ on the July 20-25 gathering.
Read more...


'Robust' evidence of HIV epidemic among people who inject drugs in the Middle East and North Africa
30 June 2014 - There is "robust" evidence of HIV epidemics among people who inject drugs (PWID) in multiple countries in the Middle East and North Africa (MENA), according to a study published in PLOS Medicine. The authors analysed data from 23 countries and found that at least a third had HIV epidemics among injecting drug users with overall prevalence in the region of 10%-15%. There was a high prevalence of high-risk injecting behaviours. Many of the epidemics had emerged in recent years and there was evidence of "bridging" with other high-risk populations.
Read more...
AIDS Alliance to close after 22 years of service
JUNE 29, 2014 - "Funding, never plentiful for AIDS organizations in rural areas like ours, has continued to decline over the past few years," stated AIDS Alliance Board President Mal Underwood in a letter to the nonprofit's supporters June 18. "Although HIV prevention is important and necessary, state funding has been going to metro counties since the end of 2012, with none left for those of us fighting the battle in outlying areas. And, as much as we would love to have seen the stigma associated with HIV/AIDS go away, it has not and donations are many times hard to come by. All of this combined with the retirement of our executive director, has led to our decision.
Read more...


CDC's Michael Bell, MD, to Give Keynote at AJMC Infectious Disease Conference in Atlanta
Plainsboro, N.J. June 29, 2014 - The American Journal of Managed Care comes to Atlanta September 25-26, 2014, to take on some of healthcare's biggest challenges in infectious disease, including HIV, MERS and new therapies for hepatitis C. Giving the keynote address at this multi-stakeholder gathering will be Michael Bell, MD, deputy director of the Centers for Disease Control and Prevention's Division of Healthcare Quality Promotion.
Michael Bell, MD, deputy director of the Centers for Disease Control and Prevention's Division of Healthcare Quality Promotion, will give the keynote address at the first annual conference, Value-Based Decision Making in Infectious Disease, presented by The American Journal of Managed Care.



LGBT & HIV Advocates Respond to Governor Cuomo's Historic Declaration to End AIDS in New York
June 29, 2014 - TODAY, Sunday, JUNE 29, 10:30AM - Pre-NYC Gay Pride Parade Press Conference:
Advocates and members of the LGBT and AIDS communities applaud New York Governor Andrew Cuomo for his public declaration today to make the end of the AIDS epidemic in New York by 2020 a State priority.

Cuomo Plan Seeks to End New York's AIDS Epidemic
JUNE 28, 2014 - Borrowing an idea from leading AIDS researchers, the Cuomo administration said on Friday that it had developed a plan to aggressively identify, track and treat people with H.I.V. infection with the aim of reducing new infection to the point that by 2020, AIDS would no longer reach epidemic levels in New York State.
Read more...
More work needed to combat hepatitis, AIDS
June 28, 2014 - Efforts to combat HIV/AIDS would be futile if the lives of those infected remain at risk due to hepatitis, a deputy minister has said.
Read more...
LGBT community 'In Fear' Over HIV Programme Cuts
June 28, 2014 - MANY in the LGBT community fear a return to the "dark ages" on HIV awareness as the government's austerity programme silences key programmes, activists were told yesterday.
Read more...
Many challenges face ex-inmates living with HIV
June 28, 2014 - Several times each month, a white bus picks up newly released ex-inmates at New York's Rikers Island jail complex and drives into Harlem, where helping hands await at a transition program run by a nonprofit called the Fortune Society.
These new arrivals face the myriad challenges confronting anyone leaving jail or prison - and a daunting additional one. They have HIV.
Read more...

Herpes Virus Infection Drives HIV Infection Among Non-injecting Drug Users in New York
June 27, 2014 - Newswise - HIV and its transmission has long been associated with injecting drug use, where hypodermic syringes are used to administer illicit drugs. Now, a newly reported study by researchers affiliated with New York University's Center for Drug Use and HIV Research (CDUHR) in the journal PLOS One, shows that HIV infection among heterosexual non-injecting drug users (no hypodermic syringe is used; drugs are taken orally or nasally) in New York City (NYC) has now surpassed HIV infection among persons who inject drugs.



Top White House AIDS Official Visits San Francisco Clinic on National HIV Testing Day
San Francisco, June 27, 2014 - San Francisco AIDS Foundation unveils plans to expand testing citywide with a new mobile testing unit
Newly-appointed White House Office of National AIDS Policy Director Douglas M. Brooks today visited the sexual health clinic operated by San Francisco AIDS Foundation in the Castro neighborhood to underscore the importance of knowing one's HIV status in conjunction with National HIV Testing Day. Foundation CEO Neil Giuliano also announced the purchase of a new mobile HIV testing unit for San Francisco.

A made-in-Canada health strategy is making waves worldwide - just not in Canada
27 June 27, 2014 - TORONTO - "We have worked very hard to convince jurisdictions across the country to embrace treatment as prevention. While we have made significant progress around the world and in global agencies, Canada remains reluctant to put forward a national policy," Dr. Julio Montaner, the director of the B.C. Centre for Excellence in HIV/AIDS, told Global News.
Read more...
Freedom to... live without HIV stigma
27 Jun 2014 - The theme of the day is 'Freedom to.'. It's a sign of how far HIV has come that we actually found the theme quite tricky. What do people living with HIV want freedom to do? To work? As of last year there is no career that people living with HIV are barred from, simply because they have the virus. To have children? Almost all children born in the UK to HIV positive mothers don't acquire HIV themselves. To have the treatment you need, when you need it? After NAT's successful campaign, everyone living in England, regardless of immigration status has the right to free treatment which will save their lives. NAT will continue to argue for these rights and ensure they are realised.
Read more...
Use of transmission network scores may guide HIV treatment, prevention
June 27, 2014 - By mapping the transmission network of HIV in San Diego, researchers were able to predict the likelihood of new HIV transmissions in the city and identify those at highest risk for transmitting the virus.
Read more...
Ministry Concerned About Late HIV & AIDS Diagnoses
27 Jun 2014 - The Ministry of Health is concerned that many people with HIV are being diagnosed at the late stage of the disease when they have already developed AIDS.
Read more...


Observing National HIV Testing Day
June 27, 2014 - Targeted Media Messages Promote Free and Low-Cost Testing Services
Today, as we recognize National HIV Testing Day (NHTD), it is important to note that nearly 1 in 6 Americans who have HIV do not know they are infected. If you are between the ages of 13-64, or are pregnant, the Centers for Disease Control and Prevention (CDC) recommends you be tested for HIV at least once as a part of routine healthcare, and more often if you are at high risk for infection.



Maternal Deaths Due to HIV a Grim Reality
NAIROBI, Jun 27 2014 (IPS) - In spite of the huge advances in the prevention of mother to child transmission of HIV (PMTCT) in Africa, experts are concerned that these have not matched other pillars needed to eliminate maternal mortality caused by HIV and AIDS.
Read more...
Campuses hit by high number of HIV infections
27 June 2014 - High numbers of new HIV infections are being recorded in tertiary institutions in Zimbabwe. It has become commonplace at graduation ceremonies for students to be awarded degrees or diplomas posthumously, after having succumbed to HIV-Aids.
Read more...
Is it finally safe to be out as HIV positive in the workplace?
27 June 2014 - While Levi's and Walgreens are trying to address HIV in the workplace, the virus may be one of the last workplace taboos
The answer is nuanced. Thanks to the Americans With Disabilities Act, for most companies with 15 or more employees, it is against the law to inquire about an employee's HIV status - and illegal to terminate them based on their perceived or real status. But that doesn't mean HIV positive employees face no discrimination at work.
Read more...
Council: Student told to explain HIV infection or be barred
June 27, 2014 - KUALA LUMPUR: A university dean allegedly asked a student to explain in a letter how he contracted HIV failing which he would be barred from graduating.
Read more...
Official record shows 535 new HIV/AIDS cases
June 27 2014 - The Bali Health Agency on Tuesday revealed that it has recorded 535 new HIV/AIDS cases during the first semester of 2014, with seven of the infected dying of the disease.
Read more...


OraSure Supports Rapid HIV Testing Initiatives in Recognition of National HIV Testing Day
BETHLEHEM, Pa., June 26, 2014 (GLOBE NEWSWIRE) - OraSure Technologies, Inc. (Nasdaq:OSUR) today announced its support of various rapid HIV testing initiatives and events taking place this week in recognition of National HIV Testing Day, held each year on June 27th. A national campaign occurs on and around National HIV Testing Day each year to raise awareness of the HIV/AIDS epidemic and to encourage individuals to get tested for the virus.

The Silent Spread of HIV
June 26 2014 - HIV is a plague that is striking one population more than any other. Lisa Ling explores why black Americans are nearly 8 times more likely than white Americans to contract HIV and what is being done to fight back against the epidemic.
Watch Video...
Aging with HIV/AIDS: New study highlights unique challenges survivors face
June 26 2014 - Maggie Atkinson was 30 and a successful young lawyer in Toronto when she started experiencing unexplained weight loss, fevers and night sweats.
The diagnosis came back full-blown AIDS.
Read more...
Worldwide Protests Erupt Over the Racist, Failed War on Drugs
June 25 2014 - On June 26, people in over 100 cities in at least 46 countries will speak out.The Bali It is difficult to overstate how much of a failure the war on drugs has been. By any reasonable standard it has done much more harm than good.
Read more...


Calimmune Approved to Treat Second Group in HIV Stem Cell Gene Modification Study
June 25, 2014 - San Diego, CA - Calimmune today announced encouraging safety data from its innovative gene-based stem cell therapy, Cal-1-being developed to help cure individuals infected with HIV. The company can now begin treating the second group of patients in the trial, which is being funded in part by a grant from the California Institute for Regenerative Medicine (CIRM).



Chatty CATIE: Who is Your AIDS Icon?
Summer 2014 - 5 PHAs pay tribute to the people who inspire them.
Interviews by RonniLyn Pustil
Read more...
Empowering those at risk for HIV to make positive changes
June 25, 2014 - Psychology professor Trevor Hart's research on HIV prevention and sexual health promotion shows that a positive sense of well-being is associated with a decreased likelihood of engaging in unprotected sex.

Aging with HIV and AIDS: A growing social issue
TORONTO, June 25, 2014 - Study asks if health care system prepared to meet their complex medical and social needs
As the first people with HIV grow old, a new study from St. Michael's Hospital questions whether the health care system and other government policies are prepared to meet their complex medical and social needs.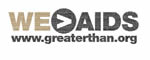 I Got Tested Campaign Encourages Americans to Know Their HIV Status for National HIV Testing Drive
MENLO PARK, CA, June 25, 2014 - Targeted Media Messages Promote Free and Low-Cost Testing Services
Greater Than AIDS, a leading national public information response to the domestic AIDS epidemic, has released new targeted media messages urging Americans to get tested for HIV as part of efforts coinciding with National HIV Testing Day (June 27).



ACT Largest Provider of Safer Sex Supplies at WorldPride Toronto
Toronto - JUNE 25, 2014 - "Welcome to Toronto. We've got you covered."
WorldPride Toronto is expected to draw 2 million visitors to the Greater Toronto Area and the AIDS Committee of Toronto (ACT) welcomes them with safer sex supplies and partying supplies, such as condoms (including specialty condoms, insertive and female condoms), lube, gloves, dental dams, ear plugs, straw kits alongside safer sex resources.

The Graying of AIDS: Stories From an Aging Pandemic
June 25, 2014 - Help us complete this series of formal portraits and oral histories - the first documentary project on the lives of older HIV+ adults around the world.

HIV in Australia - still more to do
25 Jun 2014 - In the three decades since the virus was identified, Australia has done well by international standards in keeping HIV infection rates down. But certain aspects of our national approach continue to risk the national prevention strategy, and stigmatise people with HIV.
The last 32 years have seen numerous advances in HIV, from the early deaths in 1983, including the deaths of four Queensland babies who received blood transfusions, which led to the blood-screening program; through to the introduction of early combination therapy in 1992 and the reduction in people dying from AIDS-related illnesses after the introduction of combination therapy in 1996.
Read more...
Progress against HIV no excuse to relax
25/06/2014 - Do not be complacent about progress against HIV, because more work must be done to achieve the UN's goals to stop the spread of HIV by 2015.
This was the message of UN Secretary-General Ban Ki-moon while addressing the UN General Assembly this month during a review of HIV and AIDS activities during the past year.
Read more...
A cure for HIV is a 'major scientific priority,' says researcher
June 24, 2014 - Huge advancements have taken place in HIV treatment and prevention over the past 10 years, but there is still no cure or vaccine.
The findings are part of a review into the global HIV epidemic published in The Lancet, co-authored by Monash University Professor Sharon Lewin.
Read more...
Study finds link between high CD4 cell counts and reduced ischemic stroke risk in people with HIV Published on June 24, 2014 at 2:02 PM · No Comments
6/24/14 - A 15-year study found that HIV-positive individuals had a 40 percent increased risk of ischemic stroke, however stroke rates were nearly the same for HIV-positive individuals with high CD4 cell counts as for HIV-negative subjects.
Read more...
How Anti-Gay Laws Worsen Diseases Like AIDS and TB
6/24/14 - Recent anti-homosexuality laws don't just violate human rights-they might worsen the HIV/AIDS epidemic, a Johns Hopkins University epidemiologist warns in a PLOS Medicine essay published today.
Read more...
Researcher charged in major HIV vaccine fraud case
June 24, 2014 - IOWA CITY, Iowa - Responding to a major case of research misconduct, federal prosecutors have taken the rare step of filing charges against a scientist after he admitted falsifying data that led to millions in grants and hopes of a breakthrough in AIDS vaccine research.
Read more...
884 people stop taking HIV treatment in Yei County
Jun 24th, 2014 - The HIV/AIDs Commission in Yei River County of South Sudan says the number of victims of the disease is increasing, and that the number of recent defaulters from an HIV treatment program is 884.
Read more...
HIV/ AIDS Patients Cautioned Against Unscrupulous Men Of God
June 24, 2014 - Ghanaians have been cautioned to desist from the culture of resorting to prophets and pastors who claim to have a cure for HIV/AIDS.
Read more...
KC Photo Exhibit Takes Aim At Stigma Associated With HIV And AIDS
June 24, 2014 - This Friday is National HIV Testing Day, first created almost 20 years ago to encourage members of the public to learn their HIV status. Since then, what it means to be HIV-positive has changed dramatically.
Read more...


High prevalence of risk behaviour means there's pontential for worsening of HIV epidemic among people who inject drugs in Europe
24 June 2014 - Viral load suppression means risk of HIV transmission is 'at most' 4% during anal sex, but final results not due till 2017
Sharing of injecting equipment and sex without condoms is more frequently reported by people who inject drugs in Eastern Europe, indicating a large unmet need for HIV prevention activities targeting this group, investigators report in the online edition of AIDS. But there is substantial risk for potential spread of the infection among this population throughout the continent.
Read more...


President Bill Clinton, UNAIDS Executive Director Michel Sidibé and activist Sir Bob Geldof to address the 20th International AIDS Conference (AIDS 2014
Tuesday, 24 June 2014(Geneva, Switzerland) - Organizers of the 20th International AIDS Conference (AIDS 2014) announced today that President Bill Clinton, founder of the Clinton Foundation and 42nd President of the United States, UNAIDS Executive Director Michel Sidibé and artist and activist Sir Bob Geldof will be among the high-level speakers who will join thousands of the world's top AIDS researchers, community leaders, people living with HIV and policy-makers at AIDS 2014 taking place July 20-25 in Melbourne, Australia.

Criminal law out of step with science of HIV, advocates say
Jun 23, 2014 - EDMONTON - When HIV-AIDS first hit North America in the 1980s, diagnosis almost always meant early death.
As the virus spread out of control, the legal system began to see unprecedented cases: people with HIV charged with serious offences - most commonly aggravated sexual assault. Since the early 1990s, more than 150 HIV-positive people have been taken to court in Canada for not telling their sex partners they have the virus.
Read more...
AIDS Action Committee to Honor Three Heroes in Fight Against HIV/AIDS
Jun 23, 2014 - BOSTON, Mass. - AIDS Action Committee of Massachusetts is pleased to announce that it will honor its former CEO Rebecca Haag, MBA; Bisola Ojikutu, MD, MPH, an infectious disease specialist at Mass. General Hospital; and Michael Roffi, owner of Roffi Salon & Day Spa, at the fourth annual celebration of Heroes in Action on Monday, June 23.
Read more...
Baguio LGBT groups protest proposed HIV tests
June 23, 2014 - BAGUIO CITY, Philippines - The eighth staging of the annual Baguio Pride Parade, mounted on Sunday by the city's lesbian, gay, bisexual and transgender (LGBT) community, protested a proposed mandatory human immunodeficiency virus (HIV) testing being discussed by the Department of Health (DOH).
Read more...
HIV tests cannot happen without the patient's consent
June 23, 2014 - The Kaohsiung City Government recently fined a local hospital for screening a gay patient for HIV without his consent in violation of existing regulations. According to the HIV/AIDS Rights Advocacy Association of Taiwan, which commented on the story, a patient seeking medical attention at the hospital earlier this year was told to go through HIV screening after announcing his homosexuality to his doctor. That is unacceptable. Whether you live in Taiwan, France or the United States, a doctor does not have the right to test for HIV without the patient's consent.
Read more...
Effective HIV/AIDS prevention treatment could be boosting other STDs in SF
June 22, 2014 - Victory in the war on HIV and AIDS is coming with a cost: more gonorrhea, syphilis and other STDs.
Read more...
Truvada- The drug for preventing HIV infection or a party pill?
June 21, 2014 - The past few weeks have a seen an intense and involved debate by various fractions of people on whether to support the use of Truvada or not.
Some feel that candidates, who ought to be taking Truvada, do not because of a social stigma attached to it- that it is used in treatment of HIV. Others are of the opinion that the drug encourages unsafe and irresponsible sex. That recommending the drug as a preventive measure against HIV would indirectly encourage people to not use condoms and solely rely on the drug's effectiveness. Many also slam Truvada as a 'party pill' used for recreational purposes.
Read more...
AIDS Monkey Model Offers Promise of New Treatment
June 21, 2014 - Researchers have developed a new monkey model for AIDS that has made clinical study of the disease easier, and offers the promise of new, effective treatments and vaccines in the future.
Read more...
Mideast sees 'worrying' rise in HIV cases
June 20, 2014 - A sharp rise in new HIV infections in the Middle East and North Africa is a worrying trend, despite some positive developments, UNAIDS chief Michel Sidibe told AFP on Friday.
Read more...


OHTN Welcomes Dr. Mark Gilbert as Director of Applied Epidemiology
June 20, 2014 - The OHTN (Ontario HIV Treatment Network) is very pleased to announce that, effective October 6, 2014, Dr. Mark Gilbert will be joining our team as Director of the new OHTN Applied Epidemiology Unit. Mark will be establishing a dynamic team responsible for studying the complex HIV epidemics in Ontario.

Canadian Team To Assist Migori Residents Fight HIV/AIDS.
June 20, 2014 - A team from a Canadian Non - Governmental Organisation has launched a massive HIV and Aids awareness in Migori County.
The group, from the Queen's Health Outreach (QHO) based within the Kingston's Queen's University, is in Kenya to help in the war against increasing HIV and Aids infections along the beaches of Lake Victoria.
Read more...
HIV prevalence high among teenagers - report
June 20, 2014 - A recent study in Uganda has shown that HIV prevalence is high among teenagers between 15 to 17 years.
The Director General, Uganda Aids Commission, Dr. Christine Ondoa revealed that the HIV/AIDS infection is acute in the said age bracket and the figures worsen as they join university.
Read more...
U.S. Takes Action Against Uganda Over Anti-Homosexuality Law
June 20, 2014 - NSC spokesperson announced a range of sanctions targeted at Ugandans involved in human rights abuses and corruption
The United States unveiled a range of measures Thursday intended to punish Uganda for its worsening crackdown on homosexuals.
Read more...

Game-changing HIV/AIDS researcher coming home to Western University
JUNE 19, 2014 - With a belief that curing HIV/AIDS is an achievable goal, one of the most important researchers studying the deadly disease in the world today is coming to Western University.



Gay men who discuss HIV status with sexual partners are less likely to acquire HIV
18 June 2014 - A case-control study, examining the sexual behaviour of German gay men receiving HIV-negative and HIV-positive test results, identified two key factors which distinguish the groups - consistent condom use with casual partners and discussing HIV status with partners.
The results, recently published in BMC Public Health, lend some support to the idea of serosorting (choosing a partner who has the same HIV status), but only when HIV status is ascertained through a clear and unambiguous conversation. Men who didn't use condoms because they assumed their partner was HIV negative had a greater risk of acquiring HIV than other men.
Read more...


Honoring Loved Ones Through AIDS Walk San Francisco
June 18, 2014 - UCSF Teams Hope to Raise $75K, Beating Last Year's Fundraising Goal
Terri Sonoda considers herself a reluctant "cat lady." She inherited her first three cats in the early 1980s from friends and neighbors in San Francisco who had passed away due to complications of HIV/AIDS.
Read more...
Condom Maker Scores at Brazil's World Cup
JUNE 18, 2014 - World Cup fans are snapping condoms flavored like Brazil's national cocktail, the caipirinha.

500,000 have HIV, many don't know it
June 18, 2014 - About 500,000 Thai people are infected with HIV but only half of them know they have the virus and receive treatment, the Public Health Ministry said on Thursday.
Read more...


Heroes in the Fight: Meet Peter
June 18, 2014 - Peter Staley never meant to become an activist-but be glad he did. Because of early AIDS activists like him, scientists were driven to develop life-saving HIV/AIDS drugs, and clinical trials and drug approvals were streamlined to get new treatments in the hands of those who need them most. And in exam rooms across the country, people learned to advocate for their own health and well-being.



Quebec develops expert consensus on viral load and HIV transmission risk
18 June 2014 - In the past few years, a large body of evidence has emerged supporting the use of antiretroviral therapy (ART) as an HIV prevention tool. This evidence shows that effective ART can reduce the amount of virus (also known as viral load) in the blood and other bodily fluids to undetectable levels, which can significantly reduce the risk of sexually transmitting HIV.

We Can't Let Our Guard Down
June 18, 2014 - Whether you are seeing more and more gay bareback porn, reading ads for men looking for condomless hook-ups, or looking at stats from the C.D.C., there is little doubt that unprotected sex among gay men is on the rise.
Read more...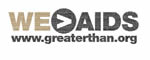 Walgreens and Greater Than AIDS Team With Health Departments and Local AIDS Service Organizations to Offer HIV Testing in Support of National HIV Testing Day
DEERFIELD, Ill., June 17, 2014 - Free HIV Testing Events at Select Walgreens Locations in More Than 140 Cities, June 26-28
In support of National HIV Testing Day, June 27, Walgreens (NYSE: WAG) (Nasdaq: WAG), the nation's largest drugstore chain, and Greater Than AIDS, a coalition of about 200 public and private sector partners united in response to the domestic AIDS epidemic, are teaming with health departments and local AIDS service organizations across the country to encourage community members to take advantage of free HIV testing.

Discrimination Against Persons with HIV or AIDS is Now a Criminal Offense in Brazi
June 17, 2014 - Law 12.984, a new Brazilian law in effect since June 3, 2014, criminalizes discrimination against individuals based on HIV/AIDS status. Within the context of the workplace, the new law prohibits the adoption of discriminatory practices in hiring and termination from employment because of a person's HIV/AIDS status. Employers are further prohibited from segregating employees based on HIV/AIDS status or disclosing their medical condition with the intention of offending the person's dignity. Violation of the law will be punishable with one to four years of prison and a fine.
Read more...
HIV still biggest challenge
June 17, 2014 - HIV infection is still the biggest challenge facing the country, says coordinator of the National AIDS Coordinating Agency (NACA), Ms Grace Muzila.
Briefing the media on Monday, June 16, about the recent Botswana AIDS Impact Survey (BAIS) IV, she said the national HIV prevalence rate was estimated at 18.5 per cent among people aged 18 months and above.
Read more...
Condom use among Montana, U.S. teens declines
June 17, 2014 - Condom use among sexually active high school students throughout the United States, including Montana, declined in 2013, according to a new report from the Centers for Disease Control and Prevention.
Read more...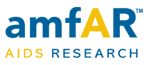 Media Maverick Comes Up on a Decade at the Helm of amfAR
June 17, 2014 - The TREAT Asia Report Interview: amfAR Chairman of the Board Kenneth Cole
Kenneth Cole first joined amfAR's Board of Trustees in 1987 and became chairman of the board on World AIDS Day 2004. He is also founder and chairman of the fashion house Kenneth Cole Productions, which began using provocative media campaigns to promote HIV awareness and combat stigma in the 1980s

Let's stop HIV together - awareness raising campaign on Youth Day in Tajikistan
17-06-2014 - Prevention of HIV/AIDS and the importance of a healthy lifestyle were the main messages of a Youth Day celebration in Dushanbe, Tajikistan on 23 May 2014.
Read more...


HIV/AIDS Conference Taking Place in Prince George
Published on Jun 16, 2014 - A conference around the issue of HIV/AIDS gets underway in the city tomorrow. There have been ongoing campaigns and efforts to get an adequate picture of the HIV/AIDS situation in Northern BC.

Opposition against Uganda HIV Bill
June 16, 2014 - KAMPALA-Uganda - The Uganda AIDS Commission has asked President Yoweri Museveni not to assent the recently passed HIV/AIDS Control Bill 2010 in its current form.
The Commission says signing the Bill into law will negatively impact the country's efforts in fighting the disease.
Read more...
'I Look Like a Virus. My Face Is Like HIV': A Conversation With Françoise Barré-Sinoussi
June 16, 2014 - Patrick Strudwick talks to Françoise Barré-Sinoussi about how she identified HIV as the cause of AIDS; her receipt of the Nobel Prize; and the latest efforts to prevent, treat, and manage HIV.
In the early, frantic confusion of the AIDS crisis, as doctors and patients scrabbled for answers, desperate to grasp what was smothering the immune systems of the young and fit, there was, in 1983, a turning point, a pivot on which the rest of the pandemic would hinge: The discovery of HIV.
Read more...
HIV/AIDs testing 'scaring away' pregnant women
June 16, 2014 - LIVINGSTONE District medical officer Cliff Hara has observed that most pregnant women in the district have been avoiding antenatal services because of compulsory HIV/AIDS testing for the women and their spouses.
Read more...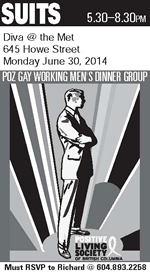 Suits Dinner - June 30, 2014 - Diva @ the Met
SUITS - POZ GAY WORKING MEN'S DINNER GROUP
Come join the Suits men for dinner at Diva @ the Met, 645 Howe Street.



VICTORY! Blue Cross Blue Shield To End Discrimination Against Federal Employees With HIV/AIDS
June 16, 2014 - Santa Monica, CA - Responding to mounting patient complaints, the Blue Cross Blue Shield Association ("BCBS") has announced it will soon end its discriminatory HIV drug-pricing practices and has taken HIV/AIDS drugs off its mandatory mail-order drug list, which threatened patient health, safety, and privacy.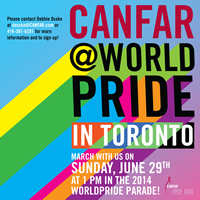 CANFAR @ WORLDPRIDE IN TORONTO
SUNDAY, JUNE 29TH at 1 pm
MARCH WITH US ON SUNDAY, JUNE 29TH AT 1 PM IN THE 2014 WORLDPRIDE PARADE, TORONTO, ONTARIO.

Rising AIDS Death Disparities in NYC
June 16, 2014 - New Study Shows Increased Portion of City of AIDS deaths in the Bronx and Brooklyn in the wake of funding redistribution.
Between 2005 and 2012, the percentage of city AIDS deaths in the Bronx and Brooklyn climbed significantly while deaths of people with AIDS in Manhattan significantly decreased, according to a new study released today by Health People: Community Preventive Health Institute.


Ross Watson Print Edition to Benefit the Elton John AIDS Foundation
June 16, 2014 - The Elton John AIDS Foundation is deeply grateful to Australian artist Ross Watson and the Ross Watson Gallery for generously creating and donating an entire edition of his new art print - Duo - to benefit the Foundation's work. 100% of the sale of this print edition will support EJAF's grant initiatives.

"Broken Heart Land" Trailer on Vimeo
Airing Nationally on June 24, 2014 | "America ReFramed" | PBS's World Channel
A conservative military family in the heart of the bible belt is left to unravel the mystery behind their gay teenage son's suicide. They soon discover a tragic secret, and begin to question their parenting, values, and civic responsibility amidst a heated city council election in their hometown of Norman, Oklahoma.

How Losing Our Gay, HIV-Positive Son to Suicide Turned Our Family Into Activists
06/16/2014 - Four years ago my oldest son Zack took his own life. He was 19 years old. When he told us he was gay at the age of 14, we were not surprised. We told him we loved him. Close friends and family immediately accepted and embraced Zack. So when he killed himself, we were stunned, mystified and devastated. We kept asking ourselves, "Why?!"
Read more...
Alarm as 7 infected with HIV every day
June 15, 2014 - At least seven new HIV infections are reported daily in Mombasa.
Read more...
73,000 HIV positive in Kisii as infections soar
June 15th 2014 - At least 73,000 residents of Kisii County are living with HIV, with only 15 per cent accessing medical attention, statistics have revealed.
Read more...
Nurses call for greater support for 'silent generation' of older people living with HIV
15 June 2014 - Nurses are calling for more support and help for a new generation of people living into older age with HIV and facing stigma, anxiety and lack of awareness from the public and health care staff.

Webinar: Moving African-American Gay Men Along the HIV Care Continuum
Date: June 25
Time: 1:00-2:30PM CT
HHS Office of HIV/AIDS and Infectious Disease Policy (OHAIDP) is hosting the webinar "Moving Black MSM Along the HIV Care Continuum: Challenges, Opportunities and Emerging Practices" on Wednesday, June 25 from 1:00 to 2:30 p.m. CT.

Ghana's middle class don't use condoms - UNAIDS
15 June 2014 - The joint United Nations Programme on HIV/AIDS (UNAIDS) has revealed that below 10 percent of Ghana's middle class use condoms. According to the United Nation's subsidiary responsible for the fight against HIV/AIDS, research data available to them indicate that in Ghana, there is very low patronage of condoms.
Read more...
A quarter of people living with HIV in the UK are over 50
June 15, 2014 - The older generation of people with HIV need better support to keep them well, nurses say.
About a quarter of the 100,000 people with HIV in the UK are aged over 50.
Watch Video...
HIV Prevalence Rates Double in West Nile Region
June 15, 2014 - The Ministry of health has announced that HIV prevalence rates have more than doubled over the last two years in the West Nile region.
Read more...
Vietnam reports 800 new HIV-infected people per month
June 14, 2014 - HA NOI (VNS) - It is estimated that each month 800 Vietnamese people become infected with HIV, said Health Minister Nguyen Thi Kim Tien at a workshop on HIV/AIDS in Hanoi.
Read more...
Communication key to HIV/AIDS fight
June 14, 2014 - HA NOI (VNS) - Deputy Prime Minister Vu Duc Dam has emphasised the need to enhance efforts to raise public awareness of HIV/AIDS, and the risks posed by drugs and prostitution.
Read more...
The Man Who Was Immune to AIDS
Jun 13, 2014 - But not what came after.
The obituaries got a lot wrong, but this much was right: Stephen Lyon Crohn didn't die of AIDS.
Read more...


Victory! Iowa Supreme Court Reverses Conviction in Lambda Legal HIV Criminalization Case
(Des Moines, IA, June 13, 2014) - "An individual who takes precautions to prevent transmission should not be considered a criminal for choosing to be sexually active, and we are very pleased that the Court agrees." Date: 06/13/2014
Today the Iowa Supreme Court set aside the conviction of Nick Rhoades, an HIV-positive Iowan who was initially sentenced to 25 years in prison, with required registration as a sex offender, after having a one-time sexual encounter with another man during which they used a condom. In reversing the conviction, the Court recognized that HIV-positive individuals who have a reduced viral load as a result of effective treatment pose little risk of transmitting HIV.

Iowa Supreme Court overturns conviction in HIV case
Jun 13, 2014 - (Reuters) - In a decision praised by some gay rights activists as recognizing modern treatment of HIV, the court by a 6-1 margin overturned district court and state appeals court rulings that upheld the 2009 guilty plea of Nick Rhoades.
Read more...


U.S. FDA Grants Priority Review to AbbVie for Investigational, All-Oral, Interferon-Free Therapy for the Treatment of Genotype 1 Chronic Hepatitis C
NORTH CHICAGO, Ill. , June 13, 2014 /PRNewswire/ - AbbVie (NYSE: ABBV) announced today that the New Drug Application (NDA) for its investigational, all-oral, interferon-free regimen for the treatment of adult patients with chronic genotype 1 (GT1) hepatitis C virus (HCV) infection has been accepted by the U.S. Food and Drug Administration (FDA) and has been granted priority review.

HIV in PBMCs predicts detectable HIV RNA in semen of French MSM
June 13, 2014 - A higher level of HIV DNA in peripheral blood mononuclear cells (PBMCs) more than doubled chances of detectable HIV RNA in semen of men who have sex with men (MSM) studied in France. Using marijuana during sex almost tripled chances of detectable HIV RNA in semen.
Read more...
HIV/AIDS conference a first for region
June 13, 2014 - The Moving Mountains: HIV/AIDS community based research conference takes place next week. The community is invited to the opening celebrations on Tuesday from 6 to 8 p.m. at the Prince George Native Friendship Centre where there will be a traditional welcome, a short talk by aboriginal health researcher Carreilynn Lund, followed by a reception.
Read more...
Homophobia Is Hurting The Economy
June 13, 2014 - In an interview with The Wall Street Journal, Badgett said her preliminary findings represent a case study that could be applied to any nation that discriminates against LGBT individuals. The study focuses on India because of the availability of certain economic data provided by health research and LGBT organizations within the country.
Read more...


ViiV Healthcare announces new collaboration with Janssen
London, United Kingdom, 12 June 2014: ViiV Healthcare announces new collaboration with Janssen to investigate single-tablet regimen for maintenance treatment of HIV-1
Agreement is ViiV Healthcare's first external collaboration for development of a two drug single-tablet combining dolutegravir and rilpivirine
ViiV Healthcare today announced that they have entered into an agreement with Janssen R&D Ireland Ltd (Janssen) for the development and commercialisation of a single-tablet combining dolutegravir (Tivicay®) and Janssen's non-nucleoside reverse transcriptase inhibitor rilpivirine (Edurant® [1]).


HIV Is Not a Crime: Images, Perspectives and Strategies from the Grinnell Gathering
June 12, 2014 - Inclusion. Collaboration. Conflict resolution. Restorative justice. Nuance. Challenge. Coalition. Rage. Healing. Power.
There was an energy in Grinnell, Iowa, last week as more than 150 dedicated advocates gathered for HIV Is Not a Crime: The Grinnell Gathering, from June 2-5, for a unique conference to learn, share, strategize, and build a strong, healthy movement to end HIV criminalization.

WorldPride's condom sponsorship deal called unethical
Jun 12, 2014 - Durham AIDS committee protests decision to distribute only Trojan
A local AIDS organization is raising concerns about WorldPride Toronto's exclusive condom sponsorship agreement because it limits condom distribution along the parade route to just one brand.



WHO CARES ABOUT EVIDENCE?
12 JUN 2014 - Demonstrating the value that civil society plays in teh HIV response is vital. Earlier this month a group of Alliance Linking Organizations met in Cambodia and decided to take matters into their own hands. Oum Sopheap and Jill Russel were thre and tell us more.
Read more...


PrEP users say it provides an 'extra layer of protection' and 'peace of mind'
12 June 2014 - Health agencies should discuss PrEP in positive terms
The study also sheds light on the motivations of men who stopped taking PrEP or who chose not to take it at all. Most frequently this was because their sexual relationships or behaviour had changed, but concern about potential side-effects also deterred a number of men.
Read more...
The professor and the pop star
June 12, 2014 - Elton John AIDS Foundation funds program for HIV testing of jail inmates
It was an opportunity that Emory HIV researcher Anne Spaulding couldn't pass up. Her friend had secured an invitation for her and a group of pals to meet Elton John and view his expansive photography collection at his Atlanta penthouse. Spaulding had recently been looking for funding for her HIV testing program, and her friend thought John might be a viable funding source.
Read more...

Accelerating HIV vaccine discovery and development may require paradigm shift
June 11, 2014 - Canadian meeting of vaccine experts shows importance of innovation and collaboration
Adopting existing innovative practices and forming broader collaborations may be needed to accelerate HIV vaccine discovery, according to experts who recently met to discuss ways to overcome barriers in HIV vaccine development.



Celebrities Show Heart for amfAR's Inspiration Gala (VIDEO)
Published on Jun 11, 2014 - Daniel Garofali reports from the Red Carpet of the 5th Annual amfAR Inspiration Gala in New York City.



The Powerful "HIV is Not a Crime" Conference
Published on Jun 11, 2014 - Mark S, King (My Fabulous Disease) reports from the 2014 HIV is Not a Crime confernece, including interviews wiht people living withHIV who have been prosecuted.



Current WHO guidelines for use of ART as prevention will benefit only a "fraction" of people with higher CD4 counts and their partners
11 June 2014 - Findings underline the importance of couples HIV counselling and testing, say investigators
Read more...
Gene Editing Could Erase HIV
06.11.14 - Scientists have used gene editing for years to manipulate genetic material-but what if it could be used to end HIV?
The diagnosis of HIV is not what it used to be. With new lines of therapeutics, patients are living longer than ever before. However, despite our significant accomplishments, the transmission of HIV is still of great concern, and it's infectious circuitry may be written deep in our genes.
Read more...


ORIGAMI Condom Revolution Announced at the Life Ball in Vienna, Austria
June 11, 2014 - Los Angeles, CA - Danny Resnic, inventor of the ORIGAMI condoms, attended the Life Ball in Vienna, Austria on May 30, 2014. Resnic delivered a TED Talk announcing his global condom revolution.



The AMA Adopts a Resolution Opposing HIV Criminalization
June 10, 2014 - The American Medical Association's (AMA) House of Delegates, the principal policy-making body of the AMA, has adopted a resolution condemning discrimination based on HIV status, including mandatory discharge from the military based solely on HIV, and supporting the modernization of HIV related criminal laws. The resolution encourages; vigorous enforcement of existing anti-discrimination laws and the incorporation of HIV in future federal anti-discrimination legislation. It also supports making federal and state laws consistent with current medical knowledge, avoiding criminal punishment based on health and disability status, and educating the public on the stigma and negative health consequences of HIV criminalization.



Uptake of PrEP in the United States
10 June 2014 - Pre-exposure prophylaxis, or PrEP, is an exciting new HIV prevention strategy that involves the ongoing use of anti-HIV drugs by an HIV-negative person in order to reduce their risk of becoming infected with HIV. Many types of PrEP are currently being researched, but to date only one type has been found effective in multiple placebo-controlled clinical trials and approved by the Food and Drug Administration (FDA) in the United States.

Publication in Science on the population-level evolution of HIV
06/10/2014 - Deirdre Hollingsworth, along with collaborators from Imperial, Zurich and Montpellier, has just published a review of HIV infection from an evolutionary perspective.
Read more...
Truvada and the Case for Condom Use
06/10/2014 - Here we go again: to PrEP or not to PrEP?
Read more...
Men Who Have Sex With Men are Being Ignored by Mainstream Media Reporting on HIV
June 10 2014 - CNN may have had more reporting on HIV in 2013, but it wasn't reflective of the actual HIV crisis in modern America
Read more...
Many STDs May Go Undiagnosed, U.S. Report Finds
TUESDAY, June 10, 2014 (HealthDay News) - About 400,000 Americans may have the sexually transmitted disease chlamydia, but not know they have it, new research suggests.
Read more...


US National Survey Results on Potential Barriers to HIV Treatment Use Announced Today
Research Triangle Park, NC - June 10, 2014 - Key findings point to significant differences between treated and untreated people living with HIV
ViiV Healthcare today announced new survey data that provide important insights that may help explain why HIV treatment rates remain low in the United States.

HIV/AIDS awareness in 2014 Champions Banquet
June 10, 2014 - LAPLACE - Thirty years ago, the first cases of HIV garnered the attention of the entire world. Today, the HIV/AIDS epidemic has truly infiltrated our community as a whole.
Read more...
Drug-resistant gonorrhea strain may have started in SF
06/10/2014 - A drug-resistant strain of gonorrhea may have originated in San Francisco, where new cases of the common sexually transmitted disease are on the rise among gay men and black youths, according to public-health officials.
Read more...
Gene editing tool can write HIV out of the picture
09 June 2014 - Take a hot new method that's opened up a new era of genetic engineering, apply it to the wonder stem cells that in 2012 won their discoverer a Nobel prize, and you might just have a tool to cure HIV infection.
Read more...
The Neverending Epidemic: And How We Can End It
06/09/2014 - We cannot accept a neverending HIV epidemic. We cannot accept that every year in the United States we add 50,000 new HIV infections. We cannot accept that the number of new infections, while dropping for almost every other demographic, is on the rise for gay men and transgender women. The burden of infection in queer communities is already far too heavy. We have more means of preventing HIV than ever. So how is it that, for us, the epidemic in new infections just gets worse?
Read more...


25 Years Ago: ACT UP's AIDS Treatment Research Agenda
June 9, 2014 - 25 years ago today, the Fifth International AIDS Conference closed in Montreal, and AIDS activism changed forever. The white coats -- the medical establishment that controlled our destinies -- realized they could no longer ignore us. People living with HIV and their fellow advocates pushed their way into the conference (literally, during the opening ceremony), and came armed with a sophisticated analysis of the sorry state of AIDS treatment research.
Read more...
The AIDS Memorial Quilt - a history of loss
JUNE 9, 2014 - In 1987, The Names Project was incorporated to manage a collection of cloth panels that had been created by people who had lost someone to AIDS, as a tribute to their friends and family members. The panels were collected together into what is now known as the AIDS Memorial Quilt.
Read more...
More HARM Than GOOD: How overly broad HIV criminalisation is hurting public health
This educational and advocacy video from the HIV Justice Network, filmed at an international meeting on HIV prevention and criminal law in Toronto in April 2013, features interviews with social scientistis, researchers and legal and public health experts from the U.S. and Canada who have studied the public health impact of HIV criminalization.

Living with HIV, then and now
JUNE 9, 2014 - For L-P Specialty Products Marlon Hoffman was diagnosed HIV+ in 1989 At that time, there was no support for people living with HIV/AIDS beyond AIDS Regina, now known as Aids Program of Southern Saskatchewan (APSS).
Read more...
Riders raise record $15 million after 545-mile journey for AIDS LifeCycle
09 JUNE 2014 - Thousands of riders arrived at the finish line of the 545-mile AIDS LifeCycle in Los Angeles weary but jubilant Saturday (7 June) after completing a seven-day journey that had begun in San Francisco.
Read more...
Fears AIDS plague of 1983 may return
June 9, 2014 - A QUARTER of a century ago, fear of AIDS gripped the American gay community, the disease showing no mercy against those it infected as scientists struggled to find a treatment - let alone a cure.
Fear has given way to complacency: in Australia, the long-running decline in the HIV infection rate has stuttered in recent years, and there is fresh evidence that undiagnosed HIV is, again, a public health threat.
Read more...


ORIGAMI HEALTHCARE PRODUCTS, Inc. Receives Grand Challenges Explorations Grant For Groundbreaking Research in Global Health and Development
June 8, 2014 - Los Angeles, CA - ORIGAMI Healthcare Products, Inc., a public benefits corporation, announced today that it is a Grand Challenges Explorations winner, an initiative funded by the Bill & Melinda Gates Foundation. Danny Resnic, CEO and director of new product development at the firm, will pursue an innovative global health and development research project, titled, "Non-Gender-Specific Internal Condom".

HIV remains a global health problem, thanks to ignorance and prejudice
8 June 2014 - More than 35 million people are living with HIV but about half of those do not know they are infected. In other words, around 18 million live in ignorance of their condition. That is potentially disastrous for them, for the longer treatment is delayed the worse the prospects for a successful outcome. What it also spells out is a massive global public health problem.
Read more...
Chiligidi -The voice of HIV-positive people in Binga
Jun 8, 2014 - In an interview with Sunday News in Binga, the 33-year-old Mrs Chiligidi, who was diagnosed with HIV in 2011, says she decided go public about her status with the hope that her experiences would encourage others to reveal their status.
Read more...
HIV infection rates on the rise in Central Equatoria
June 8, 2014 - (MOROBO) - The rate of HIV infections in Central Equatoria state's Morobo county significantly increased this year compared to last year's statistics, a health official said.
Read more...
Nigeria and homosexuality: Almost nobody wants to help
Jun 7th 2014 - Homosexuals with HIV/AIDS are struggling to survive
SINCE Nigeria passed a law criminalising homosexuality in January, Gordon Austin has faced attacks, abuse, arrests and extortion in the south-western city of Ibadan. And the legislation has had an even more insidious effect on the 25-year-old. He is HIV-positive: getting health care has become harder. "I am not safe going to public health centres because of who I am," he says. "I would never tell them I am a gay man-they would deny me treatment." To get life-preserving antiretroviral drugs, he has to lie about his sexuality. "I have to pretend I am heterosexual because of the stigma," he explains. "I have to live a fake life, a life that is not mine, just to get the health care I need."
Read more...
A Therapeutic HIV Vaccine Is Not Yet At The Corner, Experts Say At An International Meeting
Online PR News - 07-June-2014 - Marseille, Bouches du Rhone, France - At the recent International Symposium on HIV and Emerging Infectious Diseases (ISHEID), new data on anti-HIV vaccines were presented by worldwide experts.
Read more...
UN officials urge greater commitment to end HIV/AIDS epidemic
7 Jun 2014 - Despite significant gains, the HIV/AIDS epidemic is far from over, United Nations officials said yesterday (6 June), calling for greater political commitment, investment and innovation to end the global scourge.

Don't rely on lowered HIV load says expert
June 7, 2014 - A leading epidemiologist at Otago University's Medical School has joined in urging gay and bi men not to rely on the possibly reduced level of HIV in their sex partner's system as an escuse to engage in unprotected anal sex.
Read more...
Uganda AIDS Commission Calls On Museveni Not To Sign HIV/AIDs Bill
June 7, 2014 - In 1983, while he was still in his 20s, Tez Anderson found out that he was HIV-positive. Although doctors told him he only had two years to live, somewhere along the way he turned 50. Faced with the prospect of a future he hadn't planned for, Anderson fell into a deep depression. When he finally realized that he wasn't the only one dealing with "AIDS Survivor Syndrome," he started Long Term HIV Survivors Day, the first of which will be held on June 5.
Read more...
Uganda takes "another step backward" with HIV bill
7 June 2014 - HIV advocacy and human rights groups have condemned the passing by the Ugandan parliament of a bill they say will severely impede the fight against HIV/AIDS as well as stigmatise and discriminate against those with the disease.

Long term HIV, AIDS survivors tell their stories
Jun 06 2014 - PORTLAND - Thursday was the country's first National HIV/AIDS Long-Term Survivor Awareness Day and a handful of people with HIV/AIDS gathered in the Northwest Park Blocks gathered to share their stories.

HIV genotyping approach benefited ART-experienced patients
June 6, 2014 - Using 454 sequencing improved predictions of virologic outcomes among treatment-experienced patients with HIV compared with Sanger sequencing, according to recent data published in Clinical Infectious Diseases
Read more...
UN officials urge greater commitment, investment, innovation to end HIV/AIDS epidemic
6 June 2014 - Despite significant gains, the HIV/AIDS epidemic is far from over, United Nations officials said today, calling for greater political commitment, investment and innovation to end the global scourge.
Read more...
New method to make latent HIV reveal itself identified
June 06, 2014 - Washington: Researchers have identified a new way to make latent HIV reveal itself, which could help overcome one of the biggest obstacles to finding a cure for HIV infection.
Read more...


New targets set for 2020 for reducing the HIV epidemic in Latin America and the Caribbean
06 June 2014 - The Latin America and Caribbean regions have set new targets for expanding HIV testing and treatment by 2020 to reduce new HIV infections, late diagnosis and AIDS-related deaths, as well as to improve the quality of life of people living with HIV.
Read more...


Mama's Kitchen offers free nutrition classes for people living with HIV
June 6th, 2014 - Mama's Kitchen will begin its next series nutrition classes for HIV+ individuals beginning Tuesday, June 10.
Read more...


To Take Down HIV Criminalization Laws, You'll Need to Develop Talking Points
June 5, 2014 - Much of the discussion at the 2014 HIV is Not a Crime Conference stresses that HIV criminalization laws are bad policies that have extremely negative results for public health and the personal quality of life for people living with HIV. But how can advocates best discuss this issue with others who are not as familiar with its troubling consequences? Laurel Sprague of the Sero Project affirmed that, even among HIV community members, there is some discord when discussing HIV criminalization.
Read more...
HIV infections steady, bucking world trend
5th June 2014 - The annual numbers of gay and bi men in New Zealand newly diagnosed with HIV have remained relatively consistent over the past five years according to just-released figures covering 2013.
Read more...
Sensational! Bill Gates Funds Skin-Like Condom That Could Actually Make Sex Feel Better
June 5, 2014 - The Bill & Melinda Gates Foundation awarded $100,000 to the University of Wollongong in Australia to develop a condom with more sensation, according to a YouTube video the school posted on June 3.
Read more...


Join Us as EGPAF Celebrates 25 Years
June 5, 2014 - On Tuesday, June 24, 2014, EGPAF will celebrate 25 years of dedication and progress toward ending AIDS in children. EGPAF's 25th Anniversary Celebration will be the first time in more than ten years that we have had the opportunity to publicly commemorate the progress that has been made towards ending pediatric HIV/AIDS in Washington D.C.
Read more...
HIV Transmission Networks Mapped to Reduce Infection Rate
June 05, 2014 - Researchers at the University of California, San Diego School of Medicine have mapped the transmission network of human immunodeficiency virus (HIV) in San Diego. The mapping of HIV infections, which used genetic sequencing, allowed researchers to predictively model the likelihood of new HIV transmissions and identify persons at greatest risk for transmitting the virus.

HIV infections steady, bucking world trend
5th June 2014 - The annual numbers of gay and bi men in New Zealand newly diagnosed with HIV have remained relatively consistent over the past five years according to just-released figures covering 2013.
Read more...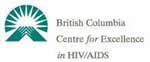 Douglas College honours Dr. Julio Montaner, pioneering HIV and AIDS researcher
June 5, 2014 - Douglas College is today awarding its highest distinction, honorary fellowship, to Dr. Julio Montaner, a renowned researcher and pioneer in the fight against HIV and AIDS.



JUNE 5, 2014 IS THE FIRST NATIONAL HIV/AIDS LONG-TERM SURVIVORS AWARENESS DAY (NHALTSAD)
June 4, 2014 - Let's Kick ASS-AIDS Survivor Syndrome is the lead sponsor and organizer of the first National HIV/AIDS Long-Term Survivors Awareness Day (NHALTSAD) on June 5, 2014 highlighting the unique experiences and issues of long-term survivors living in America and around the globe.

June 5 is the First National Long Term HIV Survivors Day
June 4, 2014 - In 1983, while he was still in his 20s, Tez Anderson found out that he was HIV-positive. Although doctors told him he only had two years to live, somewhere along the way he turned 50. Faced with the prospect of a future he hadn't planned for, Anderson fell into a deep depression. When he finally realized that he wasn't the only one dealing with "AIDS Survivor Syndrome," he started Long Term HIV Survivors Day, the first of which will be held on June 5.
Read more...

The Elton John AIDS Foundation Announces $525,000 in New Grants
June 4, 2014 - The Elton John AIDS Foundation,announced today its first round of grants for calendar year 2014, totaling $525,000. The three renewal grants support organizations working to address some of the most critical challenges of the HIV/AIDS epidemic in the United States.



Memories of the plague years in Toronto: Fiorito
Jun 04 2014 - Al, Tim and Jim are among the keepers of that time and place, and of those memories in this city.



Poor infection control procedures lead to HIV transmissions at haemodialysis centre in Saudi Arabia
04 June 2014 - Breaches in infection control procedures were associated with genetically linked HIV transmissions among people receiving haemodialysis in Saudi Arabia, investigators report in the online edition of Clinical Infectious Diseases. The outbreak in late 2011 involved three patients.
Read more...
Woman hopes to help others years after HIV diagnosis
June 4, 2014 - SEATTLE - Julie Lewis remembers every last detail. The moving box she was carrying, the phone call, the doctor on the line telling her, "You better sit down."
Read more...
Health providers slowly embrace drug Truvada to prevent HIV
June 3, 2014 - When Adam Zeboski started using the HIV drug Truvada in November 2012, he was HIV-free himself, but in a relationship with a man who had been infected.
Read more...


Next generation condoms at UOW
Published on Jun 3, 2014 - A team of researchers from the University of Wollongong (UOW) has received Bill & Melinda Gates Foundation funding to help develop a Next Generation Condom that significantly preserves or enhances pleasure, in order to improve uptake and regular use.

UN agency labels PNG's HIV and AIDS crisis a pandemic
3 Jun 2014 - A United Nations' agency has labelled PNG's growing HIV and AIDS public health emergency a pandemic.
Papua New Guinea has well over 90 per cent of the Pacific region's HIV cases.
Read more...


First "HIV Is Not a Crime" Conference Opens With Strong Community Showing
June 3, 2014 - Packed into an auditorium on Grinnell College's picturesque campus in Iowa, over a hundred HIV/AIDS activists from all over the U.S. -- and other countries, as well -- gathered for the opening ceremonies of the first HIV Is Not a Crime Conference.

Children found at higher HIV drug-resistance risk
June 3, 2014 - For children infected with the AIDS virus, strict adherence to anti-HIV drug therapies may be even more important than it is for adults.
Newly published research led by Russell Van Dyke, professor of pediatric infectious diseases at the Tulane University School of Medicine in New Orleans, suggests HIV-positive children are more likely than adults to develop resistance to anti-AIDS drugs.
Read more...


Five-Drug ART Has No Advantage Over Three Drugs for Early HIV
03 June 2014 - Starting antiretroviral therapy (ART) with five drugs instead of three offered no virologic or immunologic advantage in people with early HIV infection, according to results of a randomized trial.
Read more...
Ottawa rejects B.C. study showing its new policy will harm sex workers
June 3, 2014 - Report backs international research saying laws targeting 'johns' hurt sex trade workers
The Harper government reacted defiantly Tuesday to a B.C. study which said its plan to bring in a law targeting buyers of sexual services rather than prostitutes will just end up victimizing sex workers in contravention of the Charter of Rights and Freedoms.
Read more...
Scientists Uncover Features of Antibody-Producing Cells in People Infected with HIV
June 3, 2014 - Abnormalities May Explain Poor Antibody Response in Those Who are Infected but Untreated
Read more...
Child born with HIV/AIDS calls for end to discrimination
June 3, 2014 - It's hard to imagine a ten-year-old boy being forced to eat separately from his family, then washing his bowl alone after finishing the meal. But for Hu Zetao, who has AIDS, this used to be his everyday life. But things changed after he starred in the 2009 film "Love for Life", which depicts the life, and the discrimination faced by those with AIDS in rural China.
Read more...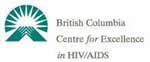 Media Advisory: New reports detail the impact of criminalization of clients on sex worker safety
Vancouver, B.C. [June 2, 2014]- On Tuesday, June 3, researchers at the Gender and Sexual Health Initiative (GSHI) of the BC Centre for Excellence in HIV/AIDS (BC-CfE) and University of British Columbia (UBC) will release a study on the impact of criminalizing sex workers' clients.

PNG facing up to AIDS crisis - UNAIDS
June 2, 2014 - The Regional Director of the United Nations' agency tasked with coordinating global efforts to control HIV/AIDS, says there is a growing realisation in PNG about a public health emergency that cannot be ignored.
Papua New Guinea has well over 90 percent of the region's HIV cases, and the country is said to be in the grip of a pandemic, which Steve Kraus says is centred on the biggest cities and the most populated region.
Read more...
CDC report: Patients harmed after health-care providers steal patients' drugs
June 2, 2014 - When prescription medicines are stolen or used illegally, it is called drug diversion. One aspect of drug diversion that is not well recognized involves health care providers who steal controlled substances for their personal use. A report authored by experts from the Centers for Disease Control and Prevention (CDC) -published today in Mayo Clinic Proceedings-outlines outbreaks of infections that have occurred as a result of health care providers stealing or tampering with their patients' medications. These outbreaks revealed gaps in prevention, detection, and response to drug diversion.
Read more...
Number of registered HIV cases shoots up in first four months of 2014
June 2, 2014 - The number of freshly registered cases of HIV in the Czech Republic has shot up this year, the news website iDnes.cz reported. Ninety-nine people were found to have the disease by the end of April, two-thirds more than in the same period last year and more than in the whole of 2006.
Read more...
'Steep rise' in HIV infection feared among gay Israeli men, says survey
June 2, 2014 - ISRAEL: A survey conducted by the Israel AIDS Task Force shows the likelihood of a steep rise in HIV infection rates among gay men in the country.
Read more...
California University students partner with USDF
June 2, 2014 - California University students partner with USDF
Each year, senior-level nursing students from the California State University, San Marcos School of Nursing are invited to observe local nurses and doctors providing patient care for communities severely impacted by the HIV/AIDS pandemic in Swaziland, Lesotho, and Botswana. .
Read more...


Hepatitis C Transmits Sexually in HIV-Positive Gay Men
June 1, 2014 - This silent epidemic has largely traveled under the radar, seriously endangering the health of HIV-positive gay men and raising the question of just how safe serosorting really is.

Grandmothers take a stroll for African grandmothers
June 1, 2014 - Orphaned primarily as a result of the HIV/AIDS epidemic, African youngsters are often raised by their grandparents.
On Sunday, Grandmothers 4 Grandmothers took a stroll through Kinsmen Park to raise money to help these African grandparents.
Read more...
Around Town: Luncheon for Canadian AIDS Research
June 1, 2014 - Laureen Harper and cabinet ministers Kellie Leitch and Candice Bergen were among the 120 mostly female attendees of Tuesday's event at the swanky Rideau Club. It was emceed by well-known TV personality Valerie Pringle, spokesperson for the Canadian Foundation for AIDS Research (CANFAR). Her husband, Andrew Pringle, is chair of the board.
Read more...
Limited funds may lead to more HIV/AIDS cases
June 1, 2014 - Vietnam is facing a high risk of increases in HIV/AIDS rates due to the country's limited budget for the disease prevention and control.
According to the National Committee for Prevention and Control of AIDS, Drugs and Prostitution, in the first quarter of 2014, Vietnam saw more than 2,000 new HIV cases, including 928 with full-blown AIDS and 300 deaths.
Read more...
Furore over use of HIV drug
June 1, 2014 - Post exposure prophylaxis (PEP) for HIV infection was initially a preserve for medical staff exposed to the virus and victims of rape.The dismissal of Prof Brendan Bain as director of the But over the years, even ordinary people who find themselves at risk of being infected have adopted this method. Although not a popular route that health officials would advocate for ahead of other preventative methods like the correct and consistent use of a condom, PEP is fast becoming a standard alternative for many people.
Read more...
Don't rely on lowered HIV load says expert
June 1, 2014 - A discussion about the merits and risks of HIV pre-exposure prophylaxis (PrEP) here was inevitable, says Dr Peter Saxton, an HIV epidemiologist and gay health advocate at the University of Auckland. However he's surprised at the hyperbole from some proponents in the United States, and argues that it risks diverting attention from more radical reform.
"If giving perfectly healthy gay men chemoprophylaxis en masse and long-term is the best prevention option on the table, then I think you have to admit you've failed to engineer and sustain a community-based response to empower gay men," says Dr Saxton, Director of the Gay Men's Sexual Health research group.
Read more...
55th Annual Institute on Addiction Studies
June 1, 2014 - 55 years of Personal and Professional Development
July 13-17, 2014
he Institute on Addiction Studies offers professional development and learning opportunities to those working and involved in substance use and related fields.


Pressure to Conform to Masculine Norms May Fuel HIV Risk Among Gay Black Men
June 1, 2014 - Family and cultural pressures to conform to prescribed masculine behaviors create social isolation and distress that may drive young gay black men to seek approval and acceptance through perilous sexual behaviors, according to research led by investigators at the Johns Hopkins Children's Center. This dangerous "compensatory" mechanism, the researchers say, may contribute to the disproportionately high HIV infection rate seen in this population.

====================================